Sustainable trade
Applying lessons learned from Covid-19 to build more resilient value chains for biologics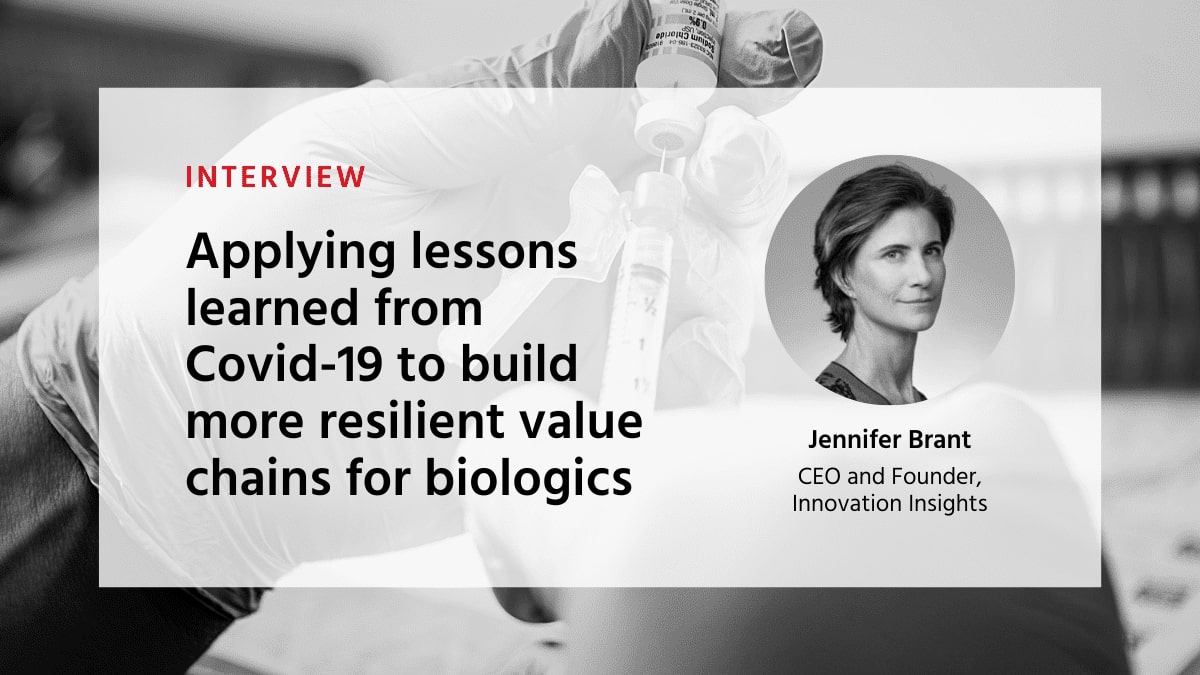 ---
Published 06 June 2023
Biologics, such as vaccines, play a critical role in our responses to health crises. In this interview with the Association of Foreign Press Correspondents-US, Jennifer Brant of Innovation Insights discusses the policy frameworks needed to better enable the development, manufacturing, and distribution of biologics and improve future pandemic preparedness.
Jennifer Brant, CEO of Innovation Insights, an advisory firm based in Switzerland that specializes in trade and innovation policy, recently previews new analysis from Merck Life Science in a blog for the Hinrich Foundation's website.
The piece by Ms Brant who is also the Executive Director of the Innovation Council (an organization that brings together diverse innovators who are developing technologies and solutions to improve human lives) highlights strategies that governments and companies can adopt to build resilience, in order to improve future pandemic preparedness and response along with healthcare delivery in normal times. 
Drawing on the lessons learned from the pandemic, Ms Brant underlines the central role that biologics, such as vaccines, play in responding to health crises – and the importance therefore of removing barriers to developing, manufacturing, and distributing them globally.
Ms Brant's interview with foreignpress.org is within the scope of AFPC-USA's partnership with the Hinrich Foundation. The AFPC-USA is solely responsible for the content of this interview. 
How different are biologics from conventional drugs we get from the pharmacy for instance?
"Biologics" is a category of health technologies that encompasses products like vaccines, monoclonal antibodies, and new modalities like gene therapy. Biologics are developed from living cells, whereas the so-called traditional "small molecule" treatments are chemically synthesized. Both small and large molecule treatments require multi-year, costly research and development (R&D) investments to develop, test, and bring to market. In relation to biologics, some have observed that "the process is the product" given that even minor variations in the manufacturing process can alter the therapeutic or safety profile of the product. This makes working in collaboration with a tech transfer partner essential for successfully extending production networks.
Your article considers how to draw on the lessons from COVID-19 to create a more resilient biologics value chain. In your personal opinion, what is the biggest lesson(s) to be drawn from the impact of the COVID-19 pandemic on the development and distribution of biologics?
There are many lessons to be drawn from the pandemic experience. Perhaps the biggest one is that policy frameworks have a major influence over the extent to which those developing, manufacturing, distributing vaccines and other biologics can properly do their jobs. Getting the right enabling policies in place will be critical to the availability of biologics in normal times as well as during crisis situations. During the COVID-19 pandemic, problematic trade policies like export restrictions were enacted in several countries, introducing obstacles in already stressed biopharma supply chains. Today, proposals that intellectual property (IP) protection be weakened for COVID-19 vaccines, therapies, and diagnostics, could introduce legal uncertainty into the biologics R&D and manufacturing space, making it riskier to invest in product development and to establish partnerships for manufacturing and distribution. This could exclude producers from developing countries from value chains and tech transfer opportunities at the very moment that political leaders are prioritizing extending manufacturing to more regions for things like pandemic preparedness and response (PPR). 
I find it interesting that knowledge sharing wasn't one of the five proposed strategies given that the global South had to wait for the West to share their excess vaccine doses with them and even scientists in South Africa tried to reverse engineer the Moderna vaccine to be able to produce vaccines locally due to vaccine inequality. How should that be addressed?
The reality is that during the pandemic, knowledge sharing happened quickly on a broad scale – and this dynamic continues today in relation to COVID-19 products. For COVID-19 therapeutics alone, there are currently 147 reported licensing arrangements for manufacturing and distribution, with over 92 percent involving tech transfer. Tech transfer involves working in collaboration with a partner to gain the expertise needed to safely and efficiently manufacture a given product. A global tech transfer partner not only shares equipment and technology; it may support the local partner with personnel training, facility design, applying for and securing regulatory approval, and other elements necessary for successful entry into the market. Returning to the issue of IP weakening in relation to COVID-19 products, we often overlook the perspective of local manufacturers. They invest time and resources in tech transfer collaborations, which include arrangements for the management and sharing of relevant intellectual property, in the expectation they will have an advantage in the marketplace. When IP protection is removed, in theory, anyone else with the necessary experience and capacity can compete by making the same product without any license, and without engaging with the innovator. This can undermine the local partner's competitive position, in addition to straining value chains and the resources of regulatory bodies.
Beside the issue of production and distribution, a major challenge that arose from the pandemic was the disinformation campaign that accompanied the efficacy of vaccines once they became available. Are there lessons learned from this as well and how do we ensure this doesn't become a norm with biologics in the future?
Yes, clearly, it's not just a case of developing, producing, and distributing vaccines via efficient supply chains. The shots need to get into arms, and this requires that we address last-mile issues as well as human factors like education and vaccine hesitancy. Today, with the worst of the pandemic in the rear mirror, we can identify promising practices that were used by companies and regulators to accelerate marketing of life-saving vaccines and other tools without sacrificing safety and quality. These approaches should be retained to the extent possible, and raising awareness about how they work can contribute to reassuring patients that novel products are safe. To give an example, vaccine innovators sped time to market during the pandemic by doing things in tandem rather than sequentially; they manufactured vaccines and stockpiled them at the same time as they were carrying out extensive clinical trials and engaging with regulators. This was totally new, and it saved time. As for regulators, they leaned into digitization, allowing submission of digital files, for instance. Regulators also engaged intensively with applicants, which facilitated examination of dossiers, and they worked more with their counterparts abroad. 
Your article referenced government policies such as trade restrictions which you noted "worsened an already disparate distribution of equipment, consumables, and raw materials for producing biologics." But in one of the strategies in the forthcoming report about reducing risk in risking investments, governments are encouraged to opt for advance purchase commitments. Isn't that a repeat of the "my nation first" approach you identified as one of the challenges?
Advance purchase commitments are one way that governments can signal to innovators that if they develop solutions, there will be a market for them. When the COVID-19 pandemic started, innovators immediately took action to respond to the crisis. They shared their background IP (technology and know-how), and they took on risks associated with assessing and upgrading manufacturing facilities, conducting massive trials of novel products, creating new value chains, and establishing new partnerships for production and distribution. They did this in record time. Government funding helped to reduce risk for certain companies by offsetting the cost of these activities. Advance purchase commitments further de-risked such action by providing a guaranteed marketplace upon success. Purchase agreements involving national governments were to be complemented by global procurement arrangements like CO-VAX, aimed at pooled procurement and equitable distribution globally. A major problem in hindsight, though, is that funding for CO-VAX was insufficient and, due to panic and domestic political considerations, nations ordered more than they needed and hoarded doses. 
How much did the supply chain problems during the pandemic impact the production and distribution of biologics?
Supply chains were already under pressure at the start of the pandemic because global demand for biologics had been steadily rising as healthcare systems developed and incomes rise across regions. This trend was affecting production and availability in all parts of the world – and it is one of the reasons it's important to extend global biomanufacturing and R&D capacity in the coming years. When the COVID-19 pandemic started, it led to a sudden, sharp spike in demand. It was challenging for producers of the consumables, equipment, and raw materials that are required to develop and produce vaccines, therapies, and diagnostics to rapidly scale up production to meet demand. Plus, some countries enacted export restrictions to keep scarce supplies at home, as companies ordered more than they needed. The development and production of COVID-19 solutions was made more complicated, as was the manufacture of treatments for other conditions. It is hard to quantify precisely the extent to which counterproductive policies affected the pandemic response, but anecdotal evidence makes clear that it was harder to operate supply chains against a backdrop of already very difficult conditions (border closures and lockdowns, transport interruptions, restrictions on movement of skilled personnel) with such policies in place. 
As we prepare for the next pandemic, one of the strategies suggests a focus on "stocking biologic inputs" over "stocking finished products." Can you elaborate on the difference between the two and how stocking on inputs will make us better prepared to handle the next pandemic? 
The main reason for endorsing stockpiling inputs rather than finished products is that it is difficult to know in advance which vaccine or other product will prove successful for managing a pandemic (or other healthcare problem). At the same time, it is often the case that the same raw materials, equipment, and consumables are used for developing and manufacturing finished biologics. An example is diagnostics: most diagnostics are made of the same types of ingredients, even if the exact composition differs from test to test. This means that key inputs can be stockpiled in advance, which can expedite scaling up manufacturing in the event of a crisis. This strategy does have certain shortcomings. For instance, a totally new platform may be developed in response to a crisis like a pandemic – such as the mRNA vaccine – and thus the ingredients necessary for working with that platform may not have been included in the stockpile. Also, stockpiles need to be strategically managed, to address issues like expiry of products. Governments can contract private companies to plan and strategically manage stockpiles.  
© The Hinrich Foundation. See our website Terms and conditions for our copyright and reprint policy. All statements of fact and the views, conclusions and recommendations expressed in this publication are the sole responsibility of the author(s).
---
---