Advancing sustainable global trade
The Hinrich Foundation is a unique Asia-based philanthropic organization that works to advance mutually beneficial and sustainable global trade through research and educational programs.
---
Understanding global trade
Original research, strategic insights and quick analysis that offer a better understanding of key global trade trends and issues.
Education programs
Master's degree scholarships and short courses for trade business professionals, media and policymakers that provide the practical knowledge and tools to advance sustainable global trade.
Scholarships & Short-Courses
We believe the most effective way to advance sustainable trade is to invest in people. All who join our programs receive the support and encouragement of our unique network of trade leaders, thinkers, innovators and influencers. Our scholarships include:
---
Resources, support, and recognition for journalists
Objective analysis of trade trends and issues, short-courses, Masters in International Journalism Studies (MAIJS) scholarships and an award for distinguished reporting on trade.
---
Our experts are trusted by news organizations across the globe

In the news
Media come to us for fresh thinking and deep analysis into the issues impacting global trade outcomes. Read our recent experts' commentaries. Drawn from a wide range of disciplines and sectors, our experts offer valuable views and opinions on achieving sustainable global trade.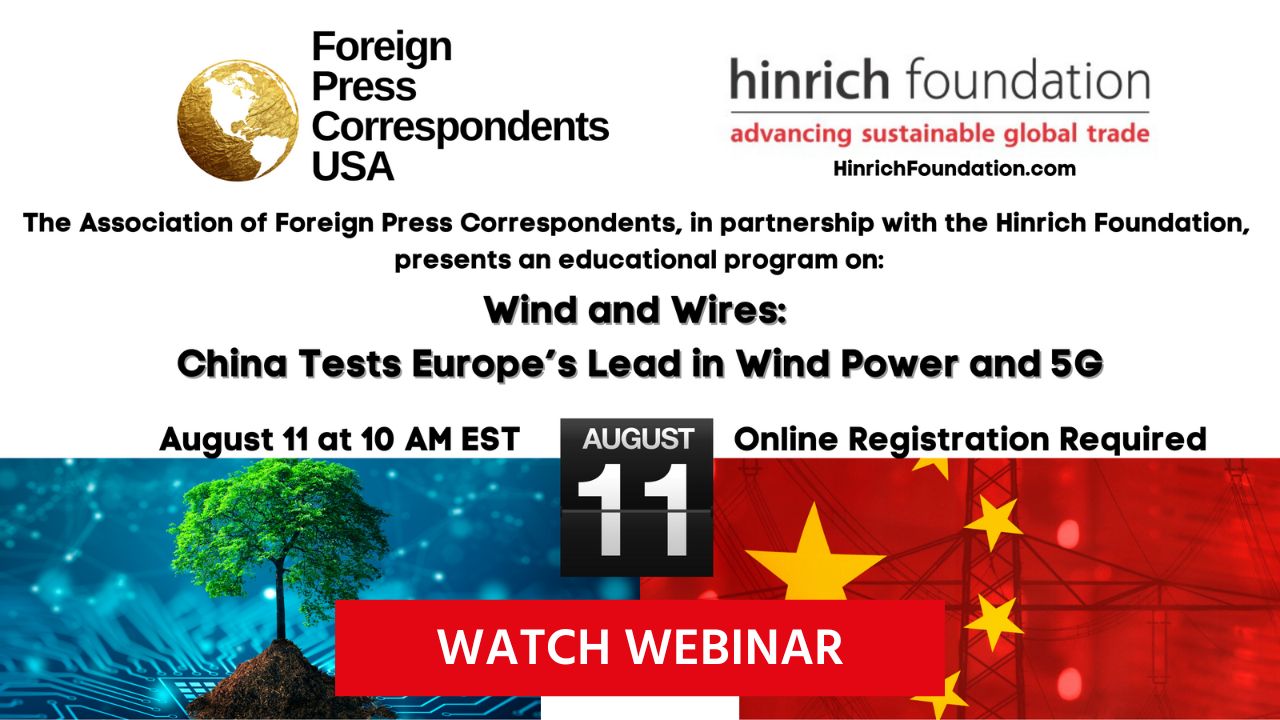 Wind and Wires: China Tests Europe's Lead in Wind Power and 5G
The US-China rivalry has often overshadowed Europe, and the role the continent plays in the global race to lead in critical and green technologies. Several European nations have found success in critical industries such as wind power and telecommunications. The Association of Foreign Press Correspondents in collaboration with the Hinrich Foundation organized a webinar on 11 August to discuss the European leadership in wind power and 5G technology and the rising challenge from Chinese competition.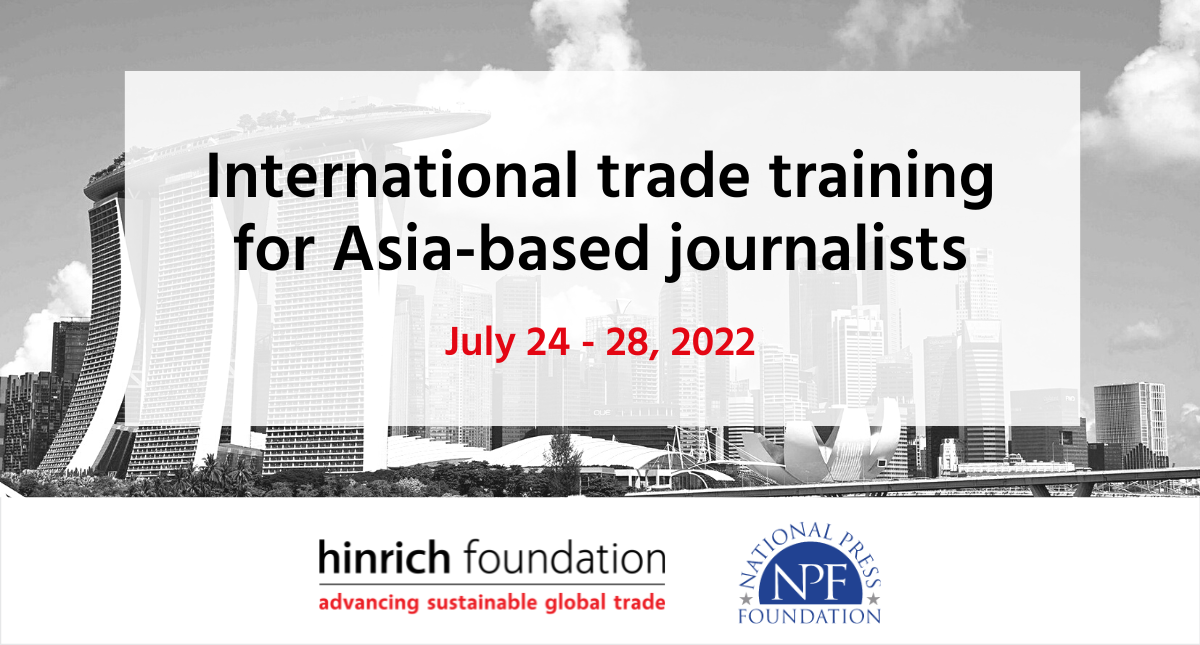 International trade training for Asia-based journalists
The National Press Foundation in collaboration with the Hinrich Foundation welcomed 22 Asia-based journalists to its International Trade Fellowship in Singapore last month. The five-day workshop, held at the Foundation's offices in Singapore, touched on digital trade, trade agreements, and US-China trade friction among other issues. The NPF International Trade Fellowship is part of an ongoing program of trade training for journalists and awards for trade coverage sponsored by the Hinrich Foundation.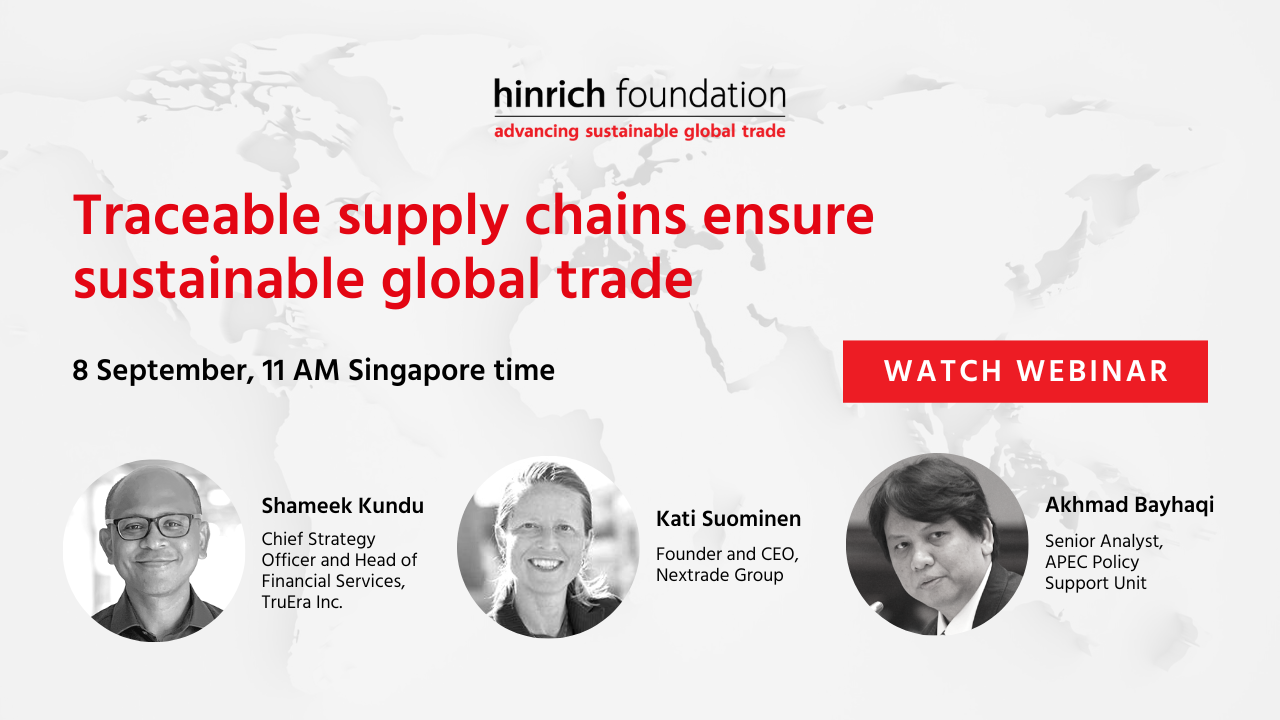 Traceable supply chains ensure sustainable global trade
Interoperability and cohesion across supply chains are key to developing trust and resilience between stakeholders, especially in times of crisis. Watch this webinar recording on traceability in supply chains for a comprehensive overview of the challenges and benefits of incorporating technology for traceability across the existing supply chain frameworks.