Advancing sustainable global trade
The Hinrich Foundation is a unique Asia-based philanthropic organization that works to advance mutually beneficial and sustainable global trade through research and educational programs.
---
Understanding global trade
Original research, strategic insights and quick analysis that offer a better understanding of key global trade trends and issues.
Education programs
Master's degree scholarships and short courses for trade business professionals, media and policymakers that provide the practical knowledge and tools to advance sustainable global trade.
Scholarships & Short-Courses
We believe the most effective way to advance sustainable trade is to invest in people. All who join our programs receive the support and encouragement of our unique network of trade leaders, thinkers, innovators and influencers. Our scholarships include:
---
Resources, support, and recognition for journalists
Objective analysis of trade trends and issues, short-courses, Masters in International Journalism Studies (MAIJS) scholarships and an award for distinguished reporting on trade.
---
Our experts are trusted by news organizations across the globe

In the news
Media come to us for fresh thinking and deep analysis into the issues impacting global trade outcomes. Read our recent experts' commentaries. Drawn from a wide range of disciplines and sectors, our experts offer valuable views and opinions on achieving sustainable global trade.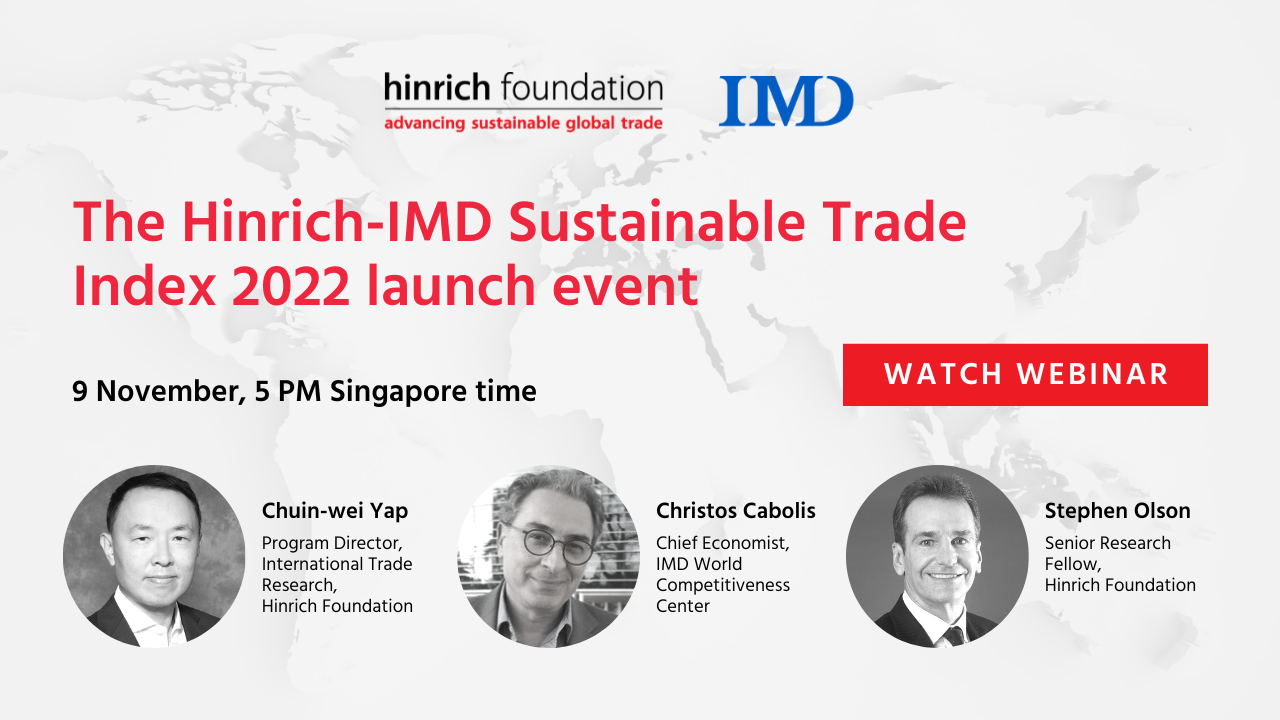 Launch of the Hinrich-IMD Sustainable Trade Index 2022
Long-term economic growth and value creation must be built on the foundation of sustainable global trade. Watch the webinar launch of the Hinrich-IMD Sustainable Trade Index to hear key experts discuss this year's findings. The index measures how effectively 30 major trading economies are geared for long-term economic growth, environmental protection, and societal development across 70 indicators.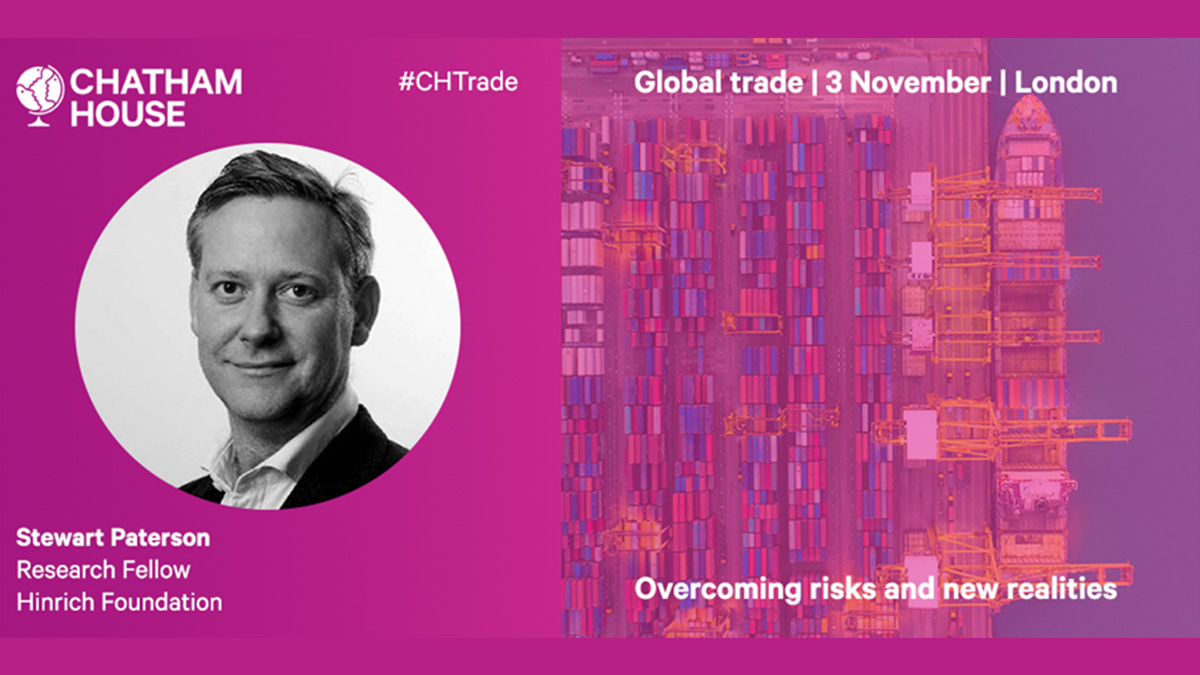 Chatham House Global Trade Conference 2022
With the rapidly changing international environment, global trade is beginning to face strong headwinds. Questions surrounding globalization and de-globalization are emerging, and the role of multilateral institutions has likewise come into question. Catch up on this panel discussion featuring Research Fellow Stewart Paterson. The Hinrich Foundation is once again a proud sponsor of this year's conference.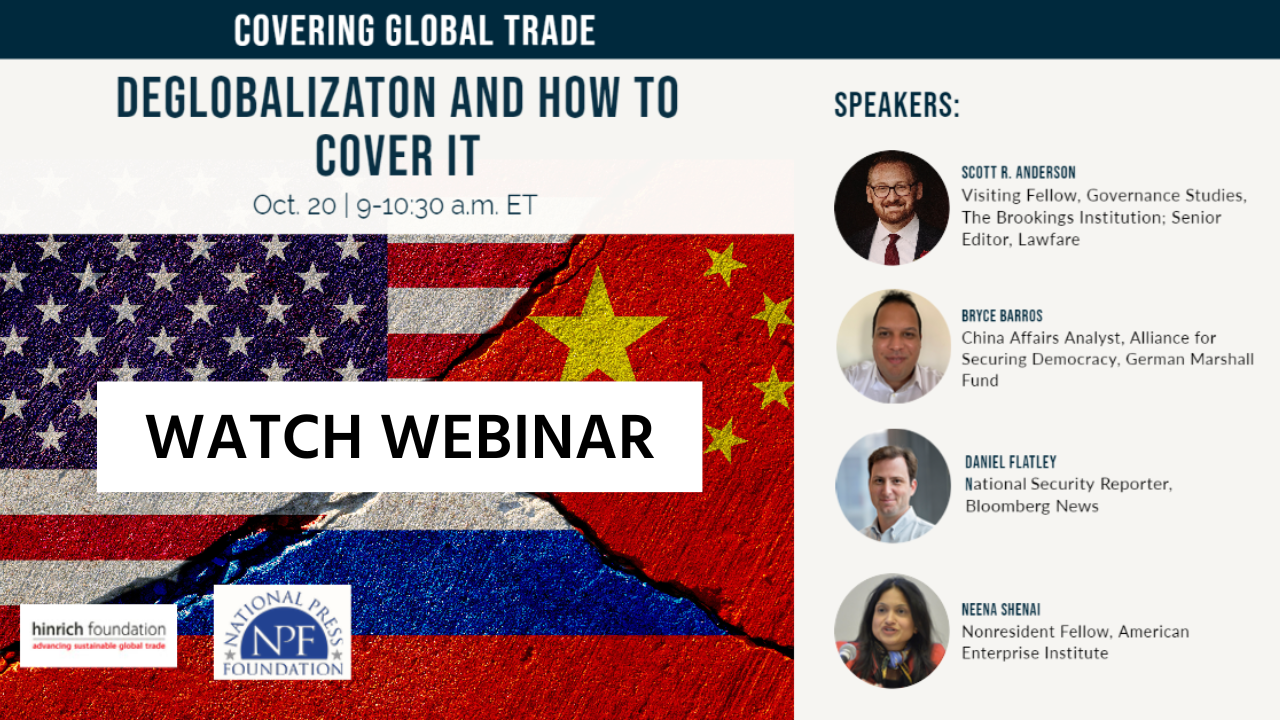 Deglobalization and how to cover it
Trade forms the bedrock of international relations. However, as the world splits into new blocs, with the US and the EU attempting to cripple Russia's economy and constrain China, traditional reporting on trade has been upended. The Hinrich Foundation sponsored a webinar organized by the National Press Foundation on 20 Oct 2022 to unpack these growing developments with four key experts.