Advancing sustainable global trade
The Hinrich Foundation is a unique Asia-based philanthropic organization that works to advance mutually beneficial and sustainable global trade through research and educational programs.
---
Understanding global trade
Original research, strategic insights and quick analysis that offer a better understanding of key global trade trends and issues.
Education programs
Master's degree scholarships and short courses for trade business professionals, media and policymakers that provide the practical knowledge and tools to advance sustainable global trade.
Scholarships & Short-Courses
We believe the most effective way to advance sustainable trade is to invest in people. All who join our programs receive the support and encouragement of our unique network of trade leaders, thinkers, innovators and influencers. Our scholarships include:
---
Resources, support, and recognition for journalists
Objective analysis of trade trends and issues, short-courses, Masters in International Journalism Studies (MAIJS) scholarships and an award for distinguished reporting on trade.
---
Our experts are trusted by news organizations across the globe

In the news
Media come to us for fresh thinking and deep analysis into the issues impacting global trade outcomes. Read our recent experts' commentaries. Drawn from a wide range of disciplines and sectors, our experts offer valuable views and opinions on achieving sustainable global trade.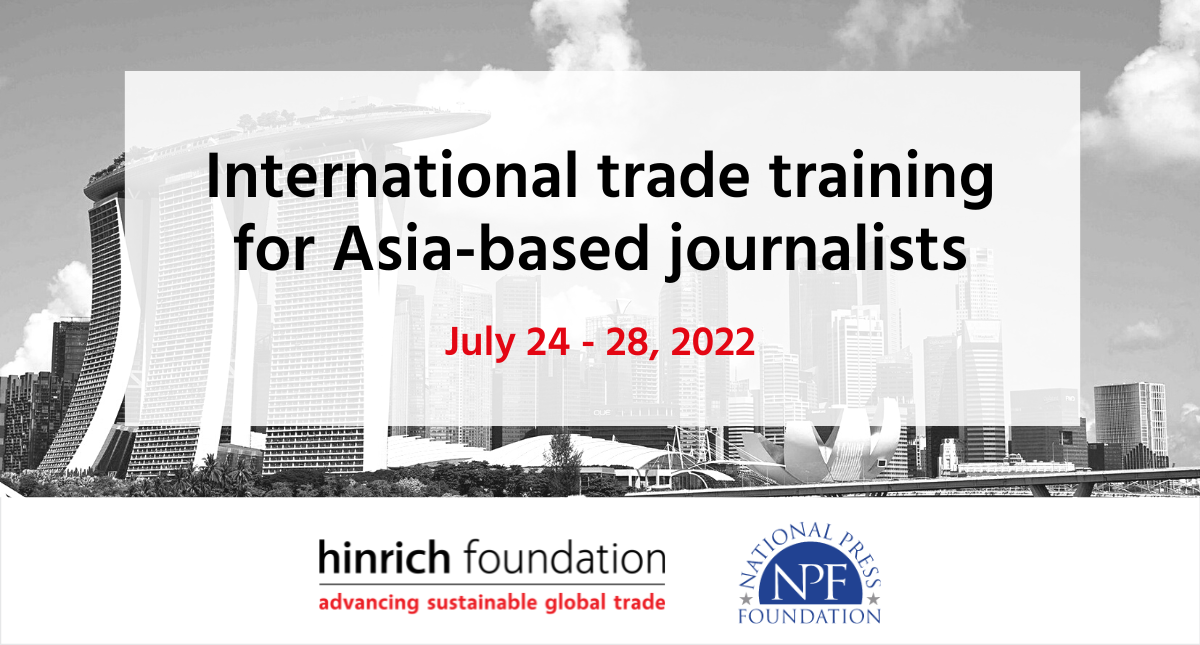 International trade training for Asia-based journalists
The National Press Foundation in collaboration with the Hinrich Foundation welcomed 22 Asia-based journalists to its International Trade Fellowship in Singapore last month. The five-day workshop, held at the Foundation's offices in Singapore, touched on digital trade, trade agreements, and US-China trade friction among other issues. The NPF International Trade Fellowship is part of an ongoing program of trade training for journalists and awards for trade coverage sponsored by the Hinrich Foundation.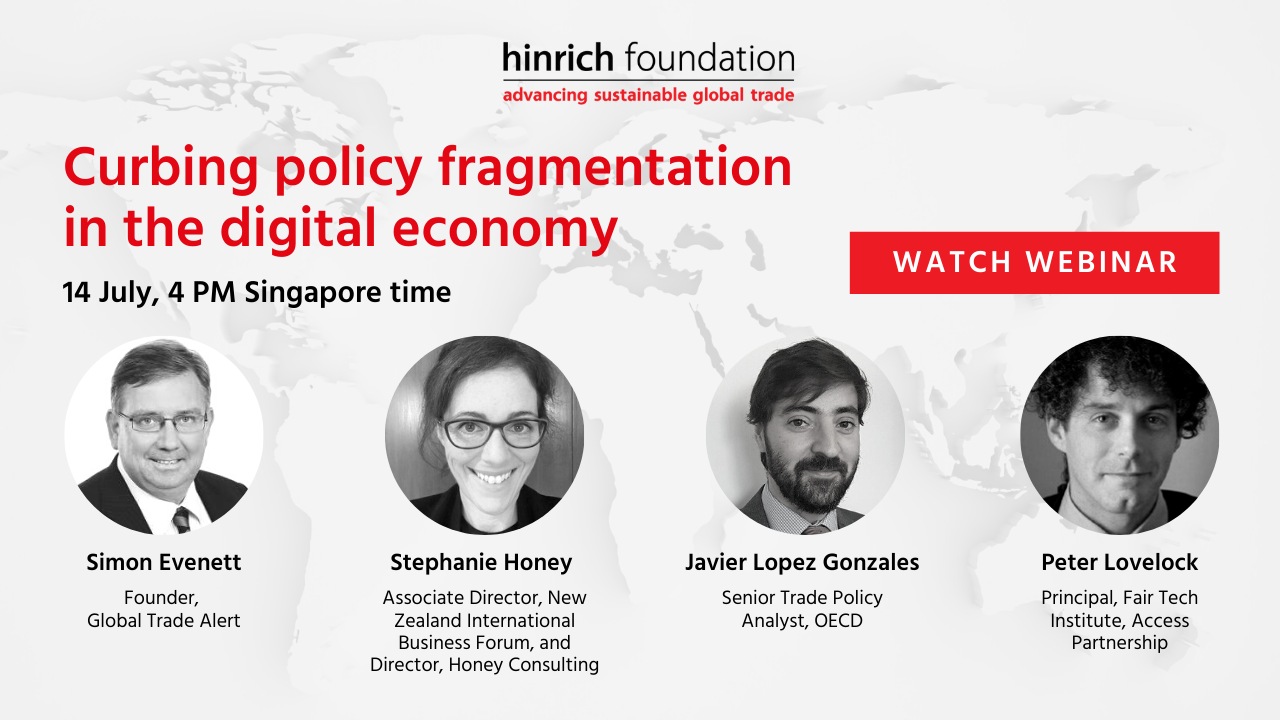 Curbing policy fragmentation in the digital economy
The perils of unilateral governance action in the digital domain are becoming clear. Watch this recording of our webinar on policy fragmentation in the digital realm, to learn from our panel of experts the risks of regulatory overdrive and siloed policymaking in the digital space.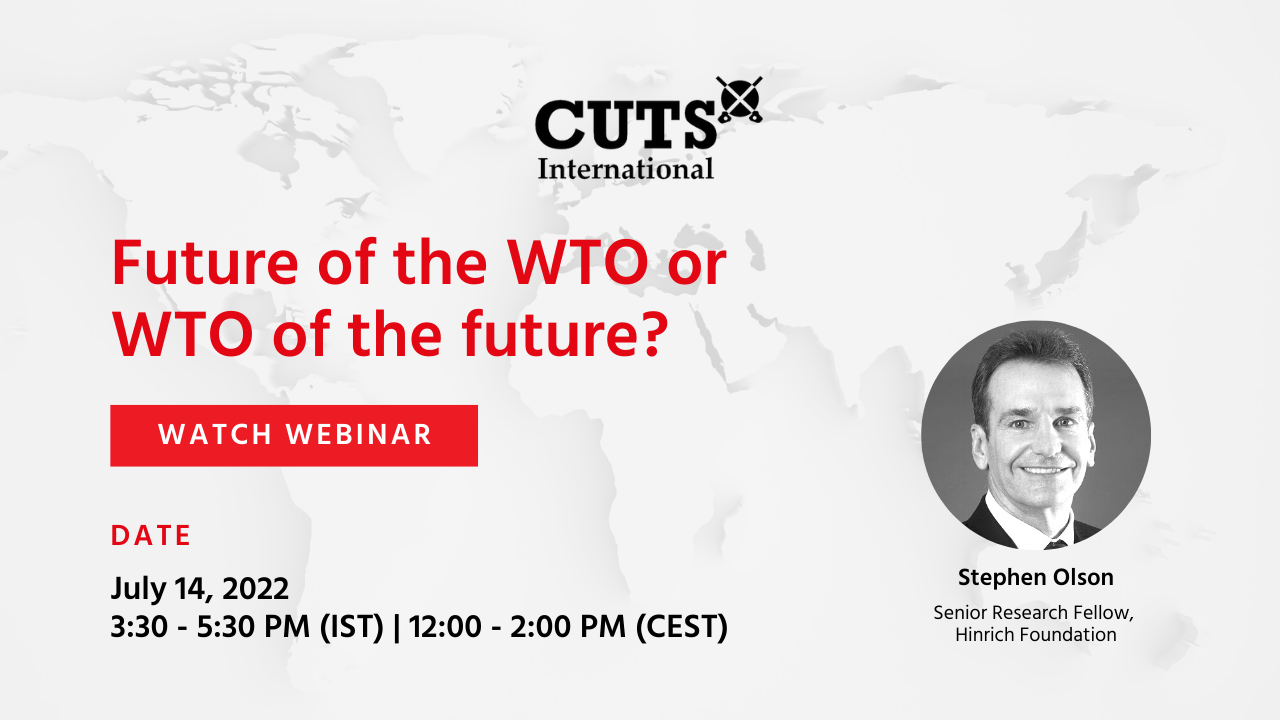 Future of the WTO or WTO of the Future?
The success of the recently concluded World Trade Organization (WTO) Ministerial Conference gives hope to its survival. However, considerable work remains to give the WTO a fighting chance, said Hinrich Foundation Senior Research Fellow Stephen Olson in a panel discussion with other trade experts, organized by NewDelhi-based policy think tank CUTS International.