Free trade agreements
APEC wasn't epic for trade: Five takeaways from the San Francisco summit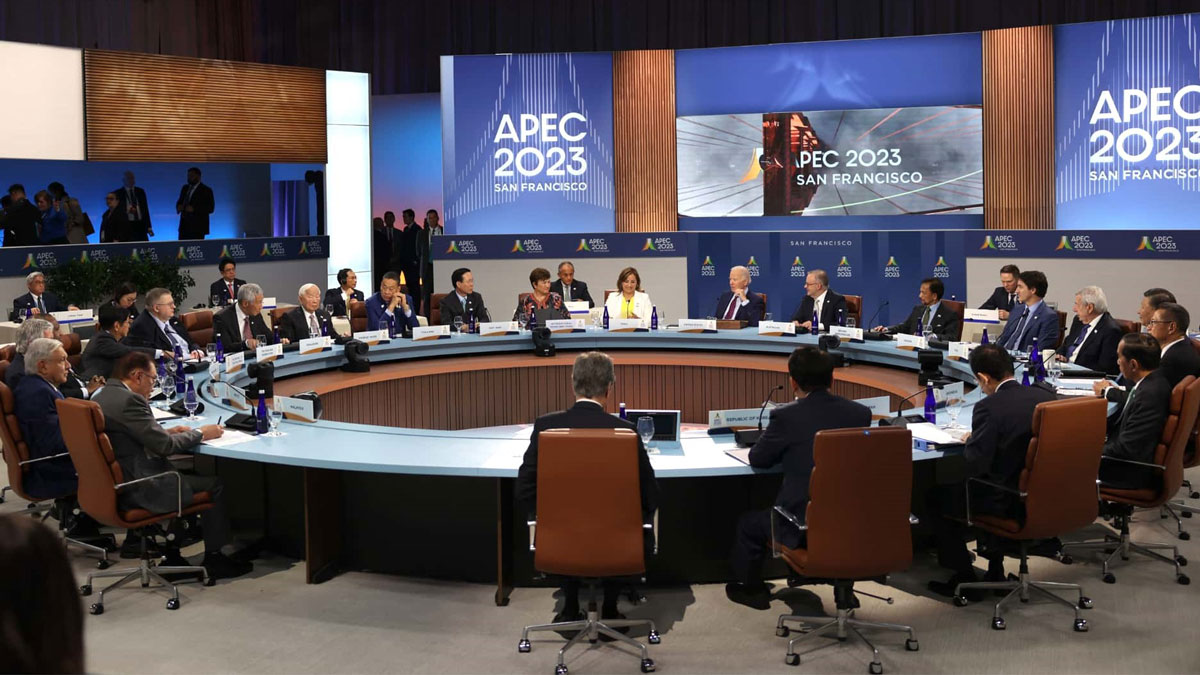 ---
Published 21 November 2023
Under this year's APEC agenda, the US sought to emphasize its commitment to supply chain resilience, digital trade, and connectivity, but it has failed to deliver on key trade-related outcomes at the meeting's conclusion. The Xi-Biden meeting may have brought some relief to APEC members, but the two superpowers continue to struggle with finding common grounds on numerous geopolitical flash points. Here are our five takeaways from the summit.
Leaders from the 21-member Asia-Pacific Economic Cooperation (APEC) forum gathered last week in San Francisco for the 30th APEC summit, where the spotlight was on a rare meeting between the US and Chinese presidents. The forum, chaired by the US, closed on Friday, with leaders issuing a statement titled the "Golden Gate Declaration." The 21 members of the Asia-Pacific group agreed to "harness" new technologies such as artificial intelligence, reached a general agreement to work toward a "clean and greener" economy, and committed to necessary reform of the World Trade Organization (WTO). However, the group struggled to arrive at a consensus regarding geopolitical events resulting in the issuing of a leader's declaration and a chair's statement as a compromise.
Dubbed "the center of the global economy" by US Treasury Secretary Janet Yellen, APEC accounts for 37% of the world's population and represents 62% of the global GDP, encompassing 47% of international trade. Traditionally trade-focused, APEC has expanded its cooperation to other areas such as human resources, marine conservation, and public health. Under this year's APEC agenda "Creating a Resilient and Sustainable Future for All," the United States sought to emphasize its commitment to supply chain resilience, digital trade, connectivity, and opportunities for small and medium enterprises but failed to deliver on key trade-related outcomes.
Here are five key takeaways from the summit:
Xi-Biden meeting – When Xi canceled his attendance at the Group of 20 summit in New Delhi to deal with domestic issues – tumultuous politics and a deteriorating economy – many doubts were cast over his attendance at the APEC 2023 summit in San Francisco. Though the issues persist, Xi flew to California to meet his US counterpart, Joe Biden, last week in a widely anticipated meeting. Paradoxically, this trip was also driven by domestic considerations. Xi faces political pressures and constraints at home to repair strained ties with the US and according to Sue Mi Terry at

the Center for Strategic and International Studies (

CSIS), "there (was) an incentive for this meeting to go really well." Biden similarly had huge political incentives to make this meeting a success as he seeks to show gains reaped from his China policy in the run-up to a crucial election. With so much riding on the success of the meeting, the expectations were kept deliberately low and both sides worked on delivering.  The two leaders reached an agreement to resume military-to-military communications. Another significant area of collaboration centered on curbing fentanyl production. China agreed to regulate exports of components used to make the opioid, which Biden hopes will decrease drug trafficking in the United States. Biden and Xi agreed to establish an intergovernmental dialogue on AI in their bilateral meeting, even as the two superpowers race to dominate the space.

They struggled to find common ground on numerous geopolitical flash points and the United States also refused to lift export restrictions on advanced computer chips, which China has argued hinders its industry ambitions. Despite the frictions, the Sino-US talks will have brought some relief to APEC members who have been concerned over the worsening trajectory of the rivalry between the superpowers.
No show on trade deal – For months, the Biden administration has been planning to unveil the details of its Indo-Pacific Economic Framework (IPEF) at the APEC summit. While according to Janet Yellen, there has been significant progress on supply chains, environment, sustainable finance, etc. the trade pillar has proved to be contentious. The administration called IPEF members to California for last-minute negotiations to finalize some legally binding trade rules ahead of the summit this week. However, many believe that domestic political concerns — not foreign trading partners — turned out to be the biggest roadblock in finalizing trade provisions. There is deep anxiety among Democrats in Washington that Republicans will paint IPEF as a job-outsourcing global trade deal as they did the Trans-Pacific Partnership in 2016. Amid these tensions, the US postponed the rollout of the Asia trade pact. IPEF talks on high-standard digital rules were also postponed.
IPEF falls well short of a traditional trade deal as it does not touch on tariffs or market access issues. However, it aims to set standards for business across some 40 percent of the global economy including three of the world's top five economies — the United States, Japan, and India.
Consensus on climate action – Climate change was one of the few topics that APEC leaders joined hands on during the summit. China and the US agreed to resume a working group on climate cooperation and pledged a major ramp-up of renewable energy. IPEF member economies also reached a general agreement to work toward a "clean and greener" economy. Business leaders across sectors and economies joined the Sustainable Future Forum to discuss how businesses can thrive while reducing carbon footprints.

To spur the transition to low and zero-emissions transportation in the region, APEC members agreed to accelerate the transition towards zero-emissions vehicles; sustainable aviation fuels; and zero-emission maritime shipping and port decarbonization.
Division on Ukraine, Gaza wars – Divisions remain among APEC leaders over the wars in Ukraine and Gaza after the two-day summit. Unsurprisingly, the 21 APEC members, which include Russia and Muslim-majority Indonesia and Malaysia, left the meetings divided over Russia's war in Ukraine and the Hamas-Israel war in Gaza. A statement issued by this year's APEC chair, the United States, echoed last year's APEC leaders' declaration in saying that "most" APEC members "strongly condemn aggression against Ukraine." The statement noted that leaders exchanged views on the Gaza crisis, and some reiterated the message of the Arab-Islamic summit in Riyadh, which calls for an immediate end to military operations in Gaza. The leaders' declaration omitted this language due to reservations from some APEC members who don't believe that APEC is a forum to discuss geopolitical issues.
Decoupling? De-risking? Or Diversification? – Even as Biden vowed not to decouple from China, the supply chain diversification trend gained momentum at the summit, and APEC member countries looked to attract more American investment amid moves away from China. The presidents of Vietnam, Thailand, and Indonesia all said it was time to invest in their respective countries during their speeches at the APEC CEO Summit. They continue to roll out government incentives and promise high-quality workforces to entice supply chains to shift to Southeast Asia. "A decoupling of the world's dominant economies is neither possible nor is it prudent," Citigroup CEO Jane Fraser said at the CEO summit, "De-risking, or we prefer to call it diversification, has to become the name of the game," she added.
© The Hinrich Foundation. See our website Terms and conditions for our copyright and reprint policy. All statements of fact and the views, conclusions and recommendations expressed in this publication are the sole responsibility of the author(s).
---