Fixing broken medical supply chains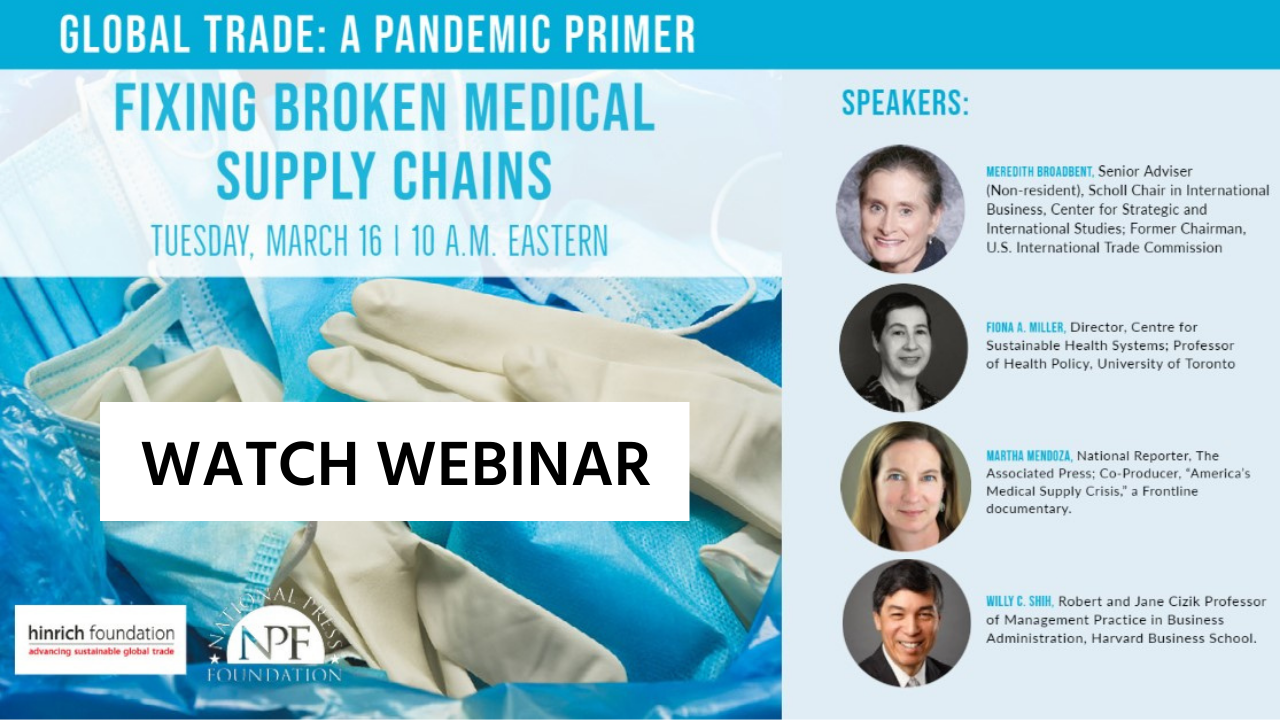 ---
Published 24 March 2021
COVID-19 had exposed the vulnerability of global medical supply chains, as many countries across the world scrambled to get hold of basic equipment such as face masks at the beginning of the pandemic. What lessons could be learnt and what should journalists be aware of when reporting this issue?
In this third Hinrich Foundation supported National Press Foundation briefing, four experts shared their insights on global supply chains disruptions triggered by the pandemic, and what tools journalists could utilize in their reporting. Here are the five key takeaways:
Journalists can use tools to track shipments of medical supplies – or anything else. Martha Mendoza, a two-time Pulitzer Prize winner for The Associated Press, said she used several trackers to document medical supply chain failures for her work, "Deadly Shortages." To find what is arriving at U.S. ports, Mendoza and her colleagues used ImportGenius and Panjiva, two competing services. Mendoza also recommended journalists tap the Federal Procurement Data System to learn what the U.S. government is purchasing.
COVID shocks rattled global supply chains in two waves – the first on supply, the second on demand. As the virus spread worldwide, firms dependent upon China for goods were cut off from their supplies. The COVID lockdowns that followed then caused a demand shock as economic activity ground to a halt and orders were cancelled. Car sales, for example, dropped 85%. "After that, people said, 'Wow, maybe I don't want to build as many cars,'" said Willy Shih, a Harvard Business School professor. "… So let me cut down all my supplies." Now restocking is under way, Shih said.
No country is immune from interdependence on global supply chains. Meredith Broadbent of the Center for Strategic and International Studies and a former chair of the U.S. International Trade Commission noted in a recent report that "no single country can produce all that it needs to fight Covid-19, let alone cure it." She said that a series of "trusted trade partner networks" could help countries supply the products most essential to health security.
COVID exposed a problem long in the making. In the past, natural disasters and demand surges for specific medical goods have led to shortages of saline, propofol, vaccines and N95 mask materials. Export bans produced other shortages. "We're dealing with a very old problem," said Fiona A. Miller, director of the Centre for Sustainable Health Systems at the University of Toronto. "COVID-19 has made it very difficult for us to ignore longstanding problems."
Both the Trump and Biden administrations began reviews of the shortages. In August 2020, President Donald Trump signed executive orders requiring the federal government to purchase "essential" drugs and other related products solely from U.S. manufacturers. When President Joe Biden came into office in 2021, he signed his own executive orders, establishing a comprehensive review of medical and other supply chain issues. Journalists may wish to cover how effective these measures have proved.
***
This briefing is part of a series of National Press Foundation's online webinars on global trade issues in the era of the coronavirus. Check here for all past briefings.
© The Hinrich Foundation. See our website Terms and conditions for our copyright and reprint policy. All statements of fact and the views, conclusions and recommendations expressed in this publication are the sole responsibility of the author(s).