Advancing sustainable global trade
The Hinrich Foundation is a unique Asia-based philanthropic organization that works to advance mutually beneficial and sustainable global trade through research and educational programs.
---
Understanding global trade
Original research, strategic insights and quick analysis that offer a better understanding of key global trade trends and issues.
Trade education tools
Our trade education tools include the International Trade Rankings to help students and employers identify the best trade-related masters programs around the world; and scholarships and short courses for trade business professionals, media and policymakers.
Scholarships & Short-Courses
Global Rankings of International Trade Master's Programs
The QS International Trade Rankings help students to identify programs that will secure them employment and accelerate their trade careers, enable companies to hire work-ready talent, and provide universities with comparability, recognition and the means to enhance their global trade programs.
---
Resources, support, and recognition for journalists
Objective analysis of trade trends and issues, short-courses, Masters in International Journalism Studies (MAIJS) scholarships and an award for distinguished reporting on trade.
---
Our experts are trusted by news organizations across the globe

In the news
Media come to us for fresh thinking and deep analysis into the issues impacting global trade outcomes. Read our recent experts' commentaries. Drawn from a wide range of disciplines and sectors, our experts offer valuable views and opinions on achieving sustainable global trade.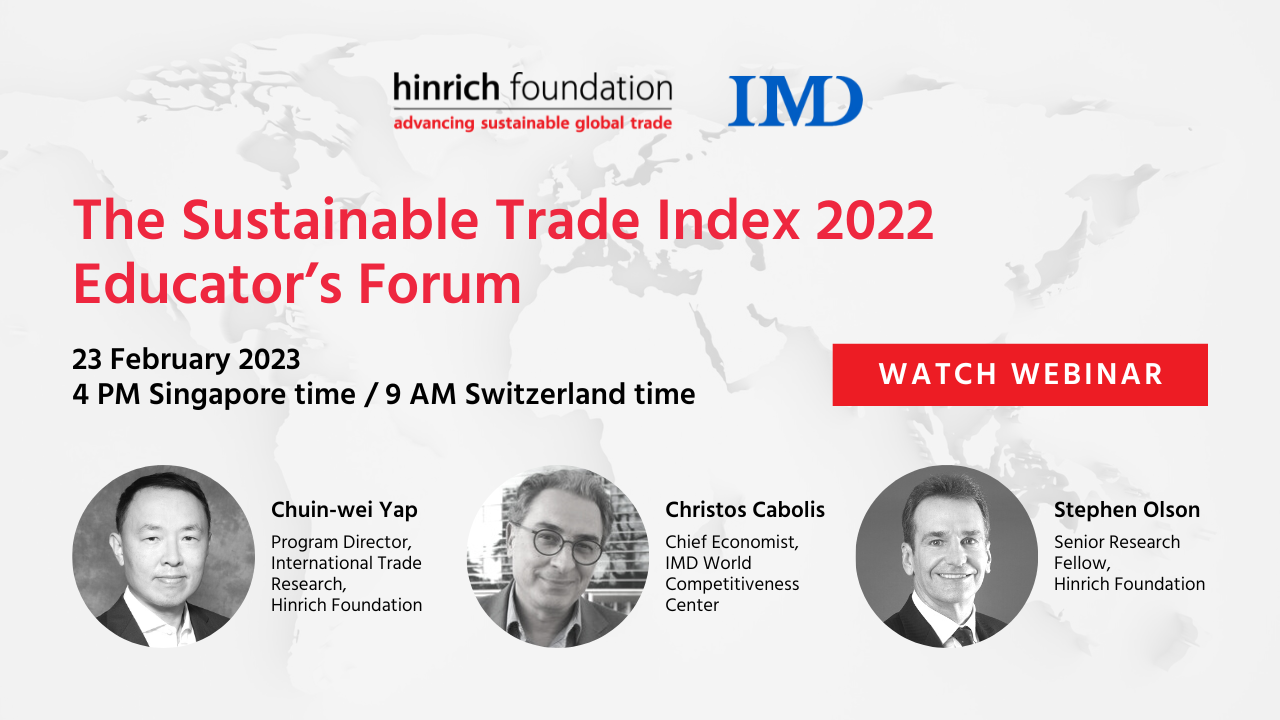 The Sustainable Trade Index 2022 Educator's Forum
Educators play a key role in shaping the next generation of leaders. The Hinrich Foundation in partnership with the IMD World Competitiveness Center curated a forum specially for educators to show how the Sustainable Trade Index may supplement their academic materials and lead students in discussions on the economic, social, legal, historic, and geopolitical dynamics driving global trade. Catch up on the discussion with our expert panel.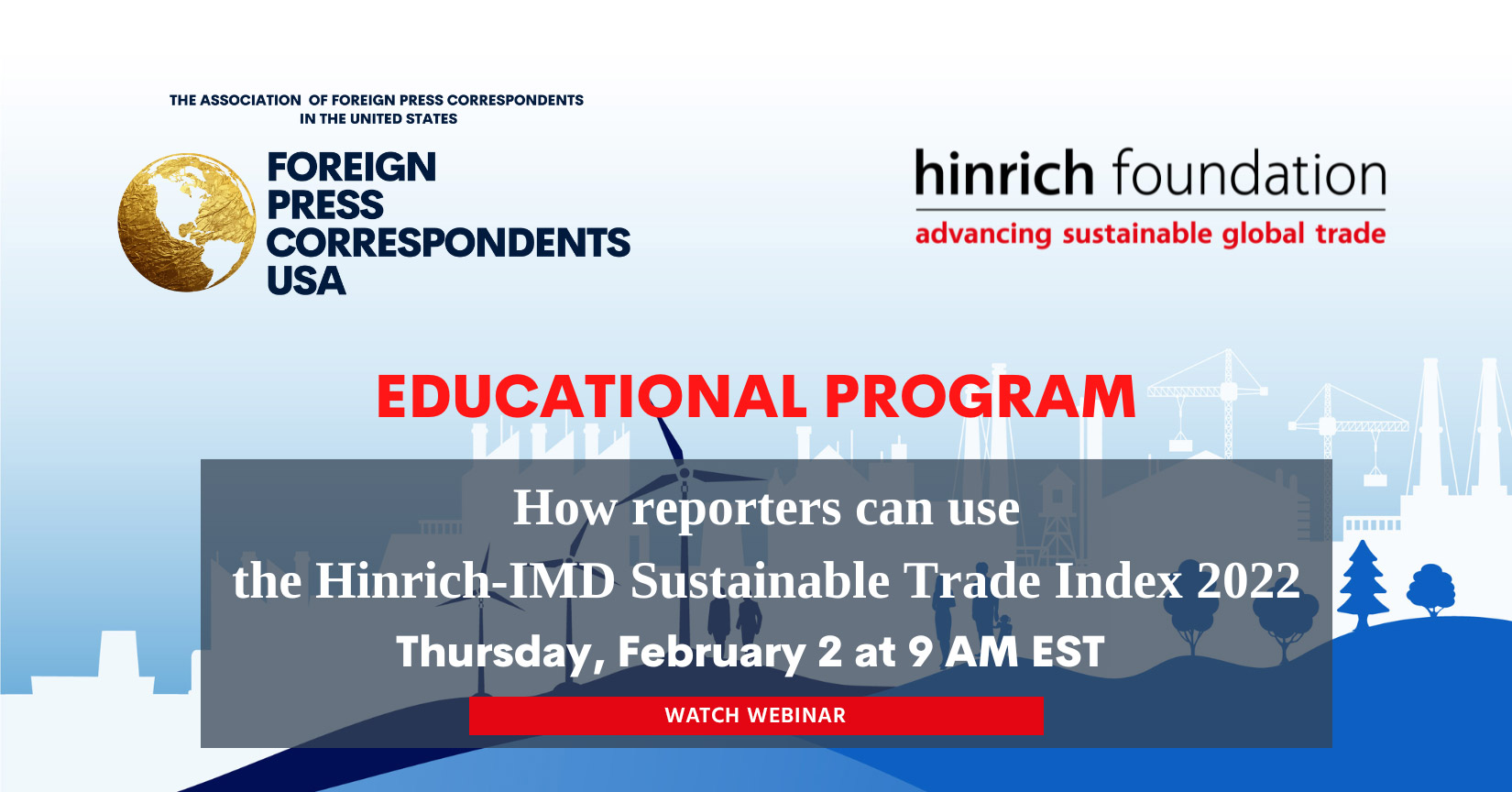 How reporters can use the Hinrich-IMD Sustainable Trade Index 2022
Designed for researchers, policymakers, educators, business executives, and other interested stakeholders, the Hinrich-IMD Sustainable Trade Index (STI) acts as a springboard for discussions on the economic, social, legal, historic, and geopolitical dynamics driving global trade. This educational program, co-developed by the Association of Foreign Press Correspondents and the Hinrich Foundation, provided foreign correspondents with the opportunity to learn from two experts, Stephen Olson and Christos Cabolis, about the STI, its policy implications, and use for reporters.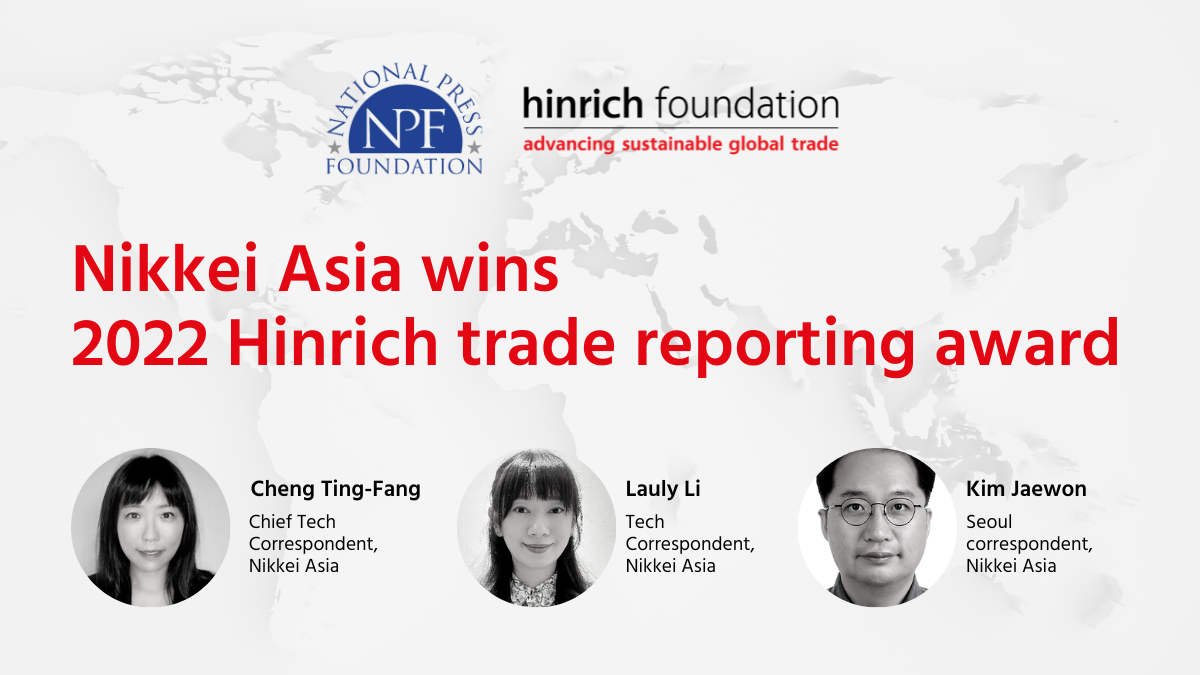 Nikkei Asia wins Hinrich Foundation trade reporting award
Nikkei Asia has won the Hinrich Foundation Award for Distinguished Reporting on Trade from the National Press Foundation for its fascinating coverage of how the pandemic, war, and the escalating US-China strife over semiconductors combined to upend global supply chains in 2022. The Guardian newspaper of Nigeria won an honorable mention for a three-month-long investigation that exposed how herbal products marketed in Nigeria as hailing from Ghana were actually manufactured in Nigeria and falsely labeled.