US-China trade
Asia's Greater Bay Area: Worth the risks for investors?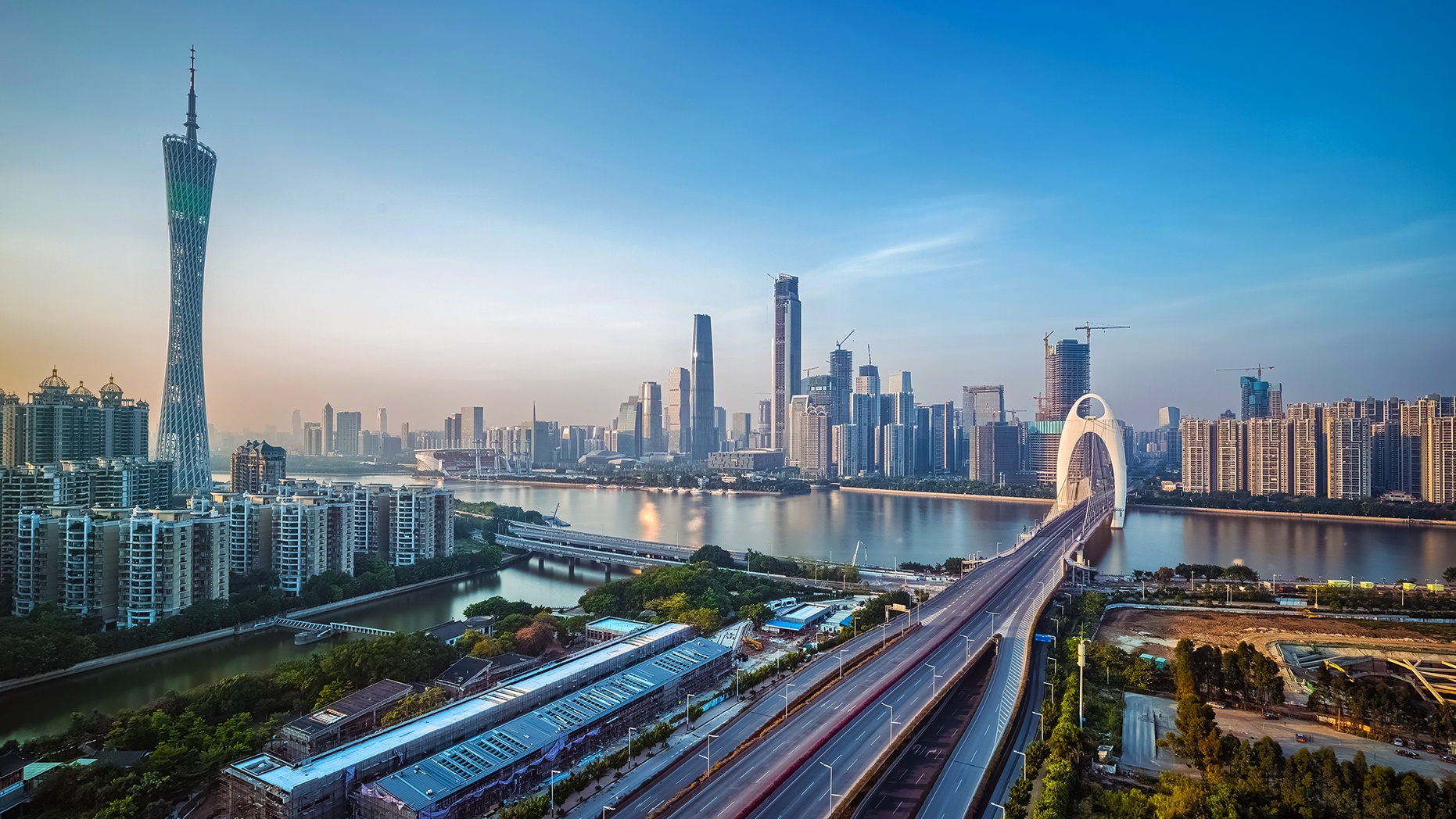 ---
Published 05 October 2021
The Sino-US competition on trade and technology is driving China to accelerate its speed of innovation and industry diversification. The Greater Bay Area – home to some of the country's biggest tech firms, including Tencent and Huawei – will likely continue to draw investors as China's economy adapts to new realities.
The Greater Bay Area (GBA) – encompassing the Guangdong, Hong Kong, and Macao regions – has a population of more than 86 million people[i] in 11 megacities.[ii] It is the world's largest conurbation; double the size of California or Tokyo and three million more than the entire population of Germany.
In the year immediately before the Covid-19 pandemic, the GBA was growing at a pace slightly more than California's world famous 'Bay area'.[iii] Despite the pandemic, the GBA enjoyed growth in 2020, with its GDP exceeding US$1.66 trillion. If the GBA were a nation state, its GDP would rank 9th in the world, ahead of Canada.[iv]
Still, investors are asking: Is the area worth the risks?
Pressure from outside and within
Manufacturing in the GBA has been hard hit during the pandemic. Although the Chinese government has taken some action to cool prices, the costs of steel input has risen substantially, remaining at more than 6,400 renminbi per ton.[v]
In addition, the global disruption of trade due to Covid-19 has led to a shortfall of available containers and ships, leading to the highest shipping rates in more than a decade.[vi] Shipping rates from Yantian Port to the congested west coast of the US hover at US$17,000 per 40 high cube container, up from US$2,000 pre-pandemic. This comes on top of the Trump-era tariffs and price increases in other key raw materials, such as copper – up from US$5,860 per ton to US$8,450 per ton during the same period – and aluminum, now at a ten-year high.
The net result is that 'free-on-board' shipping prices have gone up by 30 to 40% for a wide range of manufactured goods exported from the GBA.[vii] These price increases are now working their way through the global economy.
Since 2018, the GBA has faced several significant events in addition to the pandemic. In addition to increasing tariffs on Chinese imports and restricting exports of technology, the US has regulated the public listing of Chinese firms on US stock exchanges. Meanwhile, China has increased oversight of technology firms and tightened control over Hong Kong. This is all set against a backdrop of a sharp deterioration of relations between major trading partners and China over issues concerning labour and human rights.
From washing machines to semiconductors
The US-China trade war initiated by the Trump administration started unassumingly, with a disagreement over solar panels and washing machines. In 2018, frictions moved to steel and aluminum and began to involve a host of other nations from Mexico to Turkey.
The GBA was most seriously affected by what has been termed by policy observers as 'Trade War Battle 3', which covers intellectual property rights, innovation, and technology.[viii] By the end of 2020, the trade deficit with China had dropped to US$310.8 billion, the lowest since 2011.[ix]
The impact of 'Trade War Battle 6', which focused on semiconductors, took effect in 2019 and 2020.[x] The GBA is a tech hub and home to 17% of China's Fortune 500 companies and four of the country's top five technology companies by revenue: Huawei, ByteDance, DJI, and Tencent. And not only was the technology industry targeted, but specific companies such as ZTE and Huawei had their access to US technology severely curtailed. The list would expand to include 260 Chinese companies.
The Nanshan district of Shenzhen is home to some of the country's biggest tech firms, including Huawei, Tencent, and DJI.
Trade tensions ratcheted up again with respect to Chinese companies directly listing on the US stock markets. As of May 2021, the 248 Chinese companies listed on US stock exchanges had accumulated a combined market value of US$2.1 trillion.[xi] In December 2020, the Holding Foreign Companies Accountable Act became US law. Today, all companies traded on American exchanges are required to have the same auditing standards as domestic companies. This followed the collapse of Chinese coffee chain Luckin Coffee due to an accounting fraud.[xii]
Standards are another arena of contention. The most recent battleground is the extension of the 5G hardware restrictions on Huawei to restrictions on Chinese companies' participation in the O-RAN Alliance, a 200-company industry group that is working on open telecommunication standards. The 44 Chinese members contribute patents towards the creation of an interoperable RAN (Radio Access Network). This may lead to a forking or balkanization of 5G.[xiii]
GBA companies have been challenged by external players. Headwinds have also come from within China. The last-minute cancellation of the Ant Financial IPO in November 2020 by the central government was followed by the record US$2.8 billion fine for Alibaba in April 2021. Ant/Alibaba has a cross shareholding structure, and they are not GBA firms. But this was an indication of things to come.
In the background, a series of regulatory measures were brewing, aimed at reducing the economic power of the largest tech firms. These include antitrust regulations that cover areas such as restricting user traffic, blocking competitors' products, discriminatory pricing, and engaging other activities that may reduce competition. Chinese regulators appear to be taking note of recent antitrust investigations in the US.
The effects reverberated beyond China's borders. Just weeks after it listed on the New York stock exchange, Didi Chuxing, hailed as China's Uber, was accused by China of illegally collecting customer data. After being forced to pull its booking app from online stores, Didi may now face fines larger than Alibaba's and its share value has dropped below its listing price.[xiv]
At the same time, China's Critical Information Infrastructure Security and Protection Regulations and the Data Security Law (DSL) - a wide-ranging regulation on data handling – went into effect on September 1, 2021.[xv] A comprehensive data protection law, the Personal Information Protection Law (PIPL), will come into effect on November 1, 2021.[xvi]
Didi Chuxing, hailed as China's Uber, was accused by China of illegally collecting customer data.
What's more, the recent announcement of strengthened restrictions on online gaming access by kids will dent the revenue streams of Tencent and many smaller GBA firms.
A lot of these laws appear to overlap, but the net effect is to dampen the economic power of the tech giants. The share prices of Tencent, jd.com, and Alibaba have all dropped, the latter down to their lowest price since listing in Hong Kong in 2019.[xvii]
What are the implications of all these pressures for FDI and in the GBA? Will the GBA and its technology sector maintain its growth?
Strategies for resilience
Let's consider Shenzhen, the largest of the GBA cities. In October 2020, there were more than 2,600 newly registered companies in high-tech areas, representing a year-on-year growth of 11.3 percent.[xviii] As of December 2020, while much of the world remained in lockdown, some 90,000 new foreign invested companies started up, in all sectors.[xix] In contrast, daily new cases in Shenzhen in recent months were in the single digits.[xx]
Historically, the confluence of challenges facing the GBA is not new. In the 1980s, a higher valued US dollar enabled American consumers to buy Japanese and European cars and other imported goods at very competitive prices. This fuelled trade deficits and provoked tariffs and restrictions with limited effect. Then the 1985 Plaza Accord depreciated the value of the dollar against the yen and major European currencies. Exports to the US dropped.[xxi]
The immediate impact on Japan's export-oriented economy was devastating and led to the 'lost decade' of the 1990s. Japan fought back, however, with more research & development, resulting in better quality products and diversified export markets.
Not wanting to experience the same loss, China is pursuing a similar course. As Nietzsche observed, 'That which does not kill us makes us stronger.' That is exactly what is happening in the GBA.[xxii]
Accelerated diversification
Above all, the new laws as outlined are forcing GBA companies to align with global standards and regulations, especially on data security and privacy. Trade and other restrictions have also accelerated diversification, both geographically for production and in business sectors that avoid restrictions.
Consider these examples. A large manufacturer and exporter of toolboxes has circumnavigated the steel supply problem by moving half of its production base from the GBA to Thailand. This enables compliance with US tariffs. Management has indicated, however, that productivity is not as high. Furthermore, logistics are more challenging than within the GBA. They and their customers have voiced their concerns about the tariffs and would like to see them removed.
In the gaming industry, which generated revenues of almost US$175 billion in 2020 and grew +9.3%, expects expansion by Tencent.[xxiii] Globally, the sector is dominated by US and Japanese firms, with only Tencent in the top ten.
Sales of Huawei's 5G base station equipment have been severely restricted. In addition, the ban prohibiting the use of Google's Android operating system has affected Huawei's handset business.[xxiv] Add the other restrictions on the use of US technology and Huawei's growth has essentially been stopped in its tracks. Huawei has taken positive steps to address this with its own opensource operating system, Harmony.[xxv] However, this will have a forking effect. It is only a matter of time before other Chinese smartphone manufacturers use it, once it has its own app ecosystem developed.
Huawei has taken steps to address US bans with their own open-source OS, Harmony
Huawei has been more successful on the PC front, with licenses being allowed once again from Microsoft, Intel, and AMD for Huawei notebooks. But it is rapidly expanding three other sectors: cloud computing, AI, and automotive technology.
Finally, the automotive sector is promising. China is the world's biggest car and light truck market, and the vehicles increasingly employ more and more technology. That's partly why Intel is expanding its automotive chip manufacturing division.[xxvi] As automotive solutions are not considered a security issue, the US approved the export of specific chips to Huawei for its components business in August 2021.[xxvii]
Similarly, Huawei Cloud+ Artificial Intelligence (together with China market leader, Alibaba) wants to go global in a market dominated by a handful of US companies. Apart from China, its immediate focus is near Asia and global emerging markets.[xxviii] It is also focused on securing a major share of the US$370+ billion cloud computing market, which is expected to double by 2025,[xxix] and the US$156 billion AI market, also to double by 2024.[xxx]
The ratification of the Regional Comprehensive Economic Partnership (RCEP), expected by the end of 2022, will also benefit the GBA in lowering trade barriers in the East Asia and Pacific region.[xxxi]
The net result? The GBA will likely continue to be the jewel in the crown for China as the country adapts to new realities. According to this view, shared by some of the world's largest investment houses and most prestigious consultancies, the answer is clear. Investors remain drawn to the GBA's potential continued growth.[xxxii]
[i] - https://www.statista.com/statistics/1172165/china-population-in-the-greater-bay-area-cities/
[ii] - https://www.bayarea.gov.hk/en/about/the-cities.html
[iii] - https://research.hktdc.com/en/article/MzYzMDE5NzQ5
[iv] - https://databank.worldbank.org/data/download/GDP.pdf
[v] - https://www.ceicdata.com/en/china/steel-price
[vi] - https://gcaptain.com/baltic-dry-index-sails-past-4000/
[vii] - https://www.investopedia.com/terms/f/fob.asp
[viii] - https://www.piie.com/sites/default/files/documents/trump-trade-war-timeline.pdf
[ix] - https://www.census.gov/foreign-trade/balance/c5700.html
[x] - https://www.piie.com/publications/working-papers/how-united-states-marched-semiconductor-industry-its-trade-war-china
[xi] - https://www.uscc.gov/research/chinese-companies-listed-major-us-stock-exchanges
[xii] - https://www.sec.gov/news/press-release/2020-319
[xiii] - https://telecoms.com/511165/deepening-o-ran-alliance-crisis-stokes-fear-of-global-technology-split/
[xiv] - https://www.bloomberg.com/news/articles/2021-07-22/china-is-said-to-weigh-unprecedented-penalty-for-didi-after-ipo
[xv] - https://telecoms.com/511269/automotive-demand-drives-intel-to-mull-e80-billion-investment-in-europe/
[xvi] - https://www.reuters.com/business/autos-transportation/exclusive-us-approves-licenses-huawei-buy-auto-chips-sources-2021-08-25/
[xvii] - https://www.scmp.com/business/china-business/article/3145716/hong-kong-stocks-follow-tech-firms-south-amid-chinas?module=inline&pgtype=article
[xviii] - http://www.sz.gov.cn/en_szgov/business/news/content/post_8351144.html
[xix] - Ibid.
[xx] - http://www.sz.gov.cn/en_szgov/news/notices/content/post_9104602.html
[xxi] - https://www.hkmoneyclub.com/en/2019/05/22/the-1985-plaza-accord-and-what-it-means-for-the-us-china-trade-war/
[xxii] - https://assets.kpmg/content/dam/kpmg/cn/pdf/en/2021/02/greater-bay-area-update-tech-and-innovation-gba-newsletter.pdf
[xxiii] - https://www.pcgamesn.com/game-industry-revenue-2020
[xxiv] - https://www.androidauthority.com/huawei-google-android-ban-988382/
[xxv] - https://www.makeuseof.com/what-is-harmony-os-huawei/
[xxvi] - https://telecoms.com/511269/automotive-demand-drives-intel-to-mull-e80-billion-investment-in-europe/
[xxvii] - https://www.reuters.com/business/autos-transportation/exclusive-us-approves-licenses-huawei-buy-auto-chips-sources-2021-08-25/
[xxviii] - https://www.scmp.com/tech/big-tech/article/3143833/huawei-plans-big-leap-rank-among-asias-top-cloud-services-providers
[xxix] - https://www.marketsandmarkets.com/Market-Reports/cloud-computing-market-234.html
[xxx] - https://www.idc.com/getdoc.jsp?containerId=prUS46757920&utmd-ai-technologies-at-hdc-cloud-2021-event/
[xxxi] - https://www.hinrichfoundation.com/research/article/ftas/asean-waits-for-rcep-ratification-and-post-pandemic-integration/
[xxxii] - https://markets.businessinsider.com/news/stocks/blackrock-china-mutual-quant-wealth-fund-regulatory-crackdown-xi-jinping-2021-08
© The Hinrich Foundation. See our website Terms and conditions for our copyright and reprint policy. All statements of fact and the views, conclusions and recommendations expressed in this publication are the sole responsibility of the author(s).
---