Trade and geopolitics
Five key takeaways from the G20 summit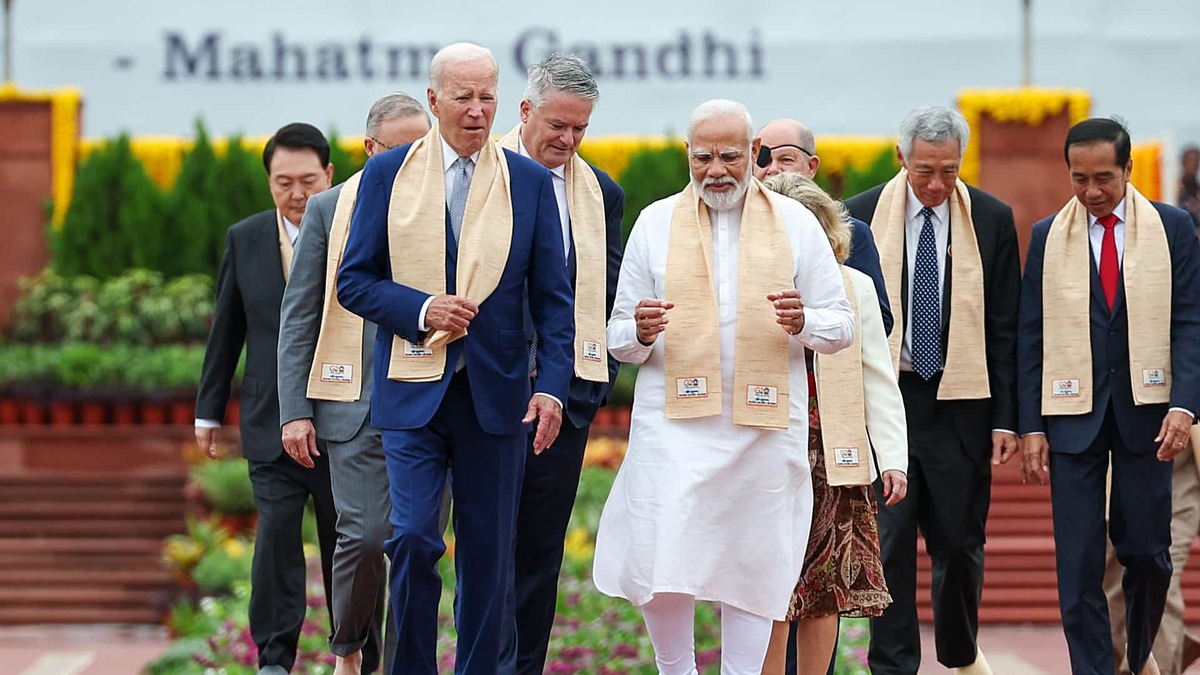 ---
Published 12 September 2023
The recently concluded G20 summit may be better remembered for its watered-down consensus on the war in Ukraine, but it also saw the US and India seizing an opportunity to lay down the conceptual underpinnings of what might be an answer to China's Belt and Road Initiative, in the form of a new economic corridor. Here are our five takeaways from the annual meeting.
The Group of 20 is in a bit of a bind. For one thing, it's growing. It's in fact no longer the G20, but the G21, with the accession of the 55-nation African Union this year. And, as with symptoms of sprawl, the forum is finding itself saddled with dissipation and compromise – what Alan Beattie at the Financial Times describes as getting shallower even as it gets wider – but there was at least a slight glimmer of potential gains for global trade from the New Delhi summit just concluded over the weekend by the Indian presidency.
In a summit more notable for India's engineering of a watered-down consensus on the war in Ukraine, the US seized an opportunity to lay down the conceptual underpinnings of what might be an answer to China's Belt and Road Initiative, in the form of new trade infrastructure-focused "Economic Corridor" together with the European Union, India, Saudi Arabia, the United Arab Emirates, France, Germany, and Italy. India also put forward a Digital Public Infrastructure plan as a G20 framework for delivery of digital public goods, a first in terms of describing such infrastructure.
The G20 matters. Together, its members account for 86% of global gross domestic product, 73% of international trade, and two-thirds of the world's population. Yet it's been struggling to assert leadership even as it expands its membership to keep up with rival forums such as BRICS, which is led by Brazil, China, South Africa, and – again – India, a group that is itself expanding. As global trade expert Simon Evenett notes, "Any notion that the G20 acts as an effective force to align its members' trade and industrial policies can be discarded."
Here are our five key takeaways from the India G20 summit:
Takeaway #1: Dithering over Ukraine
G20 leaders have been deeply divided over the Russian invasion of Ukraine. The 2022 Bali summit stated that "most members strongly condemned the war in Ukraine," but added "there were other views" under pressure from Moscow and Beijing. This year, while the group reached consensus on a joint declaration, there was a discernible softening of the language around Russia's role in the Ukraine war. All references to Russia, Russian aggression, and calls for Russia's "complete and unconditional" withdrawal from the war that featured in last year's joint statement were removed. The declaration instead emphasized that states must "refrain from the threat or use of force to seek territorial acquisition" and that "the use or threat of use of nuclear weapons is inadmissible". The watering down of the G20's position on Russia was the most notable takeaway for many commentators. The Ukraine war continues to bedevil global trade, and is cited as among the key headwinds to the world economy. Moscow said last month it was pulling out of a United Nations-led deal to allow safe passage of Ukrainian grain, a key export to global markets. India and China remain big buyers of sanctioned Russian oil. Kyiv's foreign ministry spokesman Oleg Nikolenko hit out at this year's G20 statement, saying the G20 had "nothing to be proud of".
Takeaway #2: The US broaches a trade super-corridor
The US laid out a multinational rail, shipping, and trade and investment connectivity project linking India with the Middle East and Europe on the sidelines of the summit, in a step seen as a challenge to China's ambitious economic expansion plans in these regions. The so-called "India-Middle East-Europe Economic Corridor", hailed as a 'really big deal' by President Joe Biden, includes India, Saudi Arabia, the United Arab Emirates, Jordan, Israel, and the European Union. While exploratory by nature, it aims to boost trade, deliver energy resources, and improve digital connectivity by providing infrastructure support such as rail links as well as undersea and power cables, a hydrogen pipeline, and other high-speed data infrastructure. The memorandum of understanding can be viewed as a plan to counter China's Belt and Road push to develop global infrastructure by pitching Washington as an alternative partner and investor for developing countries. It remains to be seen whether and how the ambitious project will pan out but if the group can pull it off, this could mean huge gains for trade and investment.
Takeaway #3: Small gains on climate
For the first time, the G20 backed a target of tripling renewable energy capacity and laid out the need for global emissions to peak before 2025. The group also agreed in the summit's statement that limiting warming to 1.5 degrees Celsius will require reducing greenhouse gases by 43% by 2030 from 2019 levels and that developing countries will need US$5.9 trillion in funding to achieve their climate targets. However, G20 leaders failed to agree on a phase-out of fossil fuels, with the member states, home to 93% of the world's operating coal power plants and around 80% of global emissions, committing only to a "phase down" of coal. A Global Biofuels Alliance (GBA), launched by India in its role this year as the chair of the summit, is meant to help accelerate this "phase down" by promoting the adoption of biofuels through technological advancements, increasing the use of sustainable biofuels, and establishing robust standards and certification processes. Supported by the US, Brazil, Italy, and other nations, the alliance is expected to assist G20 nations in reducing their reliance on fossil fuels over the next three years.
Takeaway #4: The implications of China's absence
Xi Jinping, who has never missed a G20 summit since taking power in 2012, was conspicuously absent from the New Delhi summit. China's absence has invited a wide array of speculation and interpretations including a possible snub to India, whose relations with China have frayed over a border dispute, Beijing's perception that the G20 harbors an anti-China agenda, and plans to reshape global governance by strengthening forums and platforms where China has a more central role. While China has provided no explanation for his absence, Beijing's reticence has raised questions about Xi's scheduled attendance at the upcoming Asia-Pacific Economic Cooperation summit in San Francisco in November. Much depends on whether the US and China can effectively rebuild some trust, even through symbolic gestures, in the next few months. Beijing last week called on Washington to "show real sincerity".
Takeaway #5: India's shift from non-alignment to multi-alignment
India's G20 presidency is the culmination of a year of the evolution of India's foreign policy from non-alignment to multi-alignment. With a foot in seemingly all camps, New Delhi is emerging as a big winner from global bifurcation. In May 2022, India participated in the leaders' summit of the Quadrilateral Security Dialogue (Quad) in Tokyo, On the sidelines of the Quad Summit, India also became a member of the US-led Indo-Pacific Economic Framework for Prosperity (IPEF), though New Delhi later pulled out of one of the framework's four pillars. A month later, Prime Minister Narendra Modi attended the 14th BRICS (Brazil, Russia, India, China, and South Africa) Summit, hosted by Beijing, though he did so virtually. Modi later last year attended the Shanghai Cooperation Organisation (SCO) Summit, a grouping established by China and Russia on political, economic, and security cooperation, and took over the presidency of the SCO for 2023. India is gaining from US friend-shoring and now is part of the proposed Middle East-Europe trade corridor. While India's G20 presidency is a confirmation of India's status as a major emerging global power and its role as the bridge between the developing and developed world, it is also a reminder of a skilful – if some might say cynical – multi-alignment foreign policy in an increasingly polarized world. As it reaps gains from this power broker role, one question remains: Can India be in this enviable position for long?
Stay tuned.
© The Hinrich Foundation. See our website Terms and conditions for our copyright and reprint policy. All statements of fact and the views, conclusions and recommendations expressed in this publication are the sole responsibility of the author(s).
---