Trade and technology
CHIPS on the table: US doubles down on techno-nationalism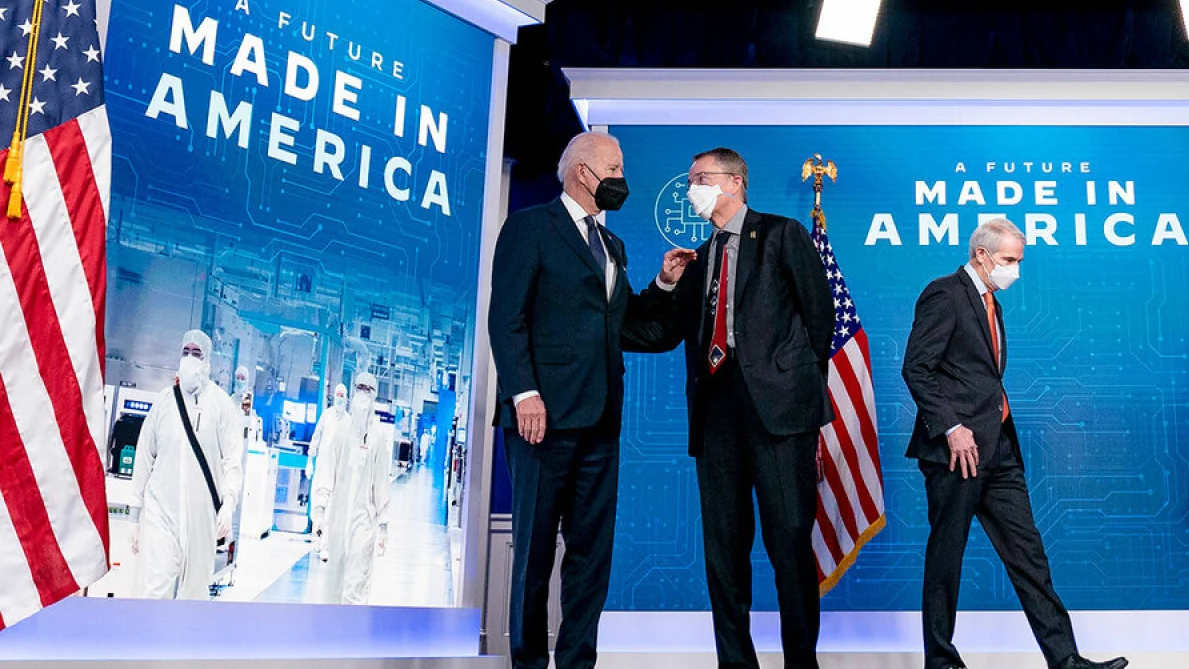 ---
Published 16 August 2022
US legislation to reshore semiconductor production marks a new era of corporate realpolitik and the rising primacy of geopolitics in global commerce. But attempts to ring-fence semiconductor fabrication fly against economics and underline an existential crisis for the rules-based world trading order.
America's enactment of the CHIPS and Science Act ("CHIPS") signals a new era in international trade and geopolitics. The statute, passed by Congress last month, is aimed at countering and containing China's techno-nationalist ambitions as well as preserving the US lead in key tech industries [1].
One of its furthest-reaching objectives is the decoupling and ring-fencing of strategic supply chains, essentially reversing 30 years of offshoring, a mainstay of globalization and classical economics long baked into US manufacturing.
Widely hailed as historic legislation, the CHIPS Act represents two landmark inflection points.
First, it underscores a paradigm shift in the West, away from a commitment to laissez-faire economics and open markets to a new form of managed trade, viewed in key policy circles as a necessary evil, despite being inconvenient and sub-optimal.
Second, CHIPS presents challenges to companies' investment and ongoing operations in China. Washington's push to broaden its licensing requirements to include much older chip technologies upends the "in-China-for-China" strategy that has ruled for decades and calls into question the business model of the world's biggest semiconductor players, from Intel to Qualcomm.
Countering China's rise
CHIPS legislation sets aside US$280 billion to boost US competitiveness, with some US$52 billion allocated specifically toward a range of subsidies, tax credits, and research and development incentives to produce semiconductors. These chips are the lifeblood of the modern economy, powering the core technology that runs everything from automobiles and smart phones to nuclear submarines, aerospace, and quantum systems.
Yet, as microchip technology evolved, its production has embodied the broad trends of globalization, as factories rationalized global value chains and increasingly sought offshore locations to optimize operations. Consequently, for much of the last three decades, the global share of American-based semiconductor manufacturing shrank from just under 40% to approximately 12% [2].
China meanwhile made strong gains in semiconductor production. Its chip makers posted record sales last year, thanks to a global chip shortage and surging global demand. Still, most of its growth comes from older-generation legacy chips. China has not made verifiable progress in producing high quality, commercial leading-edge chips since Huawei, the national telecommunications equipment manufacturer, had its supply of microchips choked off by US sanctions [3].
China still relies on American and other foreign companies for critical manufacturing equipment, chemicals, and materials, even for the production of older-generation legacy microchips. Intel, Taiwan Semiconductor Manufacturing Company (TSMC), and Samsung, for example, continue to invest in local trailing-edge operations in China.
But Beijing has set its sights on leapfrogging technology gains and routinely pours tens of billions of dollars in state subsidies annually into the industry. The rising strategic competition between the world's two largest economies has raised questions among US policy makers and elsewhere over long-held assumptions of unfettered access to global semiconductor supply chains. More recently, many are questioning whether Western companies should be aiding Beijing's ambitions through continued sales of older but potentially scalable technologies.
CHIPS was drafted on the premise that the microchip is a vital public good, required for the everyday operation of critical infrastructure, including utilities and food. The public good argument has given further impetus to a growing movement that calls for countermeasures to China's statist and mercantilist economic practices.
This transition, however, has created tensions between governments and businesses as they struggle to find a balance between market dynamics and national policy. As such, leading semiconductor multinationals now find themselves facing a paradox: they need assistance from their governments to counter Beijing's large-scale system of innovation mercantilism, but they are suddenly grappling with increased public activism and state intervention in their markets.
Upending the in-China-for-China chip strategy
As a result of the newfound Western enthusiasm for intervention, CHIPS poses challenges for global chip makers investing and operating in China. For years, American and other foreign companies have followed an "in-China-for-China" strategy that concentrated on selling older, so-called "trailing edge" or "legacy" technologies to Chinese manufacturing consumers. This strategy achieved the dual objectives of steering clear of US sanctions and controls on the export of "leading edge" semiconductor technology, while keeping the chip maker's most valuable intellectual property in a so-called "black box", out of reach from competitors.
The smaller the semiconductor, the more advanced its technology. US licenses for "leading edge" chips previously targeted the 10-nanometer and below range, regarded as more complex technology. But Washington recently pushed the threshold to 14 nanometers and is considering extending licensing requirements to much older technologies, up to 28-nanometer chips.
In the near to midterm, such intervention would derail Beijing's master plan to gain chip technology. But it also represents collateral damage to the in-China-for-China business model for companies, not just US giants but many others such as TSMC and Samsung.
Multinational companies, American or otherwise, that avail themselves of CHIPS Act funding will find it increasingly difficult to push back against Washington's China policies. And, assuming China eventually builds more domestic semiconductor self-sufficiency, these companies will potentially find themselves pincered if Beijing seeks reprisals against those that stood by CHIPS.
Liberal economics versus techno-nationalism
The logic behind CHIPS' industrial policy flies in the face of deeply embedded liberal economic thought that has steered US trade policy for decades.
From the liberal economist's perspective, assuming there are no government-imposed trade barriers, global supply chains will organize around efficiency and access to value-adding networks. For the past three decades, globalization has borne this out, and no industry exemplifies this better than semiconductors.
Industrial-scale fabrication of semiconductors represents one of the most significant technological achievements in history. More than 50 types of highly sophisticated and specialized equipment are involved in the delicate processes of wafer production, from oxidation to lithography and etching.
Due to high costs and even higher barriers to entry, semiconductor global value chains have become exceptionally segmented and dispersed around the world.
Any attempt to re-shore and ring-fence semiconductor fabrication solely for geopolitical and techno-nationalist reasons, therefore, is likely to run up against (at least in the near to midterm) efficiency loses and higher costs, supply and demand imbalances, and human capital shortages . Forcing such value chains to reshore might fail, or at best produce the Galapagos syndrome – a reference to products evolved from and suitable only for isolated markets.
Flight from rules-based trading order
Yet, despite the potential economic pitfalls of industrial policy, leading global semiconductor companies and other top multinationals lobbied the US strongly for the CHIPS Act.
In 2021, a swath of chief executives urged Congress to pass the act. The statute's proponents include a who's-who of semiconductor companies such as Qualcomm, Nvidia, Broadcom, AMD, Xilinx, Applied Materials, ASML, Global Foundries, Intel, Samsung, and TSMC. Other giants included Ford, General Motors, Alphabet, Apple, Dell, HP, and Microsoft.
Why?
The simple answer is that the rules-based international trading system is in existential crisis. The rare bilateral consensus in Washington that drove the CHIPS Act is a reaction to a host of external threats: the widening US-China geopolitical rivalry, failures in global supply chains caused by the Covid pandemic, Russia's invasion of Ukraine, and the new geopolitics of energy and food security.
China's escalation of war games and live fire drills in Taiwan's territorial waters, amid tensions after US House Speaker Nancy Pelosi's visit to Taipei this month, has further galvanized US techno-nationalist imperatives.
Therefore, for American and other foreign semiconductor companies profiting from legacy sales to China, the optics are becoming increasingly problematic. In reaction to China's war exercises, for example, Taiwan's national security officials now want Apple supplier Foxconn to withdraw a US$800 million investment from China's Tsinghua Unigroup's UNISOC, a government-funded chip design company [4]. The logic is straightforward: why should Taiwan bankroll Beijing's chip ambitions only to see that same technology turned against Taiwan?
American and European firms face similar risks of being accused of enabling China's techno-nationalist ambitions.
Legislation such as CHIPS embodies a new era in trade and geopolitics. With it has come a new brand of corporate realpolitik that acknowledges the primacy of geopolitics in global commerce.
***
[1] https://www.forbes.com/sites/alexcapri/2019/12/20/techno-nationalism-what-is-it-and-how-will-it-change-global-commerce/?sh=50a9f112710f
[2] https://www.vox.com/recode/23048906/chip-shortage-manufacturing-america-biden
[3] https://asia.nikkei.com/Spotlight/Huawei-crackdown/Huawei-drops-5G-for-new-P50-phones-as-US-sanctions-grip
[4] https://www.ft.com/content/866467a4-6627-4356-ac46-6ede989f3d66
© The Hinrich Foundation. See our website Terms and conditions for our copyright and reprint policy. All statements of fact and the views, conclusions and recommendations expressed in this publication are the sole responsibility of the author(s).
---