Trade and technology
Trade in carputer parts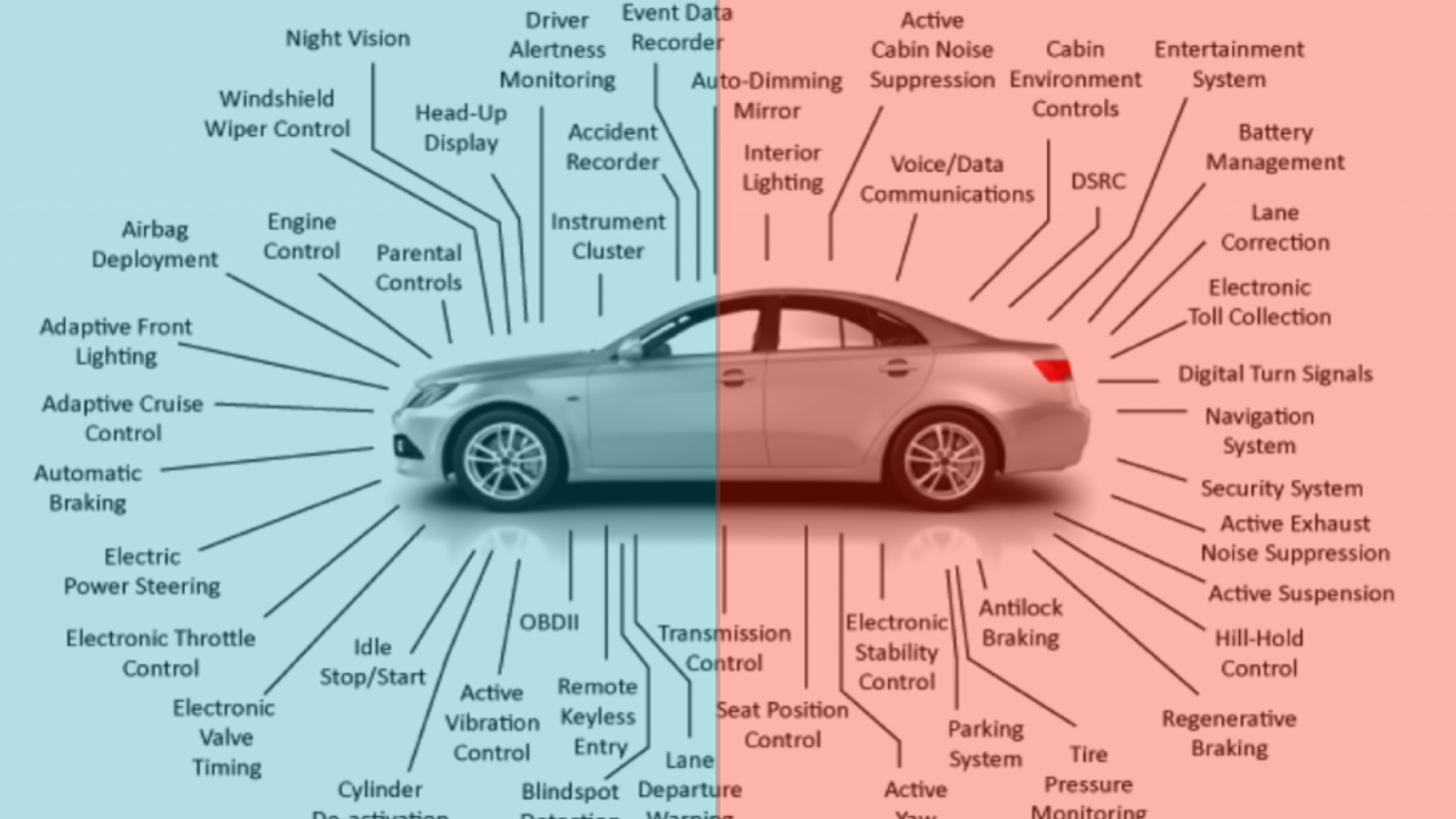 ---
Published 26 January 2018
High-tech "carputer" parts are enhancing customer experience, delivering cost savings, and helping companies comply with tighter regulations on fuel efficiency for new vehicles sold around the world – and not just the fanciest ones.
How Do I Work My New Car?
High-tech "carputer" parts are enhancing customer experience, delivering cost savings, and helping companies comply with tighter regulations on fuel efficiency for new vehicles sold around the world – and not just the fanciest ones.
The operator's manual for the popular entry-level Honda Civic is 601 pages. It doesn't fit in the glove box; it comes in the form of an electronic document to download, which seems appropriate considering the number of electronic components in the car. Fifty-two pages of the manual are dedicated to explaining the functionality of the instrument panel capable of presenting information from mileage to fuel and speed indicators, safety warnings, outdoor and indoor temperatures, while also displaying a navigation system, the rear-view camera, and in-car entertainment options.
Those are the car electronics you can see. Also going high-tech are performance functions and safety features such as the electronic fuel injection that replaced the carburetor, the electronic traction in all-wheel drive, anti-lock brakes, vehicle stability assist, road departure mitigation, and collision mitigation.
Auto Parts Suppliers Have "CAN-Do" Spirit
When you get in your car, you enter a realm called the Controller Area Network (CAN). CAN is the system of wires, software, computers, and sensors relaying signals to one another to make your car run and respond to your driving environment, while you pick your listening station and – presumably – do the remaining fun parts of actually steering and controlling the accelerator.
For example, for airbags to function as intended, they rely on sensors in the seats, dashboard, and doors communicating with your seatbelt and other collision sensors. Other sensors can start your car from inside your house on a cold day and help you parallel park hands free.
All of these sources and collectors of data feed into computerized diagnostics, so owners no longer have to describe the whirring, grinding, or rattling noise to the mechanic. Instead, more machines at professional garages — oscilloscopes and digital volt-ohm meters — talk directly to the machines in our cars to identify problems.
It's All About Increasing Value Through Chips, Telematics, and Infotainment
Governmental policies requiring fuel efficiencies and reduced emissions are driving wider implementation of advanced drivetrain technologies, regenerative braking, variable valve control, among other high-tech electronic innovations in cars that help achieve performance at lower costs. The push to find efficiencies is imperative as auto producers face significantly higher prices for traditional materials that make up the body of the car from steel to plastics, glass and rubber.
At the same time, auto producers are working to deliver more "content" (i.e., customer experience and comfort) to buyers. Non-traditional automotive suppliers in the high-tech world of microcontroller chips, semiconductors and sensors are delivering increasingly higher content and value to the overall cost of a vehicle.
Tricked-out Cars are Setting Global Trends
American drivers aren't the only ones seeking out "connected" cars with high-tech features. For U.S. automotive parts suppliers, the top three export markets are Canada, Mexico, and China. China will make 27 million vehicles by 2020. Exports of U.S.-made auto parts to China more than doubled between 2009 and 2015 from around $1 billion to $2.4 billion.
While Canada and Mexico produce far few vehicles, they are the largest markets for U.S. auto parts suppliers. A full 75 percent of U.S. auto parts exports went to Canada or Mexico in 2015, a testament to how tightly integrated automotive supply chains are throughout North America. In particular, many of the Tier 2 and Tier 3 automotive parts suppliers are small and medium-size enterprises for whom the Canadian and Mexican markets are their only and most important export opportunities. For the larger Tier 1 original equipment manufacturers, Japan, Germany and Korea represent the next largest opportunities as significant auto production takes place in each.
Accelerating Markets for High-Tech Auto Parts
Many traditional original equipment parts are produced close to assembly plants, but the high-tech, high-cost, components are lightweight and positioned to move long distances on a just-in-time basis. Innovative, high-tech components are also less likely to face lower cost competitors in export markets.
Leading global suppliers include NXP in the Netherlands, Renesas Electronics in Japan, and Infineon Technologies from Germany. They also include American competitors such as Dallas-based Texas Instruments, which has global manufacturing and sales in more than 30 countries, Micron Technology, which is headquartered in Boise, Idaho and operates in 18 countries, and ON Semiconductor, which is located in Phoenix, Arizona but runs engineering, design, and manufacturing centers globally and earns more than 70 percent of its revenue in Asia. They all have bright futures supplying the fast-evolving global market for automotive-grade electronics.
Why Would They Need Trade Policy?
In addition to leveraging trade policy to lower tariff and tax barriers, auto parts suppliers believe the most important impact trade policy engagement can have is to ensure that global standards are transparent and reasonably harmonized, so that U.S. suppliers can comply with any market's regulatory requirements.
European negotiators have been swifter and effective in promoting sole acceptance of European standards in this area. And with cutting edge technological innovations, the creators of specialized chips, sensors, processors and other electronics for cars want trade agreements to protect their prospects for global commercial success by preventing theft of their intellectual property. Going forward, trade policies will need to be as smart and forward-thinking as the cars they help promote.
Feature image: adapted from Clemson University Vehicular Technology Lab
© The Hinrich Foundation. See our website Terms and conditions for our copyright and reprint policy. All statements of fact and the views, conclusions and recommendations expressed in this publication are the sole responsibility of the author(s).
---