Free trade agreements
Northern Ireland isn't waiting on post-Brexit trade deal to court US investors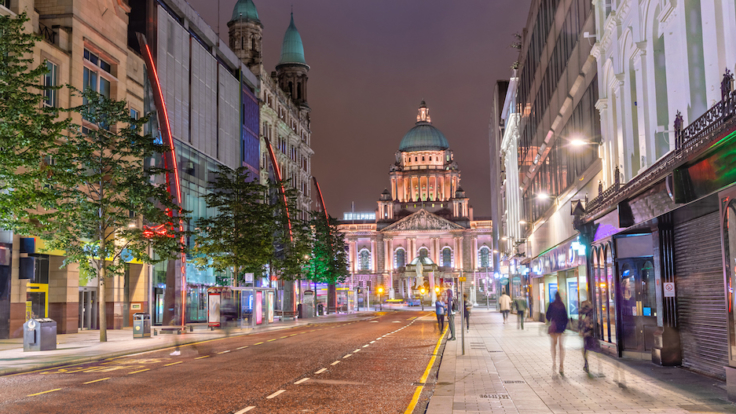 ---
Published 13 March 2020
Northern Ireland isn't waiting on a post-Brexit trade deal to attract US investors. Although the UK's Department for International Trade is on the front lines, another agency — Invest Northern Ireland — is actively calling overseas markets to invest in Belfast.
A trade agreement for the "whole of the UK"
On March 2, 2020 the United Kingdom (UK) released its public negotiating objectives for a free trade agreement with the United States, its largest bilateral trading partner. In pursuing increased trade in goods and services and greater cross-border investment, the UK government seeks an "agreement that works for the whole of the UK," including "all four constituent nations," and that takes account of the Northern Ireland Protocol that aims to avoid the introduction of a hard border on the island of Ireland. The United States released its objectives for talks with the UK in February of 2019.
Trade agreements are a valuable tool governments use to generate broad economic benefits, but negotiations can take time and outcomes are uncertain. Many governments simultaneously deploy export and investment promotion agencies to promote access to new markets for its companies or attract investments that will create jobs at home. Usually affiliated with government, these agencies may promote the image and offerings of the home market, provide export training, offer support in identifying partners or specific business opportunities, organize trade fairs or trade missions, and conduct research and market analysis. They may be based domestically and maintain offices abroad.
The UK has enjoyed longstanding success in attracting inbound investment, but with uncertainties surrounding the implementation and impact of Brexit, UK trade and investment promotion agencies have a key role to play in promoting a thriving post-Brexit economic future. Although the UK's Department for International Trade is on the front lines in providing trade and investment services, another agency — Invest Northern Ireland (Invest NI) — is specifically focused on making sure benefits accrue to Northern Ireland.
Banking on Belfast
Formed in Belfast in 2002 through a consolidation of the departments of trade, investment, and research and development, Invest NI helps new and existing Northern Irish businesses to compete internationally and works to attract new investment to Northern Ireland. The organization has over 600 professionals in its network, with business advisors across Northern Ireland, and throughout Europe, the Americas, Asia and the Middle East. With US-UK commercial relations in the headlines, we spoke with Peta Conn, the Boston-based Executive Vice President and Head of Americas for Invest NI about the narrative she shares.
"Northern Ireland's strength is its talent – a growing youth population, excellent universities and people who want to stay. We offer a strong ecosystem that brings together government, academia and business. There is a real focus on ensuring we can cater to future demand for skills. I'd add that Northern Ireland offers a great lifestyle and one that is affordable. Many come for the business and stay for the life."
Key industries in Northern Ireland include financial services, legal services and cyber security. According to FT fDi Markets, Belfast has been ranked as the world's number one destination for financial technology development projects, the top city in Europe for new software development projects, and the number one international location for US cyber security development projects.
Conn highlighted the importance of testimonials, including the vote of confidence from Boston-based security analytics software and services firm Rapid7, which announced in October 2014 it would set up a software innovation center in Boston's sister city of Belfast, creating high-paying jobs. Speaking of the investment at that time, Rapid7 CEO Corey Thomas pointed to the work that Northern Ireland's universities were doing in IT security and the availability of high-quality technical staff.
The hunt for talent
Despite the uncertainties of Brexit, Conn noted that the last few years have seen some of the strongest foreign direct investment flows out of the United States into Northern Ireland. "It's really about the need for talent and an immediate need for developers."
That talent flows from Northern Ireland's two major universities – Queens University Belfast and Ulster University. Both are leaders in innovative research, and Queens is home to the Centre for Secure Information Technologies, the UK's national innovation and knowledge center for cyber security.
"If you want development operations or software, you can do this at Belfast salaries that are 20 percent lower than Dublin and 30 percent lower than London, and also have lower workforce attrition."
The tools
Conn leads the Americas team, which includes a dozen people in Boston and 28 people in total across the region, in New York, Chicago, San Francisco, Miami, Toronto, Santiago, and, as of very recently, Los Angeles. In addition to promoting foreign direct investment, the team also helps Northern Ireland companies export to the United States.
Their performance indicators are based on employment and economic growth. Sales teams work to identify prospective investors and explain how Northern Ireland could fit within their growth strategies. Business development teams then offer customized solutions of how the market can specifically support business plans.
Once a company has committed to set up in Northern Ireland, one of the programs on offer is a pre-employment program called Assured Skills, which is unique to the region. Companies can co-design an academy-style course with a local training institution and then recruit a cohort of potential employees to take the course. At its conclusion, all participants are offered a job interview, thus de-risking the recruitment process and leading to a conversion rate of about 90 percent.
Crushing it
As US-UK trade talks get underway, politics in both countries and the UK's parallel negotiations with the EU, make the timing of any deal uncertain. The issue of Northern Ireland, which under the UK's Withdrawal Agreement with the European Union (EU), remains part of the UK customs territory but subject to EU regulations, will be a focus of attention among U.S. lawmakers insistent on avoiding a hard border in Ireland and protecting the 1998 peace agreement that helped bring an end to conflict in the region.
A UK trade deal with the United States may bring modest benefits for Northern Ireland as government analysis suggests, but the Rt. Hon. Brandon Lewis, Secretary of State for Northern Ireland, has emphasized: "The United Kingdom is going to be one area and all will be able to benefit from our future global trade deals."
While the talks proceed, Invest NI will continue to offer a compelling narrative of innovation, entrepreneurship, and opportunities to invest in Northern Ireland. Their stories will include everything from sophisticated software development to Northern Ireland's dominance in producing 40 percent of the world's mobile crushing machines and manufacturing a third of the world's airline seats.
Like free trade agreement talks, investment promotion involves understanding long-term strategy direction and the areas of an economy's competitive advantage. Invest NI will remain an important complement to UK government trade negotiation efforts, serving as the messenger of an economy that is open for business.
© The Hinrich Foundation. See our website Terms and conditions for our copyright and reprint policy. All statements of fact and the views, conclusions and recommendations expressed in this publication are the sole responsibility of the author(s).
---