US-China trade
NPC China: An air of drama and a grim outlook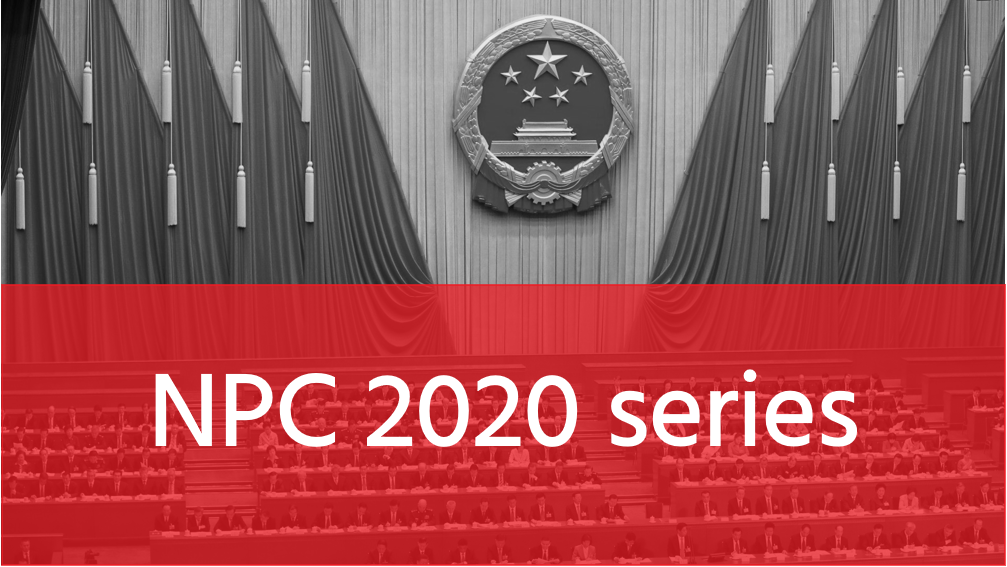 ---
Published 29 May 2020 | 4 minute read
Stabilizing employment, ensuring living standards and eliminating poverty were key themes at this year's NPC China meeting. The government announced fiscal and monetary policies to stimulate the economy, but did not go overboard. The main drama came from the government's decision to impose national security legislation on Hong Kong, which dominated overseas commentary on the parliamentary session.
The delayed start of this year's NPC meeting provided an air of drama to what is normally a staid but important affair on China's political calendar. Once underway, the drama continued.
No growth target
The government dropped the GDP growth target, a key metric for government performance. Many Chinese economists had advocated this for years, but it took a pandemic to persuade the government that no target was better than an unattainably high target or an embarrassingly low one. Next year we will see if this sensible decision sticks.
The background on Hong Kong's National Security Law
But the announcement that stole the show, at least internationally, was the decision to have the NPC Standing Committee draft a national security law that will be added to an annex of Hong Kong's Basic Law, thereby circumventing Hong Kong's Legislative Council. The overseas reaction, especially from the United States, was swift and forceful, with Secretary of State Pompeo declaring that Hong Kong no longer has sufficient autonomy to qualify for special trade and economic relations with the United States. If President Trump affirms Pompeo's assessment, this will change how the United States treats Hong Kong under various U.S. laws, such as export controls, where Hong Kong enjoys benefits not extended to mainland China.
Beijing took this extraordinary step for two reasons. It lost all hope in Hong Kong's ability to pass national security legislation on its own and views the instability in Hong Kong as a grave threat. The law has yet to be written but we can safely predict one outcome – further weakening of Hong Kong's legal institutions, a key pillar of the territory's commercial and economic success. The foreign business community will not respond favorably, no matter what reassurances Beijing offers. The vitality of Hong Kong's financial industry is most at risk as it depends on an independent legal system as well as the free flow of information. Both are in jeopardy. For Hong Kong, this is bad news as its financial industry is one of the territory's remaining areas of strength. In most other areas, the advantages have already drifted across the border.
Other important messages
In addition to the political high drama of Hong Kong, there were other important messages from this year's NPC:
Careful use of fiscal and monetary policy to address the economic impact of Covid-19. Here too, the government broke precedent by proposing a deficit to GDP ratio of 3.6%, a historic high. The "effective deficit" is actually higher, if one considers the use of carryover and surplus funds and various transfers. The decision to issue special treasury bonds, last done in 2007, underscored the magnitude of China's current economic challenges. The government also pledged to grow M2 at "notably" higher rates.
A strong focus on livelihood issues, particularly the need to ensure employment and living standards – key elements of the "six stabilities" and the "six guarantees," a new addition to China's political lexicon. "Employment" was cited 40 times in the Premier's work report, even more than his references to "pandemic." The government announced support for skills training for 35 million workers and is sticking to its pledge to eliminate poverty this year.
Repeated promises to support China's small and medium-sized enterprises, many of which are at risk of collapse. SMEs will benefit from tax cuts, reduced rent and electricity costs, deferred loan payments and more government financing. Whether these benefits really flow to SMEs is the question as there have been many empty promises in the past.
Emphasis on domestic consumption as a key driver of growth and a commitment to prioritize "new infrastructure" investment in 5G, new energy vehicles, high-speed rail and even water conservation.
Passage of the Civil Code, a milestone in China's construction of a formal legal system. The code will provide clearer definitions of property and personal rights and reduce inconsistencies among standalone statutes enacted over many years.
A restatement of familiar pledges about further opening up, shortened negative lists, improved market access in services and the like. The foreign business community has heard this before and will be more impressed with concrete actions.
Finally, this year's NPC underscored China's grim view of its external environment, with challenges on many fronts – Covid-19, global recession, anti-globalization sentiments, growing protectionism, and a deteriorating relationship with the United States. If there was any doubt left in Washington about how to deal with China, Covid-19 had already brought that to an end. For the Trump administration, U.S.-China relations have entered an era of geostrategic rivalry. End of story. The NPC decision regarding Hong Kong will only strengthen that conviction. We can now look forward to a U.S. presidential campaign that will further inflame U.S.-China tensions and potentially cause lasting damage.  
ASG is a premier global strategic advisory and commercial diplomacy firm. They offer perspectives honed at the highest levels of government and business, and insights informed by an unparalleled worldwide network of regional experts and sectoral specialists. Prior to joining ASG, Kenneth Jarrett was the President of American Chamber of Commerce Shanghai. Previously, he was a distinguished diplomat whose positions included service as Consul General in Shanghai, and as Deputy Consul General in Hong Kong.
© The Hinrich Foundation. See our website Terms and conditions for our copyright and reprint policy. All statements of fact and the views, conclusions and recommendations expressed in this publication are the sole responsibility of the author(s).
---