US-China trade
Quick take: Assessing China's Fifth Plenum
---
Published 30 October 2020 | 8 minute read
The Hinrich Foundation has invited four China experts to comment on the implications of the Fifth Plenum for global trade and the future of US-China relations.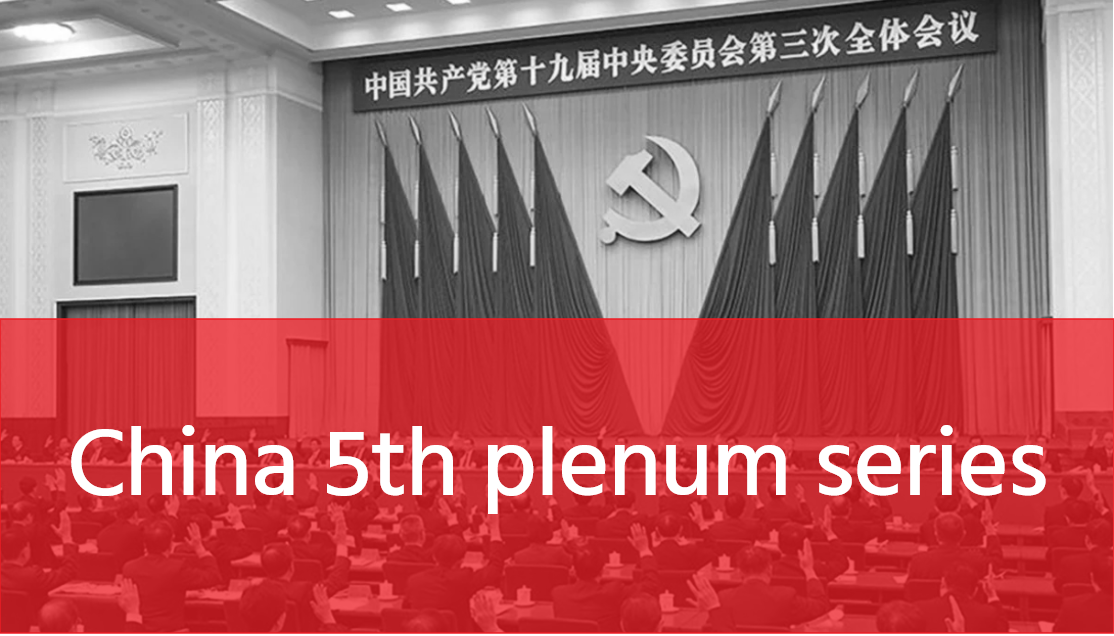 Details of China's next five-year plan are emerging from the just-concluded Fifth Plenum. The Party leadership has endorsed plans to promote technological self-sufficiency and open its market further to foreign investment. We invited four leading China experts to share their analysis of what this means for global trade and the future of US-China relations.
Dr Song Gao (CEO, PRC Macro) discerns in the communique a clear shift in domestic and international priorities. The "dual circulation" strategy will boost domestic demand while Beijing adopts a more assertive foreign policy and seeks a greater role in global governance. Sitao Xu, (Chief Economist, Deloitte China) also identifies domestic demand-led growth as a central policy as China seeks to become a "moderately developed country", and a high degree of development policy continuity with earlier pronouncements. Prof. Henry Gao (Associate Professor of Law ,SMU) suggests that while turning inward might help reduce China's trade conflict with the US, tensions could intensify over the role of the state in the economy, and the continued push for technological dominance. Finally, James (Jim) McGregor (Chairman, APCO Worldwide) focuses on the implications for foreign business in China. He advises that "dual circulation" represents a doubling down on import substitution aspirations and that there are both threats and opportunities associated with this.
Sitao Xu

Chief Economist, Partner, Deloitte China

Sitao Xu is chief economist and partner of Deloitte China, spearheading economic research team. Prior to Deloitte China, he was chief representative of the Economist Group and forecasting director of Economist Intelligence Unit in China. He was previously senior economist for Asia at Societe Generale, Industrial and Commercial Bank of China (Asia), and Standard Chartered Bank.

 
James McGregor

Chairman, Greater China region, APCO Worldwide

James McGregor is Greater China Chairman for APCO Worldwide where he serves as a senior advisor on China business, political and communications strategies for a wide variety of multinational corporations. He is also author of two highly regarded books: No Ancient Wisdom, No Followers: The Challenges of Chinese Authoritarian Capitalism; and One Billion Customers: Lessons from the Front Lines of Doing Business in China.

 
Song Gao

Co-CEO and Head of Research, PRC Macro

Song Gao is the CO-CEO and Head of Research for PRC Macro, a public policy organization based in China. Previously, he served as China Country Representative and Principal Analyst for the Observatory Group (Washington, DC) and a Senior Economist of China Monitor Inc (CMI). Prior to joining CMI he was a professor and researcher at Junniata College in the US. 

 
Henry Gao

Associate Professor of Law, Singapore Management University

Prof. Henry Gao is Associate Professor of law at Singapore Management University. With law degrees from three continents, he started his career as the first Chinese lawyer at the WTO Secretariat. His research has been featured in CNN, BBC, The Economist, Wall Street Journal and Financial Times. He's currently working on issues relating to digital trade, WTO reform, and the Belt and Road Initiative.

 
© The Hinrich Foundation. See our website Terms and conditions for our copyright and reprint policy. All statements of fact and the views, conclusions and recommendations expressed in this publication are the sole responsibility of the author(s).