Upcoming Events
How Beijing uses its power to Chinese companies' advantage in the global marketplace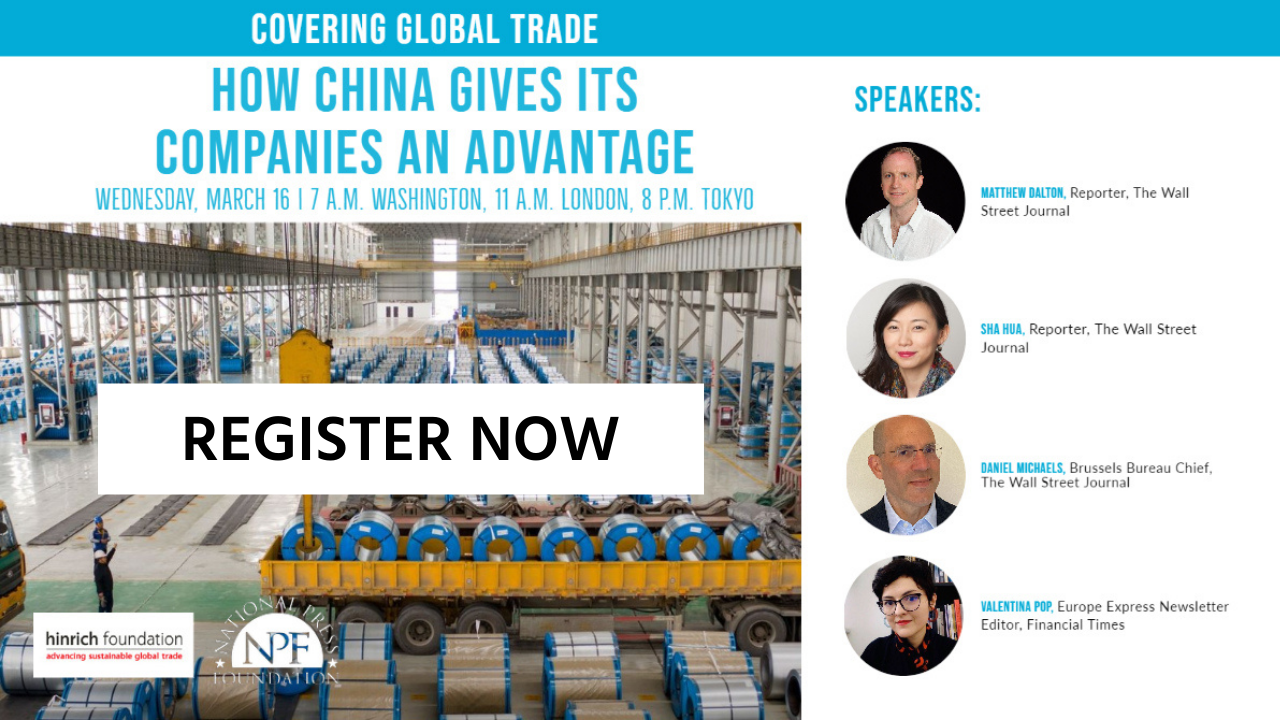 Join foreign correspondents from the Wall Street Journal and Financial Times – recipients of the National Press Foundation's Hinrich Award for Distinguished Reporting on Trade – to learn their insights on China's use of its power and political leverage to extend home-grown companies an advantage in the global marketplace.
In this latest instalment of the series on trade supported by the Hinrich Foundation, awardees of the award will answer questions about their winning work and China's role in global trade.
In one of the winning stories, Wall Street Journal reporters Valentina Pop (now with the Financial Times), Sha Hua, and Daniel Michaels examine China's attempts to dominate the institutions that define the vital technical and industrial standards for cutting edge technology, from lightbulbs to 5G.
Matthew Dalton reported from Paris on how China has provided billions in subsidies to state-owned companies to acquire manufacturing plants in the West — including a French maker of high-speed train wheels — and then slashed prices. Meanwhile, the United States tried to keep Huawei Technologies Co. from acquiring a Dutch machine that it needed to manufacture advanced semiconductors, reported Stu Woo from London and Yang Jie from Tokyo.
NPF judges praised the high quality of the reporting and analysis that detailed how China's quest to wrest control over international norms previously controlled by the United States is "setting the stage for skirmishes to come."
The Hinrich Foundation Award for Distinguished Reporting on Trade was created in 2019 to recognize exemplary journalism that illuminates and advances public understanding of international business and trade.
This webinar has ended.