US-China trade
American and Chinese consumers are shopping like there's no trade war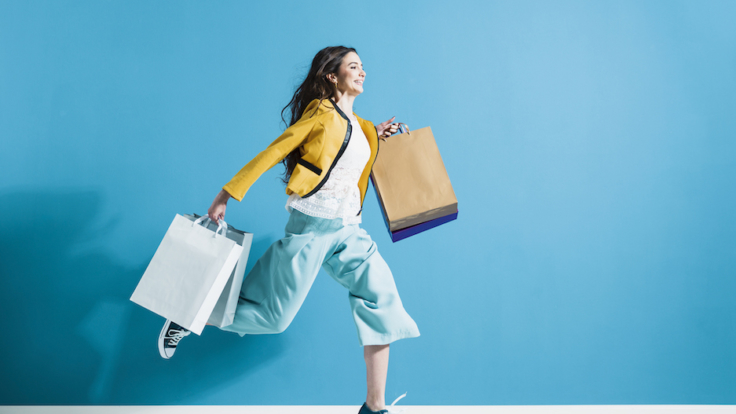 ---
Published 06 December 2019
US and Chinese consumers have not bought less as a result of the trade war. Concerns of a drop in consumption is yet to show up in measures of buying confidence or holiday retail sales, while real and virtual shopping basket are still being filled to the brim.
What trade war?
If shoppers are worried about the US-China trade war, it's not showing up yet in measures of their buying confidence or holiday retail sales.
We are more than a year into dueling tariffs between the United States and China, and we know that tariffs add costs to supply chains, but how much of those costs are passed on the consumer depends on decisions by manufacturers, buyers and retailers as well as the "import-intensity" of the products we buy.
So far, if prices have risen on consumer products, it's not dampening American appetites to buy. And Chinese consumers don't rely to a great degree on imports in general, so China's retaliatory tariffs on US imports don't appear to be the biggest factor in their personal spending either.
Spending and the US economy
At the end of third quarter, the Bureau of Economic Analysis reported that US consumer spending was on track for US$14.67 trillion this year, reaching an all-time high.
Personal expenditures make up 68 percent of the US economy, and it's consumer spending that's keeping growth of our economy from slowing further. (By comparison, our "negative net exports" or total exports minus total imports, comprise five percent of US GDP.)
Two-thirds of spending is on services such as housing and health care, which are largely impervious to the trade war. The remaining third is spent on non-durable goods such as clothing and groceries, and on durable goods such as cars and appliances.
Brimming with confidence
The Conference Board's Consumer Confidence Index is a monthly report on consumer attitudes and buying intentions. Despite analysts' expectations that concerns related to trade disputes would cause US consumers to become cautious, the index shows a trend of rising consumer confidence since 2009.
Breaking records online
Retail sales figures tell us whether that confidence is translating into spending. Indeed, American consumers are still filling their real and virtual shopping carts to the brim.
According to the National Retail Federation (NRF), more than 165 million people were expected to shop over the five-day Thanksgiving holiday weekend. Online sales for last holiday weekend are already being reported and appear to be breaking records.
Americans spent US$7.4 billion online on Black Friday, up 19.6 percent from last year. We spent another $3.6 billion on Small Business Saturday, up 18 percent from last year. And while surfing from our desks at work, Americans spent US$9.2 billon on Cyber Monday, up 16.9 percent from last year. More than half of Americans surveyed by NRF said they start their holiday shopping the first week of November. Online sales for November came in at a whopping US$72.1 billion.
Chinese consumers outspent us all
Cyber Monday is so successful in driving online sales in the United States that Canada, the UK and Germany have all adopted Cyber Monday to kick off their holiday shopping seasons. Australia launched "Click Frenzy" day. The Netherlands' equivalent is linked to the December 5 Sinterklaas holiday.
But hands down, the world's largest 24-hour online shopping day goes to China's Singles Day held on November 11 annually. This year, Chinese online shoppers bought US$38.3 billion on Singles Day alone. Think of it this way – that's more than US$1 billion every hour.
This is not a one-day phenomenon. If you were to overlay China's consumer confidence index with that of the United States, they would look similar. Despite being slightly lower for China and with a dip in 2016 that we didn't see in the United States, consumer confidence rose between 2014 and remained high in 2019, trade war notwithstanding. In mid-2019, retail spending in China surpassed retail spending in the United States for this first time.
Beyond the tariff headlines
Financial analysts are watching China's consumer spending carefully amidst the trade war. Many said this summer's drop in car purchases was a harbinger that shoppers are growing wary, but the slowdown also coincided with the end of big discounts. Others say retail sales actually underestimate the strength of China's overall consumer spending because those numbers offer just a partial picture of personal spending on goods and services, which include large expenditures on healthcare, education and leisure activities.
For this reason, some prominent Chinese investors are nonplussed by the Trump Administration's tariffs. They look at a decline in certain manufacturing and exports as a structural shift in China's economy – an "economic rebalancing" – that began long before the current trade war. In their view, household consumption will drive most of China's future economic growth, and China's consumer spending is not very dependent on imports.
According to World Bank data, consumer imports comprise just 13 percent of China's overall imports. Most of the large multinational consumer goods companies now produce in China for the Chinese consumer. According to McKinsey analysis, across key consumer categories including personal digital devices and personal care products, Chinese brands have become credible competitors to foreign brands, acquiring greater market share – and shielding Chinese consumers from tariffs on US imports.
Consumer spending to play bigger role in China's growth
Consumption is playing a much larger role in China's economic growth than just a few years ago. In 2011, consumer spending accounted for less than 50 percent of China's GDP growth. Last year, it accounted for 76 percent of GDP growth, outpacing both manufacturing investment and exports.
In fact, China's total exports of goods and services as a percentage of GDP has dropped from a high of 36 percent in 2006 to 19.5 percent in 2018, with exports to the United States at just four percent.
That why China's central bank is also monitoring consumer sentiment. In recently released results from its biennial survey of 18,600 residents in 31 provinces, nearly 80 percent of respondents expressed caution about spending and a preference for saving.
China's politburo has directed the government to focus on turning up the tap of consumer spending by China's growing urban middle class and to kick-start spending in rural areas. The government already cut personal income taxes and began offering subsidies for large ticket energy-saving home appliances and energy efficient vehicles. The government is expected to announce more measures in the coming months designed to goose household spending.
Business is ill at ease
Economists worry the trade war is causing a drag on economic growth, not just in the United States and China but globally. Businesses say the trade war with its escalating tariffs is a "wild card" in their planning. Uncertainty is causing them to hold back on capital expenditures.
It's looking less likely the United States and China will agree to a "Phase 1" trade deal by the end of the year, but even if they do, the partial deal may not be enough to restore business confidence. If businesses continue to hold back on investments and reduce inventories, it could start to negatively impact jobs and incomes. This may be particularly true in China where a larger portion of the population is dependent on manufacturing jobs.
Consumers keep calm and shop on
Meanwhile, holiday shopping is in full swing. Some holiday merchandise is already subject to tariffs on Chinese imports, but the tariffs the United States plans to impose on December 15 will affect many more consumer products. If imposed, buyers and retailers will have to decide how much cost to pass on to their suppliers and consumers in the coming year.
For now, shoppers are keeping calm and shopping on with resilience. But as a last line of defense against slowing growth, their confidence can be fragile. Where the trade war is concerned, buyer beware.
© The Hinrich Foundation. See our website Terms and conditions for our copyright and reprint policy. All statements of fact and the views, conclusions and recommendations expressed in this publication are the sole responsibility of the author(s).
---