US-China trade
Six China experts assess how National People's Congress outcomes will affect global trade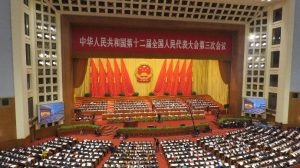 ---
Published 12 March 2019 | 8 minute read
Just under 3,000 of the most powerful officials in China recently gathered in Beijing for the country's biggest political meeting of the year: the National People's Congress (NPC). This article reviews the significance of NPC outcomes for global trade.
Nominally China's highest political institution, the NPC. It takes place annually during spring, and runs in parallel with the Chinese People's Political Consultative Conference (CPPCC) – a meeting of the country's top political advisory body. These two meetings are collectively known as the "two sessions" (lianghui).
Top leadership of the country uses the NPC to ratify premade decisions, but nonetheless it marks a key moment in which the Party leadership announces major policy changes and appointment reshuffles for the year ahead. The Hinrich Foundation invited six China trade experts to assess what the NPC outcomes mean for global trade and for China's engagement with its international counterparts in the future.
Kenneth Jarrett
Senior Advisor, Albright Stonebridge Group
Prior to joining Albright Stonebridge Group, Mr. Jarrett's 26-year foreign service career included service as the US Consul General in Shanghai, and various postings in Hong Kong, Beijing, Chengdu, and Singapore. His government roles in Washington, DC, included serving as Director of Asian Affairs at the White House National Security Council. Most recently, Mr. Jarrett also spent five years as President of the American Chamber of Commerce in Shanghai.
Andrew B. Schroth
Esq., Partner, GDLSK LLP, Asia
Mr. Schroth manages GDLSK LLP's Hong Kong office, and has a long-standing career as a trade lawyer. He is a frequent speaker in Asia on trade-related matters as well as US import/export law. He counsels government agencies in China and Vietnam and lectures on issues relevant to US trade and custom laws, and has unique expertise on Sino-US trade relations.
China is contending with the dual maladies of protectionism and unilateralism in the global trade system and the impact of monetary policy adjustments by the US and Europe. Increases in the prices of major commodities and heightened geopolitical risks as well as a slowing of trade growth are informing China's trade policy in 2019.
China is implementing basic reforms to (1) move away from dependence on an export-driven economy and foreign markets; (2) evolve from a low-end commodity based economy to a higher-end technology-focused economy, promoting the services sector and smart manufacturing; (3) increase global trade and influence through the Belt & Road Initiative (BRI) and regional and global trade pacts. Notably missing from the NPC proclamations were any specific reforms or plans to reduce tensions with the U.S. underlying the current trade war between the two countries.
With respect to the BRI, China looks to aggressively increase economic and trade cooperation listing specific projects in over 10 countries to help improve trade integration, logistics and transportation networks. The focus is on integration of economies and the supply chain and creation of a digital Silk Road. Two main goals are to strengthen the RMB as a world currency and increase FDI in China as well as externally.
With respect to US-China relations there were no specific strategies pronounced on how China will address the complaints by US trade negotiators, only that China will support the liberalization and facilitation of trade and investment and "will act on the consensus reached by the Chinese and US presidents in Argentina." China pledges to take part in the reform of the WTO, uphold the multilateral trading regime and "play a positive role in the formulation of multilateral trade rules". However, no specific initiatives were laid out.
Alicia Garcia Herrero
Chief Economist, APAC, Natixis and Senior Research Fellow, Bruegel
Dr. Tim Summers
Senior Consulting Fellow, Asia- Pacific Programme, Chatham House and Lecturer, Centre for China Studies, CUHK
Ben Simpfendorfer
CEO, Silk Road Associates
Before establishing Silk Road Associates, Mr. Simpfendorfer spent over a decade tracking China's business landscape as Chief China economist for RBS and senior China economist for JPMorgan based in Hong Kong. He is a member of the Foreign Experts Committee, providing policy recommendations to China's central leadership on the 'Belt and Road' initiative under the auspices of SAFEA, and also authored 'The New Silk Road' and 'The Rise of the New East'.
China's 2019 NPC conference has confirmed no change in the country's long-term ambitions to develop advanced manufacturing capabilities. Premier Li Keqiang made no reference to the country's 'Made in China 2025' plan in his working report, but the government remains understandably committed to upgrading China's manufacturing sector and the report identified a range of fiscal measures to support investment and innovation.
Jean-Pierre Cabestan
Professor, Department of Government and International Studies, Faculty of Social Sciences, Hong Kong Baptist University
Professor Cabestan is Professor and Head, Department of Government and International Studies at Hong Kong Baptist University and Director General of the European Union Academic Programme in Hong Kong. He is also an associate researcher at the Asia Centre at Sciences Po, Paris and at the French Centre for Research on Contemporary China, Hong Kong.
The 2019 NPC and CPPCC meetings did not threaten whatsoever Xi Jinping power and position at the pinnacle of the Chinese Communist Party (CCP) but have highlighted the multiple economic and political difficulties he will need to overcome in the coming months.
To be sure, NPC and CPPCC delegates' criticism has been subdued. Nonetheless, some delegates have publicly raised concerns over the effectiveness of major policy initiatives that underpin China's economic reform plans and foreign policies. For instance, they have echoed the well-known increasing domestic concerns about the Belt and Road Initiative (BRI), notably the lack of profitability of some of its projects as well as the reservations regarding cost and debt expressed by countries such as Malaysia and Kenya. Other delegates have surprisingly qualified "Made in China 2025" as "a waste of taxpayers' money" or indicated that the "Thousand Talents Plan" had been "overpromoted", uselessly alerting the US security community.
Behind these mild objections, observers sense a growing discomfort among the Chinese elites with current policies, which will make the coming months of trade negotiations with the US internally challenging.
© The Hinrich Foundation. See our website Terms and conditions for our copyright and reprint policy. All statements of fact and the views, conclusions and recommendations expressed in this publication are the sole responsibility of the author(s).