Free trade agreements
Pent-up demand makes way for durable economic recovery in APEC region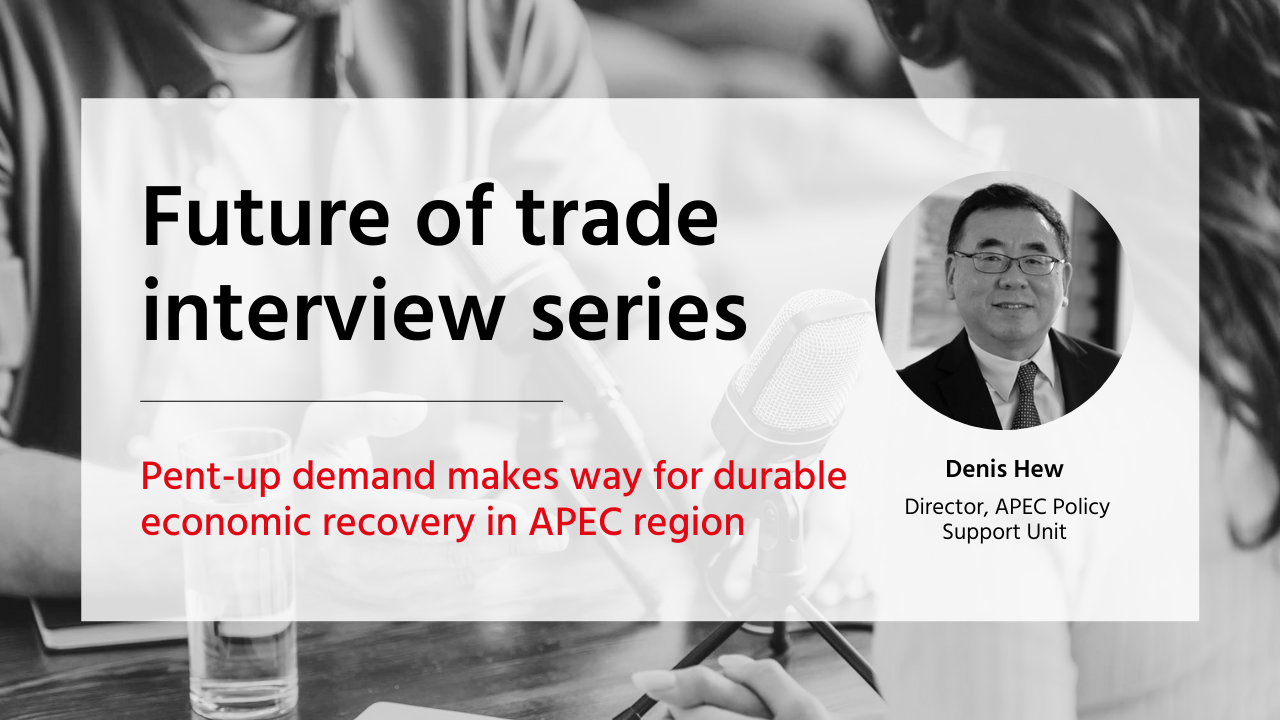 ---
Published 01 June 2021
In this first installment of our 'Future of Trade Interview Series', the Hinrich Foundation invited Denis Hew, Director of Asia Pacific Economic Cooperation's (APEC) Policy Support Unit, to discuss some key issues facing the region's economic recovery on the eve of APEC's annual trade ministerial meeting.
This interview is part of the Hinrich Foundation Future of Trade Interview series.
Higher than anticipated economic growth in 2021 for the Asia Pacific region will be a key discussion topic during the upcoming meeting of Trade Ministers for the Asia Pacific Economic Cooperation (APEC). Strong domestic and global activity buoyed by pent-up consumer demand has spurred optimism for a durable economic recovery, explains Denis Hew, Director of APEC's Policy Support Unit, in an interview, the first in  the Hinrich Foundation's Future of Trade Interview Series. To address remaining downside risks, Hew urges for more trade and economic policies that reduce regulatory uncertainties and address the growing digital divide.   
Q: In the newest 

APEC Regional Trends Analysis

, the regional economy is performing better than expected. How so?

 
It is a strong recovery compared to last year, when we were looking at a contraction of 1.9 percent. In value terms, this year's 6.3 percent growth translates to USD5 trillion in terms of output. Last year, we had lockdowns and travel restrictions at the height of the pandemic. Towards the second half of 2020, we began to see a relaxation of restrictions. For some economies, we began to see positive economic data in the fourth quarter of 2020. The strong economic recovery is partly driven by pent-up demand as lockdowns are relaxed and people go out more and spend.  
Source: APEC Regional Trends Analysis, APEC Policy Support Unit, May 2021 
There are uncertainties and downside risks to this outlook. We are seeing a resurgence of infections and new variants of the virus. We are again seeing a tightening of movements and restrictions in the region. This kind of stop-start opening of economies can have an impact in terms of economic growth prospects.
There are other concerns. Last year, many economies implemented different types of stimulus packages to help households and businesses. These led to sizeable fiscal deficits. This year, rather than across the board measures for all businesses, we are seeing much more targeted fiscal support.
Other concerns are rising inflation. But so far, we are looking at up to 2.0 percent for the region this year. It seems manageable.
Source: APEC Regional Trends Analysis, APEC Policy Support Unit, May 2021 
Q: Is there improved investment as well?
Investment is a different scenario. Because a lot of companies look for predictability, we are seeing only a slow pickup in foreign direct investment. That is another downside risk. The more you see this stop-start opening of economies, the less incentives for companies to invest. We are not seeing a recovery in greenfield investments – new investments in factories and production chains. That is worrying because in the long term, greenfield investments are important sources of technology transfer and technical training.
Q: Will these issues come up at the upcoming APEC trade ministerial meetings (MRT)?
They will. The focus of this year's MRT on June 4-5 is APEC's economic recovery. The Ministers will be looking at different angles, including trade policies. Last year's MRT produced a declaration to facilitate the movement of essential goods, such as medical goods. This year, they will review implementation and whether there is much freer movement of these goods.
The meetings will also look at the area of inclusion. As New Zealand is the host for APEC this year, it is interested in implementing more inclusive policies for the region. Inclusion has been a priority for many APEC economies. You will see ongoing efforts to support micro and small medium enterprises, women in businesses, and, in the case of New Zealand, indigenous peoples.
The trade ministers will also focus on implementation of the Putrajaya Vision 2040, APEC's new vision launched at last year's meeting in Malaysia. It has three main pillars: trade and investment, innovation and digitalization, and sustainable and inclusive growth. The ministers will come up with a clear outline and structure for the plan and how to monitor and review implementation over the next twenty years.
Q: With the Regional Comprehensive Economic Partnership (RCEP) awaiting ratification and resumed engagement of the US in multilateral forums, is there a sense at APEC that regional integration is back on track?
We see RCEP as good news, because it is one of the pathways for APEC's own free trade area of the Asia Pacific. At the same time, it is not business as usual, partly because of the pandemic.
In many ways, the pandemic has exacerbated growing inequalities. We had concerns about anti-globalization sentiments that led to the cancellation of the APEC economic leaders meeting in Chile back in 2019, for example. I do not see this ending very soon, because the pandemic has made things worse in terms of inequality.
Whether at APEC or the WTO, the focus moving forward should be for trade and economic policies to be more inclusive. One effect of lockdowns is an acceleration of digitization. As more people work from home, we use more digital tools such as videoconferencing. We are seeing an acceleration of digitization that is going to change the future of work and the overall economy.
This also leads to a digital divide. Those who have access to digital tools and the internet will tend to do better than those who do not. We need to look at policies that can narrow the digital divide and strengthen digital infrastructure. We must also make sure there is more equitable access to digital training and digital skills so no one gets left behind.
Q: On the flip side of digitization is AI and the automation of jobs. What are the implications of digital transformation for APEC's future workforce?
You are right, there are pros and cons to digitization. On the negative side of increased digitalization is job polarization. A lot of people, including mid-skill workers whose work is much more routine, will wind up being displaced because part of their work could be automated and done by AI. We need to provide training and reskilling to ensure they can move to new job opportunities created by the digital economy.
The other area is the gig economy. These jobs do not come with strong worker protection, such as medical insurance. Policymakers need to look at the concerns of workers in these precarious jobs and find ways to provide them with more social protection. Some economies are beginning to address this with different types of social protection measures for gig economy workers.
Q: Is APEC focused on addressing some of these policy needs?
The APEC Economic Committee has a flagship publication called the APEC Economic Policy Report(AEPR). This year, the report's theme is structural reform and the future of work. We will look at reforms needed as we move towards a much more digitized economy and how to protect workers in the gig economy.
Q: APEC also recently released a report on supply chains. The report says that supply chains proved resilient but there is a conundrum between choosing resiliency and efficiency.
We saw supply chains disrupted last year because of lockdowns and border restrictions. However, there is a bit of a trade-off in making supply chains more resilient at the expense of operational cost efficiency. Nonetheless, many supply chains proved to be quite resilient. This is not the first time supply chains have experienced disruptions. We saw disruptions in 2011 following the earthquake and tsunami in Japan. In that same year, the floods in Bangkok affected the supply chains of automobiles. Since then, many multinationals had already begun to put in place different types of risk mitigation strategies. They did not put all their eggs in one basket - they looked at second tier suppliers as well and ensured a back-up plan was in place.
A lot of these supply chains practice just-in-time manufacturing techniques. They keep inventories and costs low and their operations nimble and agile. But when you have a black swan event like in 2020, everything goes a little haywire. Nevertheless, we see many companies are applying different digital technologies to improve the visibility across the supply chain. Some are using these technologies to check where the production bottlenecks are and address them very quickly.
The other reason for supply chain resilience is strong recovery in the global economy. We are seeing increased demand, particularly in consumer electronics. There is increased pressure to crank up production for IT equipment because everyone is working from home.
Q: APEC produces some 60 percent of global manufacturing value added. Will it remain that way?
The WTO is looking at a 10 percent growth in global trade in volume terms this year. UNCTAD has also issued recent global trade figures and the growth is 10 percent year-on-year for the first quarter of 2021. Much of that pick-up is coming from the East Asia region. Many global value chains are pretty much intact and there would be increased growth in that area.
There has been talk about near-shoring or reshoring – basically, moving your production network closer to home or in your economy. Surveys show that a lot of companies were considering reconfiguring their global supply chains last year. But towards the second half of the year, fewer and fewer companies considered this. Global supply chains are inherently pretty sticky. There are a lot of sunk costs and investments in setting up production in this part of the world. It can be very costly to relocate operations.
Also, many workers have been trained and skilled in their individual sectors. You might be going back to the drawing board if you are going to relocate. You may not get enough skilled workers with specialised training throughout the production chain. The bottom line is that you are not going to see a major shift in global value chains any time soon.
***
Read more from the Future of Trade Interview Series:
© The Hinrich Foundation. See our website Terms and conditions for our copyright and reprint policy. All statements of fact and the views, conclusions and recommendations expressed in this publication are the sole responsibility of the author(s).
---