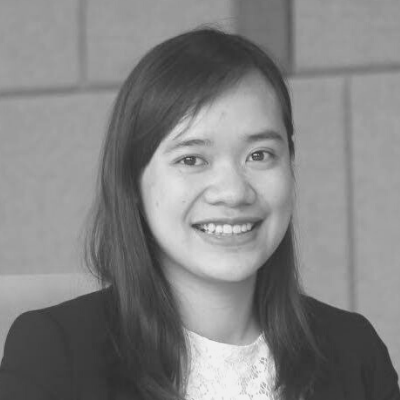 Phuong Nguyen
CITIZENSHIP
Vietnam
HINRICH SCHOLARSHIP
RMIT University
Ho Chi Minh City, Vietnam
Master of Global Trade, Class of 2022
Co-sponsor: PwC
CURRENT EMPLOYMENT
Vietnam Trade Compliance
Apple, Ho Chi Minh City, Vietnam
"I strongly believe that the Hinrich Foundation Master of Global Trade community will take me one step closer to fulfilling my dream."
Scholar background
Phuong oversees trade compliance at Apple Vietnam. Apple is one of the world's largest tech brands offering iconic products including the iPhone, iPad, and MacBook. In this role, she provides clear guidance on customs and international regulatory compliance restrictions and implements policies and procedures to ensure sustainable compliance in an effective and efficient manner.
Prior to Apple, Phuong spent 10 years as the Manager for Customs and International Trade Services at PricewaterhouseCoopers (PwC), one of the world's leading business consultancies. In that role, she assisted multinational companies involved in a range of international trade-related projects.
Phuong earned her bachelor's degree in International Economic Relations (Honor Program) from the University of Economics and Law – Vietnam National University HCMC. In 2022, she received her Master of Global Trade at RMIT University through the Hinrich Global Trade Leader Scholarship Program.
Personal statement
As a Manager of PwC Vietnam, specializing in customs and international trade consulting services, my daily work is to assist multinational companies with their customs and trade issues in Vietnam.
In addition to the valuable experience which I have gained through my involvement in various customs and international trade projects, I do have a strong passion and interest for international customs, trade and global operations. I force myself to keep up-to-date with prevailing local customs and trade regulations, practical international trade operations which encourage me to enrich my knowledge as well as support my daily works. Despite having been in the industry for nearly 10 years, facing hundreds of issues with my clients, I always find out that there are new things on this that we can learn every day. The Master of Global Trade program under the Hinrich Foundation Global Trade Scholarship would definitely help me to refresh my skills, as well as broaden my perspective in the global trading system. I will utilize them while doing my job and pursue my career path in customs and international trade consulting.
I strongly believe that the Hinrich Foundation Master of Global Trade community will take me one step closer to fulfilling my dream. This opportunity will connect me with global leaders in this field who can help expand my knowledge and expertise on global trade operations.