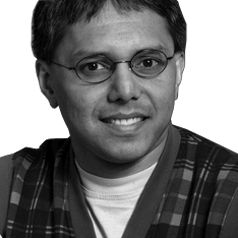 Amitrajeet A. Batabyal
Professor of Economics, Rochester Institute of Technology
Amitrajeet A. Batabyal is Arthur J. Gosnell Professor of Economics at the Rochester Institute of Technology (RIT).
Professor Batabyal obtained a BS with Honors and Distinction in Applied Economics and Business Management from Cornell University in 1987, a MS in Agricultural and Applied Economics from the University of Minnesota in 1990, and a PhD in Agricultural and Resource Economics from the University of California at Berkeley in 1994.
He has published over 600 papers, books, book chapters, and book reviews in a variety of refereed scholarly outlets in ecology, economics, mathematics, operations research, and political science.
Professor Batabyal is the recipient of numerous awards including the Geoffrey J. D. Hewings Award from the North American Regional Science Council in 2003, the Moss Madden Memorial Medal from the British and Irish Section of the Regional Science Association International in 2004, the Outstanding Achievement in Research Award from the Society for Range Management in 2006, the Trustees Scholarship Award from the RIT Board of Trustees in 2007, and the Mattei Dogan Foundation Prize from the International Social Science Council in 2013.
Latest articles by this expert