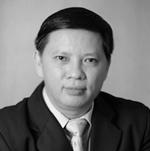 Jonathan Koh
Managing Director, Trade Facilitation Pte Ltd
Jonathan is Managing Director of Trade Facilitation Pte Ltd (TFPL), a consultancy firm with specialty in trade facilitation, trade policy, single window, and customs management systems. TFPL comprises trade experts and associates to offer and trade consultancy to support the international trade community.
Jonathan has over 30 years of experience in providing solutions in trade arena. Jonathan has hands-on experience in many trade facilitation projects in various part of the world.
He had been involved in over 30 trade facilitation programmes globally, including serving as project director for several national trade / single window projects. He was also involved in many regional connectivity projects; as an expert resource for the ASEAN Single Window, as well as implementation of the regional connectivity programme connecting the four Pacific Alliance countries. He served as the Project Director for the Single Window implementation projects in Kenya and Qatar. In 2016, he was lead consultant to the Government of Hong Kong SAR advising on their next generation Single Window. He was also lead consultant to the Government of Greece, and helped developed their National Trade Facilitation Strategy and Roadmap.
Jonathan had also served as an expert resource to various international organisations in trade facilitation, paperless trade and global compliance issues.
His other involvements include being a visiting scholar with the International Monetary Fund, an expert resource for ASEAN Economic Community and helped developed the ASEAN's Seamless Trade Facilitation Indicators, and in the United Nations Network of Experts for Paperless Trade in Asia and the Pacific (UNNeXT). He is also currently managing another Fintech venture involving a comprehensive cross–border trade framework, with connectivity to over 25 Customs systems in Asia Pacific. Jonathan's current area of research is in disruptive technologies like blockchain, and its application for cross-border e-commerce.
Latest articles by this expert