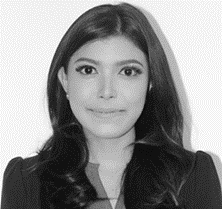 Elverina Hidayati
CITIZENSHIP
Indonesia
HINRICH SCHOLARSHIP
Hong Kong Baptist University
Hong Kong SAR
Master of Arts in International Journalism Studies, Class of 2022
"The Hinrich Foundation Scholarship will allow me to explore in-depth reporting on climate, sustainability and connect millions of people in remote locations to promote economic growth between our home nations through my journalistic work."
Scholar background
Elverina Hidayati has a decade of professional experience working in the broadcast media industry. Her current position is an Assignment Director for MetroTV, one of the leading television networks in Indonesia. There, her main focus is delegating reporter's assignment, guiding the investigation, developing ideas for news reports and supplying them to segments producers. She also manages a national team to carry out live report and news relating to law, politics, corruption and economic issues. Prior to this role, she was Bureau Chief and Investigative Reporter. Elverina was a special reporter for the historic Indonesian The Corruption Eradication Commission during its most active period.
Elverina completed her Bachelor of News Production Management at MMTC Yogyakkarta University in 2012.
Personal statement
Chasing breaking news is an adrenaline rush, it's fun and exciting but it can be shallow. After many years of following the 24 hour news cycle I am ready to return to my roots of Investigative journalism. Producing long form content that can explore topics in depth. This Master of Arts and the Hinrich Foundation scholarship will give me time and space to explore projects in depth and areas of academic study I have put on the back burner.
The digital revolution has changed both the way we consume journalism but also the way it is funded. On the one hand, investigative journalism departments are being shut down or defunded, but on the other, you have millions of people listening to a multiple-edition 12-hour podcast doing a deep dive into a single murder case. Niche interests on a global scale can gain a very large viewership. This long tail can help fund high quality journalism in the future. And new funding models are a topic I am excited to discuss with my peers in the University and at the Hinrich Foundation.
Upon completion of this Master of Arts in Hong Kong Baptist University, I will focus on longer form in depth reporting on trade, sustainability, climate change and natural disasters. I hope, through this journalistic work, we can connect millions of people in remote locations and promote economic growth between our home nations.