Upcoming Events
Competition in the digital age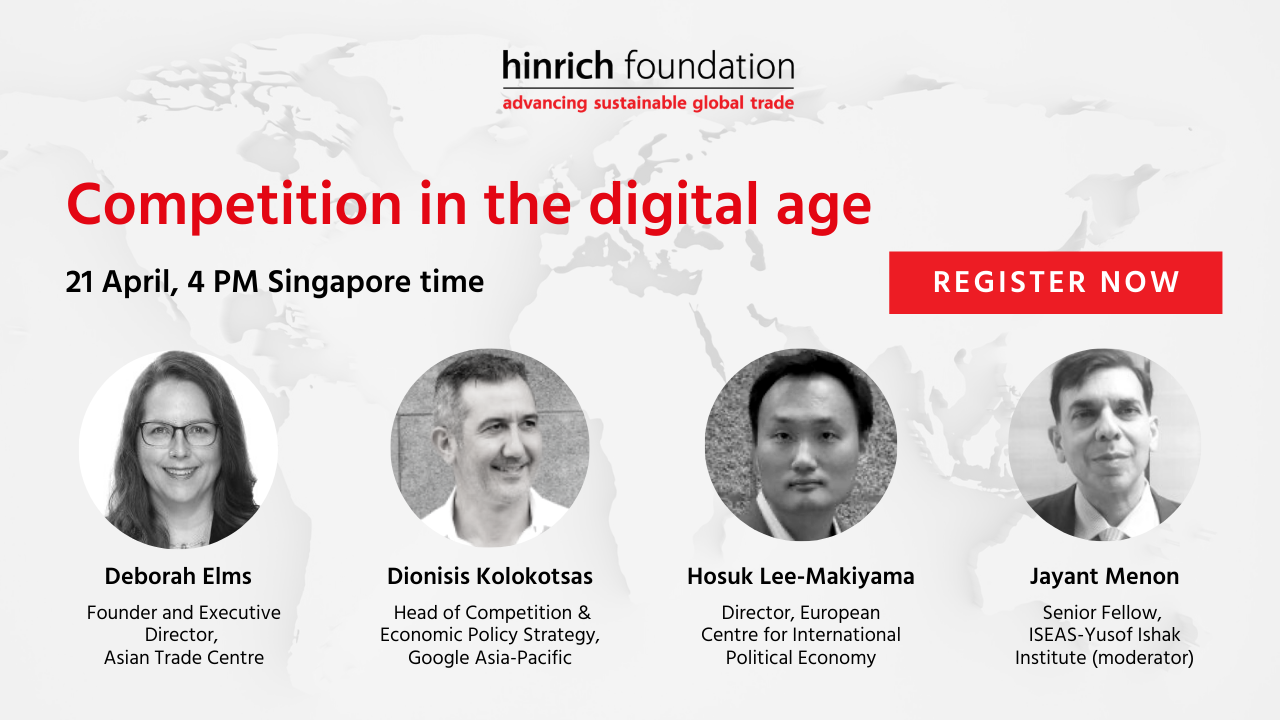 Event Details
21 April 2022 | 4:00 PM SGT
The rapid growth of the technology sector is matched with increasing market concentration. Governments have argued that competition policy could tame the perceived monopoly of big digital platforms. Could regulation also impair the development of MSMEs? Join our discussion with four policy experts.
Explosive growth of the digital economy is helping global tech firms to reach astronomical market capitalizations. The apparent dominance of a handful of firms has prompted greater scrutiny of tech giants - and competition policy.
Can regulation reassert the importance of ensuring healthy competition? Join our upcoming webinar to learn the risks of misdirected policy responses and forgetting the consumer welfare principle. Experts of digital trade will discuss the challenges faced by small businesses, often assumed to be the biggest beneficiaries of competition policy.
Join a panel of experts to discuss the need for regulatory tools for digital competition that are fit-for-purpose. Speakers include:
Deborah Elms, Founder and Executive Director, Asian Trade Centre
Hosuk Lee-Makiyama, Director, European Centre for International Political Economy
Dionisis Kolokotsas, Head of Competition & Economic Policy Strategy, Google Asia-Pacific
This session will be moderated Jayant Menon, Senior Fellow, ISEAS-Yusof Ishak Institute.
The discussion is based on a recent report by the Asian Trade Centre, The turtle and the gazelle: Can competition policies effectively regulate the digital economy?
The webinar has ended.
Hear from a panel of experts: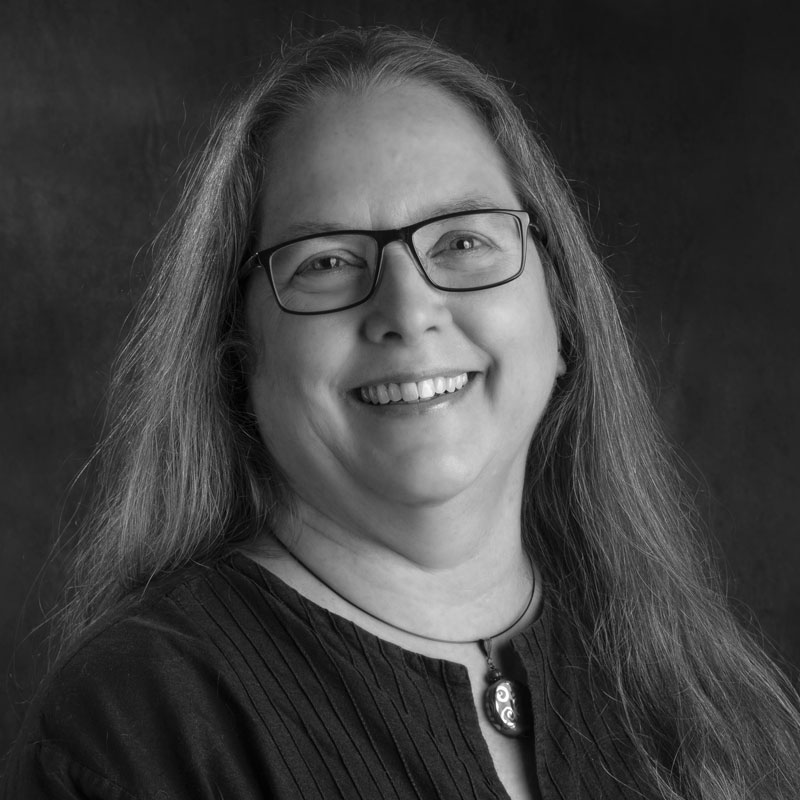 Deborah Elms
Head of Trade Policy, Hinrich Foundation
Dr. Deborah Elms is Head of Trade Policy at the Hinrich Foundation in Singapore. Prior to joining the Foundation, she was the Executive Director and Founder of the Asian Trade Centre (ATC). She was also President of the Asia Business Trade Association (ABTA) and the Board Director of the Asian Trade Centre Foundation (ATCF).
Dr. Elms serves on the board of the Trade and Investment Negotiation Adviser (TINA) at the UN Economic and Social Commission for Asia Pacific (UNESCAP). She was on the International Advisory Council for APCO (2021-2023) and was a member of the International Technical Advisory Committee of the Global Trade Professionals Alliance and Chair of the Working Group on Trade Policy and Law. She was also a member of the World Economic Forum's Trade and Investment Council for 2018-2020.
Prior to founding ATC/ATCF and the ABTA, she was head of the Temasek Foundation Centre for Trade & Negotiations (TFCTN) and Senior fellow of International Political Economy at the S. Rajaratnam School of International Studies at Nanyang Technological University, Singapore.
Dr. Elms received a PhD in political science from the University of Washington, a MA in International Relations from the University of Southern California, and bachelor's degrees from Boston University.
She is the author of numerous articles, editor of several books, and regularly published the Talking Trade Blog at www.asiantradecentre.org/talkingtrade. Dr. Elms also routinely appears on television and in major newspapers and magazines around the world to comment on trade and economic issues.  Dr. Elms also makes frequent appearances at a range of global trade and economic workshops, conferences, capacity building sessions and negotiations.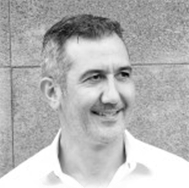 Dionisis Kolokotsas
Head of Competition & Economic Policy Strategy, Google Asia-Pacific
Dionisis leads Google's economic & competition policy strategy in Asia-Pacific. Previously, he led Google's Government Affairs and Public Policy in Vietnam, Pakistan and in South-East Europe.
Before joining Google, he served as global communications manager at Procter & Gamble and as General Manager at the Greek Semiconductor Industry Association.
Earlier, he developed energy, environment and economic policy scenarios for the European Commission. He holds a Master's in Sustainable Business Development from the Erasmus University of Rotterdam and a Integrated master in Electrical and Computer Engineering from the National Technical University of Athens. He is passionate to work with global stakeholders toward a bright digital future for economic growth and social prosperity.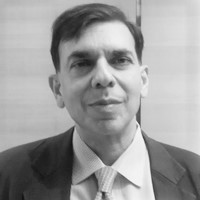 Jayant Menon
Senior Fellow, ISEAS-Yusof Ishak Institute
Dr. Menon joined the ISEAS – Yusof Ishak Institute in 2020 to continue his work on trade and development in the Asian region, following his early retirement from the ADB. His last post at the ADB was Lead Economist in the Office of the Chief Economist.
He began work life as an academic in Australia, spending almost a decade at the Centre of Policy Studies at Monash University, one of the leading centres for computable general equilibrium modelling. He has worked at several other academic institutions including the University of Melbourne, Victoria University, the American University in Washington, DC and the ADB Institute in Tokyo. He has served as a Board Director of CDRI, Cambodia, and on the Advisory Board of the University of Nottingham, Malaysia. He holds adjunct appointments with the Australian National University, University of Nottingham, UK and IDEAS, Malaysia. He has authored/edited 15 books, 40 chapters in books and 80 articles in peer-reviewed journals.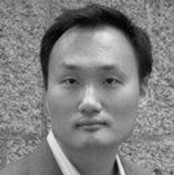 Hosuk Lee-Makiyama
Director, European Centre for International Political Economy
Hosuk Lee-Makiyama is the director of European Centre for International Political Economy (ECIPE) and a leading author on trade diplomacy, EU-Far East relations and the digital economy.
He is regularly consulted by governments and international organisations on a range of issues, from trade negotiations to economic reforms. He appears regularly in European, Chinese and US media, and is noted for his involvement in WTO and major free trade agreements.
He was also named "One of the 20 most influential people for open internet" by the readers of the Guardian UK in 2012. He was the first author to argue for a WTO case on internet censorship in China. Prior to joining ECIPE, he was an independent counsel on regulatory affairs, competition and communication, Senior Advisor at the Ministry of Foreign Affairs, representative of Sweden and the EU member states towards the WTO and the UN, including WIPO and UNECE.
Lee-Makiyama is also a Fellow at the department International Relations at the London School of Economics, and currently shares his time between LSE and ECIPE.