Research Fellow shares STI findings at TIAA conference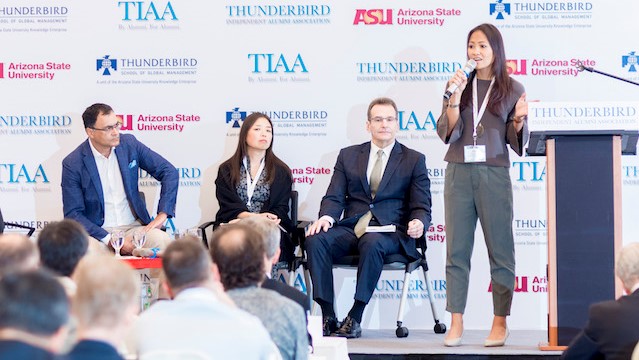 ---
Published 23 October 2018
On October 5, 2018, Hinrich Foundation Research Fellow Stephen Olson presented the 2018 Hinrich Foundation Sustainable Trade Index findings at the Thunderbird Independent Alumni Association (TIAA) Professional Development Conference 2018. The event was organized by TIAA in partnership with Thunderbird School of Global Management and Arizona State University and was held in Penang, Malaysia.
The three-day event, titled "Sustainability in Business: The Next Asian Revolution", aimed at bringing Asian perspectives into the global debate around sustainability, specifically highlighting factors impacting Asian development and explored how business and policymakers can help spur more sustainable growth.
Olson was part of the panel focused on "Corporate Sustainability". He presented the findings from 2018 Sustainable Trade Index, primarily focusing on the outcomes of Asian countries. The panel discussion was moderated by Patricia Dwyer, Founder and Director at The Purpose Business and serves on the World Economic Forum Global Future Council on Environment. Panelists included:
Dr Huaying Zhang – Head of PACS Institute (Public Affairs Communication & Sustainability Institute) of Coca-Cola Greater China & Korea Business Unit
Mr. Stephen Olson – Research Fellow at the Hinrich Foundation
Mr. Mark Devadason – Founder and Principal at Azabu Management Services
The event also dealt with an underlying question on how the region continues its growth to ensure that business activity coexists and even reinforces social progress and environmental protection.
Olson pointed out that low and middle-income economies have started recognizing trade sustainability as an important tool to drive their development.
TIAA conferences is an annual event, producing two professional development conferences for TIAA members, Thunderbird alumni and friends and family of TIAA members, as well as the occasional guest. The event aims at exploring current trends in global trade as well as professional networking opportunities that are uniquely Thunderbird.
© The Hinrich Foundation. See our website Terms and conditions for our copyright and reprint policy. All statements of fact and the views, conclusions and recommendations expressed in this publication are the sole responsibility of the author(s).