Manila launch of 2018 Sustainable Trade Index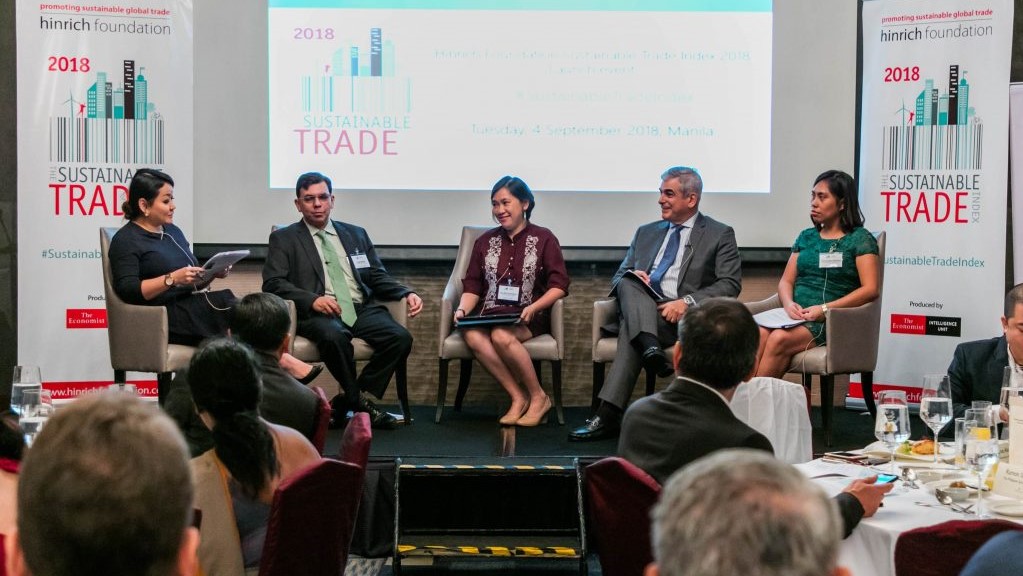 ---
Published 11 September 2018
On Tuesday, September 4th, Hinrich Foundation launched the 2018 Sustainable Trade Index (STI) in Manila at the Makati Shangri-La.
The STI measures the capacity of 19 Asian economies to participate in the international trading system in a manner that supports the long-term domestic and global goals of economic growth, environmental protection, and strengthened social capital.
The event was attended by 60 people including some of the Philippines top business leaders, senior representatives from the Department of Trade and Industry, representatives from multilateral agencies including the World Bank, Asian Development Bank, International Labor Organization, leading academics, foreign diplomats and local media.
The event's discussion panel, moderated by Regina Hing, included Jaime Zobel de Ayala of Ayala Corporation, Assistant Secretary Mary Jean Pacheco of the Department of Trade and Industry, Jayant Menon of the Asian Development Bank and Attorney Kristine Alcantara of Abad, Alcantara & Associates. In addition to receiving a briefing on 2018 STI findings, guests engaged with the expert panel to discuss the Philippines' index performance and ideas to ensure its continued growth.
Below are the key takeaways from the discussion:
1. Broad trend of regression in Asia on trade sustainability
Stephen Olson, Hinrich Foundation's Research Fellow, noted a broad trend of regression in trade sustainability across Asia, especially amongst the wealthier economies. Economic progress in many Asian economies has been more than offset by some backsliding on the environmental and social pillars. The Philippines is an exception (see below). Unsustainable trading practices in many Asian economies are worrisome— not just because of their potential longer-term effects on the environment, sustainable growth and social stability— but also because they could lead to a perception that trade is an exploitative activity which could generate more backlash against trade.
2. Sustainability a new "make or break" factor for attracting FDI. A positive source of differentiation for the Philippines
According to the index, sustainability doesn't always track closely with income levels. Some countries overperform relative to their income levels, as is the case of the Philippines. The nation outperformed its income level by three spots on the 2018 STI, meaning it ranked higher than would be expected considering its GDP level. Sustainability performance is becoming a source of positive differentiation for economies to attract FDI. This is particularly true in a context where multinational corporations (MNCs) are increasingly expecting suppliers to help them comply with international HSE and labor requirements. The Philippines should seek to deepen its competitive advantage in this area, as part of a broader effort to reformulate its value proposition.
3. Trade tensions creating a window of opportunity for the Philippines in Asia
The trade tensions between China and the United States create opportunities for Filipino companies to become suppliers of US companies. To take advantage of the situation, the Philippines needs to articulate a better value proposition and reduce its trade costs (see below). According to Jayant Menon at the ADB, the Philippines has the potential to attract a larger share of labour intensive manufacturing. This would be a good thing, as it would help involve a greater proportion of the population in the economy.
4. Philippines has future in advanced manufacturing
The Philippines has a future in advanced manufacturing because of high literacy rates and widespread computer skills. This sets a good base to face challenges related to the Fourth Industrial Revolution (4IR) and creates opportunities for the country to advance in the highly competitive tech industry, opening up new supply chains with the West. For this to happen, the government must cultivate a healthy ecosystem for attracting and sustaining growth in high-tech areas. The government must also improve its procurement process for adopting technology and deploying it faster, in order to create a more user-friendly environment.
5. Trade costs key barrier to attracting FDI and growing trade
The Philippines requires a "mammoth government effort" to boost competitiveness and make doing business in the Philippines more attractive for FDI, said Assistant Secretary Pacheco. The Ease of Doing Business and Efficient Government Service Delivery Act (signed into law in May) marks a promising step forward for the Philippines to use technology to reduce bureaucratic red tape and deescalate trade costs. More efforts are required to improve logistics services to make them more available to SMEs. Government efforts such as DTI's Logistics Industry Roadmap and the Logistics Observatory project developed together with the World Bank will help increase the transparency of information and reduce the cost of logistics services.
6. Steps to enhance the competitiveness of the Philippines
In addition to reducing trade costs and improving logistics services, employee retraining along with investment in technology are key steps for enhancing the competitiveness of the Philippines in trade. Raising standards of Filipino goods and services is also important, as is creating a more robust domestic market to help local firms learn how to compete for internationalization.
7. ASEAN integration critical next steps
The timeline for ASEAN integration is slow (2025). However, it will break down barriers and make it easier to move goods and services.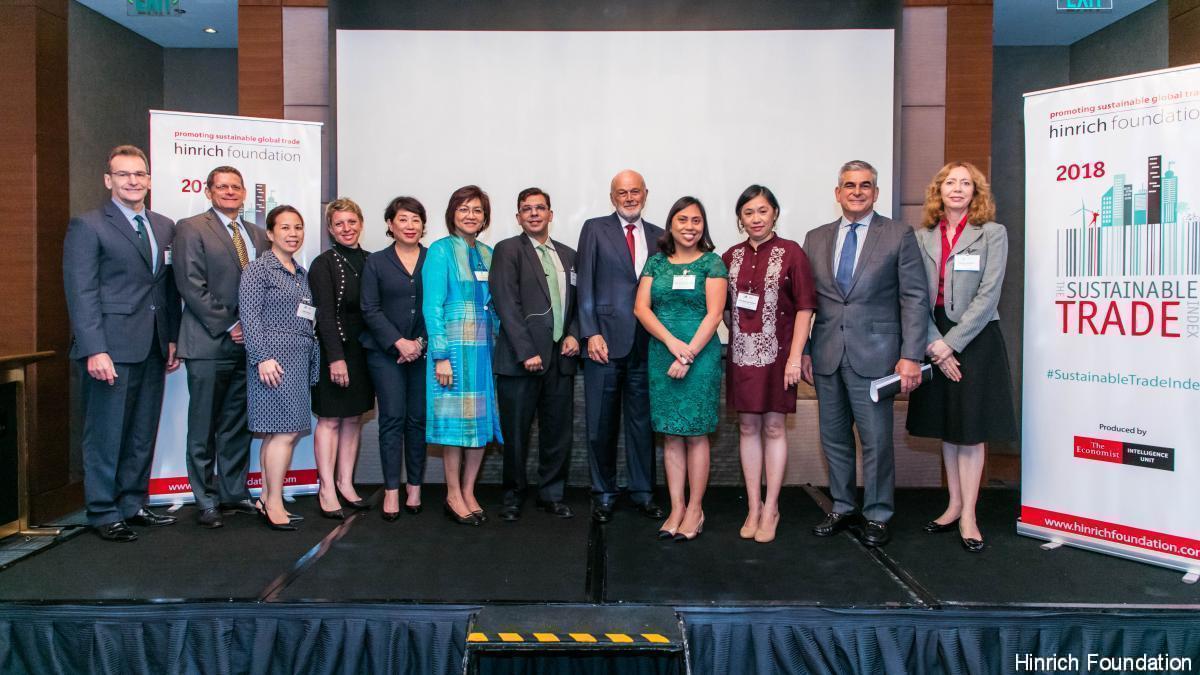 © The Hinrich Foundation. See our website Terms and conditions for our copyright and reprint policy. All statements of fact and the views, conclusions and recommendations expressed in this publication are the sole responsibility of the author(s).