Hinrich Foundation presents STI findings in UNIDO, UNESCAP conference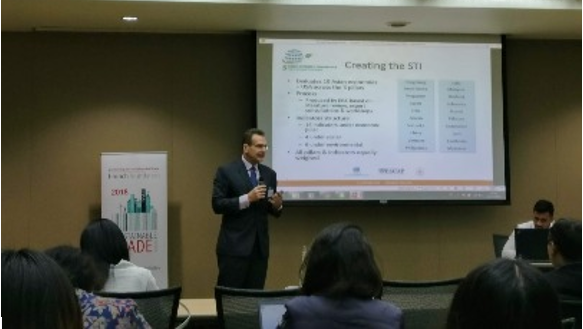 ---
Published 05 October 2018
Hinrich Foundation Research Fellow Stephen Olson on October 4, 2018 presented the 2018 Sustainable Trade Index findings at the 5th Green Industry Conference for Sustainable Development, organized by United Nations Industrial Development Organization and United Nations Economic (UNIDO) and Social Commission for Asia and the Pacific (UNESCAP) with the support of Ministry of Industry, Kingdom of Thailand.
The three-day event, titled 'Green Industry for Sustainable Development", aimed to help governments, industry leaders and related stakeholders to design solutions to promote sustainable development via greening of industry, as stated by Sustainable Development Goal (SDG) 9 of the 2030 Agenda.
Olson was part of the panel focused on the measurement framework for assessing the progress of people residing in different countries towards green industry, green economy, and sustainable trade while simultaneously measuring the impact of different policies and investment options.
In his presentation, Olson highlighted key findings from the 2018 Hinrich Foundation Sustainable Trade Index, specifically recognizing the emerging economy of Vietnam for taking the center stage in adopting sustainable trade. The US has been an underperformer relative to its income, he explained.
"Trading sustainably is not just a luxury for wealthy economies. Performance does not track income level. United States is a significant under performer. Vietnam is the champion performer relative to its income level," Olson said at the event.
The panel also examined the challenges in attracting foreign direct investment (FDI) and the best practices that countries can be adopt for achieving SDG 9. Panelists included:
Stephen Olson, Research Fellow, Hinrich Foundation
Mia Mikic, Director, Trade, Investment and Innovation Division, ESCAP
Fulai Sheng, Head, Economic and Foreign Policy Unit, UN Environment
Ralph Luken, Senior Green Industry Adviser, Department of Environment, UNIDO
Peter Enoh, Coordinator, National Ozone Office Cameroon
Benjamin Tyler Smith, Lead, Knowledge Management and Partnership Outreach, Green Growth Knowledge Platform
Olson also pointed that low and middle-income economies have started recognizing trade sustainability as an important tool to drive their development. This sustainability by economies of the world also drives competitiveness as far as FDI is concerned.
© The Hinrich Foundation. See our website Terms and conditions for our copyright and reprint policy. All statements of fact and the views, conclusions and recommendations expressed in this publication are the sole responsibility of the author(s).
---