Hinrich Foundation presents FDI book in Hong Kong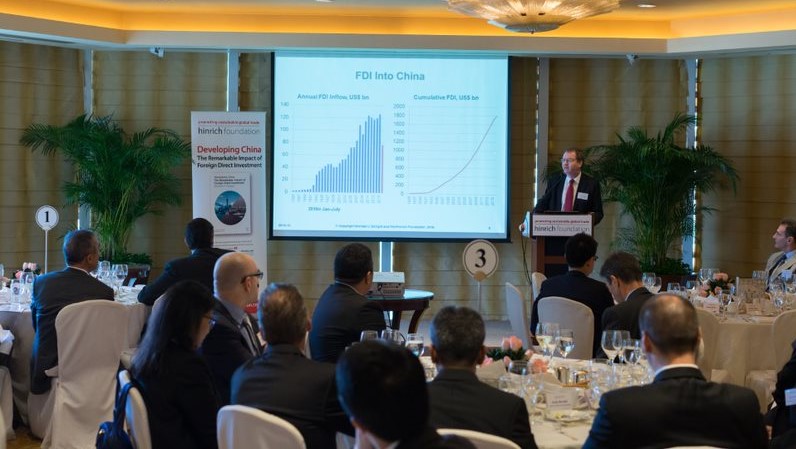 ---
Published 16 November 2016
The Hinrich Foundation presented its new book "Developing China: The Remarkable Impact of Foreign Direct Investment" by Michael J. Enright on Tuesday, November 15th at a luncheon event in Hong Kong.
Influential members from across the community gathered to celebrate the Hong Kong launch of the book, including Consul Generals, government representatives, business leaders and the academic community.  Dr. Tim Summers, professor at The Chinese University of Hong Kong and senior consulting fellow at Chatham House, opened the event by inviting Merle A. Hinrich, founder of the Hinrich Foundation, to introduce the book. Hinrich welcomed the distinguished luncheon guests and thanked them for their interest in understanding the true impacts of foreign direct investment (FDI) on China's economic development.
"Through this book, we at the Hinrich Foundation would like to encourage investors and host countries to create mutually beneficial partnerships for leveraging the impact of FDI," Hinrich said. He then introduced Professor Michael J. Enright to present the groundbreaking findings from "Developing China: The Remarkable Impact of Foreign Direct Investment".
Professor Enright first explained the background of the book, followed by China's evolving policy toward FDI and previous Chinese literature on the subject. He then revealed that by using a unique economic impact analysis, the book concludes that foreign direct investment contributes 33% to China's GDP and 27% to its employment. Beyond the numbers, Enright said investments from foreign firms also contribute a vast range of catalytic impacts and spillover benefits including the development of distribution channels, technology, management skills, connectivity to world markets and more.
Following the presentation, the audience engaged in a lively question and answer session with Professor Enright. The event concluded with closing remarks from the Hinrich Foundation's CEO, Kathryn Dioth. Dioth expressed the Hinrich Foundation's hope that this meaningful research will be used to maximize the benefits of foreign direct investment to further alleviate poverty, create stronger global economic partnerships and enhance sustainable global trade.
Order your copy of the book here.
Join the social media discussion using the hashtag: #FDIinChina
© The Hinrich Foundation. See our website Terms and conditions for our copyright and reprint policy. All statements of fact and the views, conclusions and recommendations expressed in this publication are the sole responsibility of the author(s).
---