Hinrich Foundation holds briefing for US journalists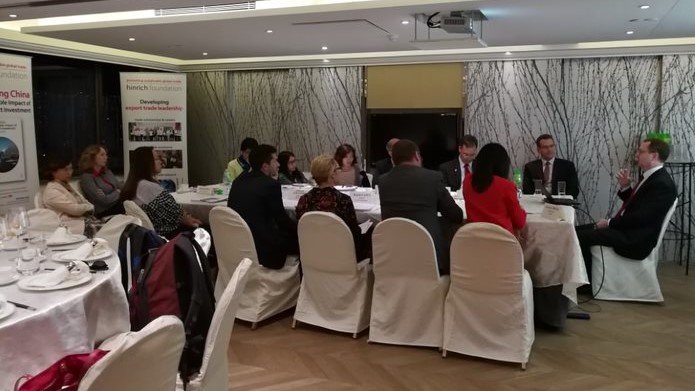 ---
Published 14 September 2017
On September 10, 2017, the Hinrich Foundation welcomed the East-West Center's visiting US journalism fellows to a special briefing event as a part of their 2017 China-United States Journalists Exchange program.
The East-West Center program offers the opportunity for Chinese journalists to travel to the United States and US journalists to travel to China, with the goal of increasing and deepening public understanding on both countries and the US-China relationship.
Journalists from news organizations across the United States— including Boston Globe, CNN, CNBC, USA Today, and Politico — attended the briefing event in Hong Kong. In addition to the East-West Center journalists, the Hinrich Foundation also welcomed representatives from the Better Hong Kong Foundation and Hinrich Foundation scholars to join the event.
During the briefing event, Hinrich Foundation Research Fellow Stephen Olson gave a presentation on regional economic integration in East Asia. He focused specifically on the future of the Trans-Pacific Partnership (TPP), Regional Comprehensive Economic Partnership (RCEP), Korea-United States Free Trade Agreement (KORUS), and US-China relations.
Professor Michael Enright also shared the findings of his groundbreaking analysis of the impact of foreign direct investment (FDI) on China's economy, as published in his book, Developing China: The Remarkable Impact of Foreign Direct Investment.
The briefing concluded with discussion between the journalists and experts on the future of trade relations between China and the United States.
© The Hinrich Foundation. See our website Terms and conditions for our copyright and reprint policy. All statements of fact and the views, conclusions and recommendations expressed in this publication are the sole responsibility of the author(s).
---