Trade distortion and protectionism
Do steel tariffs undermine safe energy infrastructure?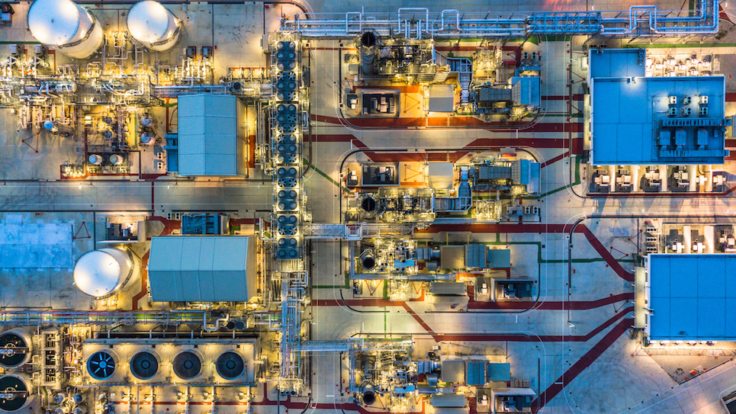 ---
Published 01 March 2019
The US administration's steep tariffs on imported steel could throw a major wrench into an infrastructure project that would increase the United States' ability to export liquefied natural gas to Mexico.
Stop where you are. There's a pretty good chance you are standing over a pipeline carrying natural gas, crude oil, gasoline, carbon dioxide (CO2), or some other hazardous material. These pipelines are made of specialized steel and other high-grade materials designed to comply with specific quality and safety standards. Walking over these pipelines every day, we should all be thankful for those high quality specifications the pipeline manufacturers are required to meet.
Map of gas transmission and hazardous liquid pipelines in the United States
Source: US Department of Transportation. Pipeline and Hazardous Materials Safety Administration. "Gas Transmission and Hazardous Liquid Pipeline," December 2018.
Tariffs for miles and miles
The map above displays all of the underground gas transmission and hazardous liquid pipelines in the United States. According to the US Department of Transportation, these pipelines cover 2.6 million miles. If these pipes were all lined up, they could circle the earth 104 times.
That's a lot of specialty steel needed to support millions of miles of pipeline. But the oil and gas pipeline producers are worried the Administration's 25 percent tariff on imported steel products has significantly raised their costs. A tariff is a tax on imported goods paid by consumers or manufacturers who purchase these goods. When steel is used as an intermediate product, the cost of the tariff is either absorbed by the manufacturer buying the steel, passed onto the customer, or a combination of both. In some cases, when the added costs are deemed too high for the buyer's bottom line, the firm may no longer purchase the desired steel and settle for a substitute product if it exists.
Compromising quality for cost is not an option for pipeline companies that must comply with regulations that contain strict technical specifications. If domestic product is not available, steel tariffs on imported steel inputs inevitably raise the costs of large-scale energy infrastructure projects in the United States.
The Gulf Coast Express Pipeline project
The impact of steel tariffs on construction of the Gulf Coast Express Pipeline illustrates the unintended consequences of tariffs and their ripple effect throughout the pipeline industry that supports critical infrastructure.
US energy infrastructure company Kinder Morgan, Inc. (KM) started construction on the Gulf Coast Express Pipeline Project in May 2018. Estimated to cost US$1.75 billion, the pipeline will span 514 miles in Texas and aims to increase the United States' ability to export liquefied natural gas to Mexico. One of the largest energy infrastructure projects in the United States today, the Gulf Coast Express Pipeline is anticipated to be operational by October 1, 2019 if it secures regulatory approvals.
Map of the proposed Gulf Coast Express Pipeline project
Source: Gulf Coast Express Pipeline LLC Project, Fact Sheet, Feb. 2018.
Cost is but one factor in supplier selection
KM opened a bidding process in November 17, 2017 for the specialty steel pipe that would be used in the project. Six domestic and six foreign steel manufacturers were invited to submit proposals by December 11. KM reviewed and evaluated the bids and also used a third-party materials consultant for expertise on material selection, corrosion testing and evaluation, failure analysis, welding technology, and fabrication assessment.
After deliberation, KM decided to split the pipe order between two manufacturers (one domestic supplier, Welspun USA in Little Rock, Arkansas; and one foreign supplier, Borusan Mannesmann in Turkey). While these two winners were not necessarily the lowest priced suppliers, KM determined these suppliers "had stronger logistic plans," could deliver within the timetable, "met the key technical specifications," agreed to "greater flexibility with manufacturing," and "showed previous project success."
A wrench in the pipeline plans
In January 2018, Commerce's initial section 232 report recommended a tariff of at least 53 percent for 12 countries, including Turkey. In an attempt to develop a back-up plan, KM reopened its discussions with one of the previous losers of the bidding process — Berg Steel Pipe Corporation in Panama City, Florida. Berg was unable to provide KM with technical specifications documents requested for the project.
Faced with the prospects of either a lack of supply or significantly increased costs, KM submitted two requests to the Department of Commerce for tariff exclusions for the specialty steel from Turkey. KM's reasoning: domestic producers were unable to meet the tight deadlines, produce sufficient quantities, and fulfill satisfactory quality specifications of the specialty steel required in their large-scale energy infrastructure project.
In a predictable bureaucratic loop, US steel manufacturers filed objections to KM's exclusion requests, and KM proceeded to file rebuttals against those objections. Now, the steel manufacturers are filing sur-rebuttals to the rebuttals, and KM's requests remain pending a decision.
Competing national security priorities – steel production or safe distribution of energy
The tariffs on imported steel were imposed on the basis that "aluminum and steel articles are being imported into the United States in such quantities and under such circumstances as to threaten to impair the national security of the United States."
According to the Department of Commerce, an exclusion request will be granted if the steel or aluminum is not produced domestically "in a sufficient and reasonably available amount, satisfactory quality, or there is a specific national security consideration warranting an exclusion."
Is moving energy safely underground a national security consideration warranting an exception?
The US Department of Energy has indicated that the energy infrastructure is critical to national security, and recently highlighted the critical importance of keeping the nation's infrastructure secure and resilient.
Which interest will prevail?
Despite the pressure to switch to domestic suppliers, many US pipeline companies are unable to do so for reasons related to quality, not price. KM's story is one of many — one need only sift through exclusion requests from a long list of pipeline companies like Marathon Oil Company, ExxonMobil Pipeline Company, Gulf Coast Express Pipeline, Targa Pipeline Mid-Continent WestTex, Plains Pipeline, Midship Pipeline Company, Hess, BP, Steel Service Oilfield Tubular, Shell, and National Oilwell Varco to find similar concerns.
The irony is that the United States is imposing tariffs on materials that US manufacturers require to maintain the nation's own energy infrastructure, which is itself a national security concern.
© The Hinrich Foundation. See our website Terms and conditions for our copyright and reprint policy. All statements of fact and the views, conclusions and recommendations expressed in this publication are the sole responsibility of the author(s).
---
---