Sustainable trade
Sri Lanka's sustainable approach to underwear production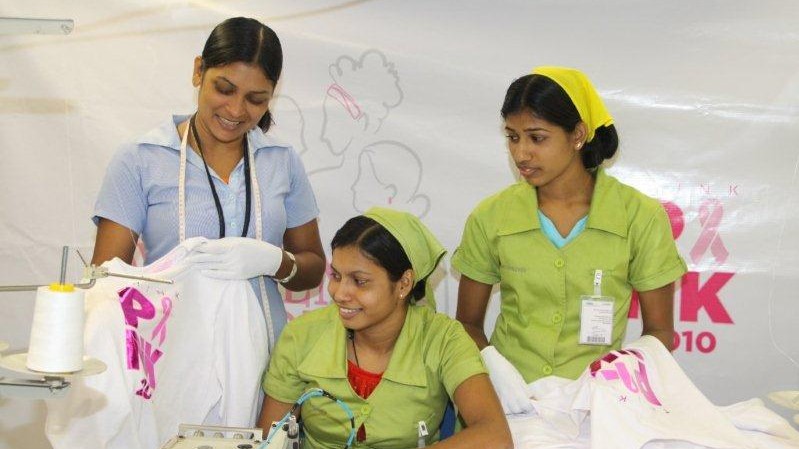 ---
Published 07 August 2018
Much of American women's undergarments comes from Sri Lanka. In recent years, Sri Lanka has shown it not only makes intimates designed to accentuate a woman's curves – it's also getting ahead of the sustainability curve.
From Sri Lanka to your underwear drawer
Underwear, panties, intimates, undergarments, bras, lingerie, undies – whatever you call it, American women buy a lot of it every year.
The women's lingerie market in the United States was valued at over US$14 billion dollars in 2018 and is expected to be worth over US$19 billion by 2024. The United States imported US$6.2 billion worth of women's undergarments from around the world in 2016. The top exporter was China, contributing over 40 percent of total US imports of women's undergarments.
The second largest exporter of undergarments to the United States was Sri Lanka— an island nation off the southern coast of India. Sri Lanka, home to some 22 million people, is a top producer of garments for major global brands like Victoria's Secret, Gap, Nike, Tommy Hilfiger, H&M and more. Apparel, including undergarments, was Sri Lanka's top export to the United States in 2016.
So how do your undies travel all the way from an island in the Indian Ocean to end up in a tangled mess in your underwear drawer? Global trade plays an intimate role with your intimates, and countries like Sri Lanka are setting themselves apart by doing it sustainably.
Sewing sustainable success
Apparel is Sri Lanka's leading export and a key contributor to the nation's economy, accounting for 45 percent of the country's total exports and 33 percent of its manufacturing employment in 2016. Its biggest customers are the United States and the European Union. In recent years, Sri Lankan garment exports have shifted from basic apparel to more fashion driven apparel, with brassieres and panties representing the two fastest growing product categories.
As the country's apparel industry has expanded, it has focused on ethical employment practices through industry-wide programs like Garments Without Guilt, a campaign that requires apparel factories to meet a number of requirements such as no child labor, sweatshop practices, forced labor, among other stipulations to achieve certification. The country was also one of the first to pioneer "eco factories" equipped with skylights, water cooling systems, solar panels, and other "green" features on factory floors.
Sri Lankan companies leading the sustainability charge
For Hirdaramani Group, a leading garment manufacturer employing 22,000 workers in Sri Lanka, the inspiration for its sustainability practices originally came from an unlikely source: Al Gore's 2006 book, An Inconvenient Truth. The book inspired the fourth-generation family business to create the first carbon-neutral apparel factory in Asia in 2009, according to Nikhil Hirdaramani, Director of Sustainability at Hirdaramani Group.
The company reports that its flagship green factory uses 48 percent less energy and 70 percent less water than conventional factories, and contributes zero waste to landfills. "We used that as a planting seed for pushing sustainability to all of our factories," Hirdaramani said. "For us, it was about doing the right thing," he added.
Environmental and social sustainability concern is not something new to Sri Lanka, Hirdaramani explained. It has been an industry-wide effort for over 15 years, when the industry first developed its own standards through Garments Without Guilt. Globally, however, Hirdaramani has seen an increased focus on sustainability over the past two to three years, including international initiatives such as the Sustainable Apparel Coalition.
"We are seeing a lot more collaboration happening now than we ever did," he said. "From a sustainability point of view, it's the only way we're going to be able to cement standards across the whole supply chain. We've all got to work together."

Hirdaramani company video: Inside Asia's first Carbon Neutral Apparel Factory
Sri Lanka's efforts paying off in sustainable trade
Sri Lanka's efforts toward social and environmental sustainability appear to be paying off on a global scale, according to the newly released edition of the Hinrich Foundation Sustainable Trade Index. The 2018 Index, built by the Economist Intelligence Unit, measures the ability of 19 Asian economies and the United States to trade in a manner that supports the long-term goals of economic growth, environmental protection, and social development.
Sri Lanka ranked seventh overall on the 2018 Index, the highest-placement of all middle-income and emerging markets. When you compare Sri Lanka's performance on the 2018 Index relative to its GDP ranking among other countries, its performance becomes even more impressive. The country overperforms its GDP ranking by four places as one of the biggest overperformers based on income behind Vietnam and India.
Sri Lanka's top scores reflect the country's focus on sustainable development through attracting foreign direct investment (FDI) that is beneficial to both workers and the environment. FDI in Sri Lanka hit record highs last year— totaling US$1.6 billion in 2017. If Sri Lanka continues down the path of balanced industrialization coupled with impressive social and environmental protections, it could be seen as a developmental model for other small emerging economies, according to the Sustainable Trade Index report.
More than sweatshops
Although the apparel industry often brings to mind thoughts of sweatshops and environmental degradation, some countries – like Sri Lanka – are working to change those negative perceptions by focusing on sustainable development.
It's a good thing too, because consumers are increasingly interested in buying sustainable goods. According to a 2015 Nielson study, 66 percent of consumers said they are willing to pay more for sustainable brands. This growing importance is not lost on companies. "I believe in the times to come, you will have to be sustainable to be in business," said Hirdaramani.
As sustainability grows more important to consumers and companies alike, countries that are willing to support and encourage sustainable economic growth will be better positioned to cash in on the trend. Sri Lanka – which specializes in making intimates designed to accentuate a woman's curves— appears to be ahead of the sustainability curve already.
---