Trade distortion and protectionism
Free trade in medicines and supplies can improve the response to COVID-19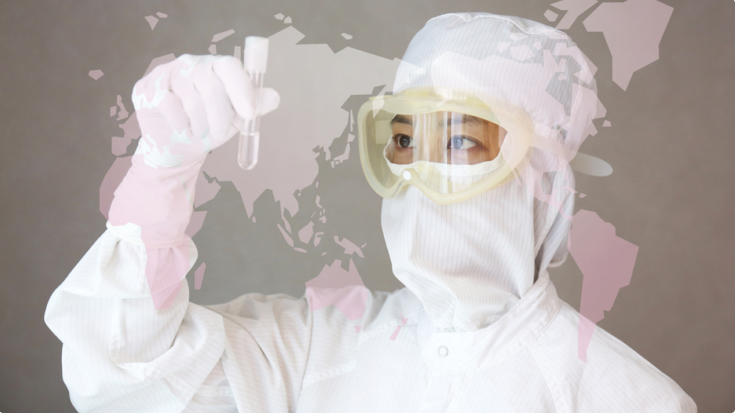 ---
Published 31 March 2020 | 8 minute read
As the novel coronavirus jumped continents, governments acted to create diagnostic kits and treatments for those with the virus. Unfortunately, a policy practice that seems to be infectious could worsen the situation.
More than 20 governments have banned the export of needed medical supplies, a prescription for shortages and higher prices. What the crisis also lays bare is that key countries and many important healthcare products remain outside a WTO agreement that would otherwise enable duty-free trade in the medicines and supplies we need on a regular basis.
What does trade have to do with the pandemic?
A pandemic is a type of epidemic, wherein an outbreak of a disease not only affects a high proportion of the population at the same time, but also spreads quickly over a wide geographic area. 
As the novel coronavirus jumped continents, governments in countries yet unaffected or with low incidence rates moved to prevent "importing" the virus through individual travel. Simultaneously, governments acted to create diagnostic kits and treatments for those with the virus – all praise our frontline healthcare workers.
Unfortunately, what could worsen the situation is a policy practice that seems to be infectious. More than 20 governments are banning the export of needed supplies, a prescription for shortages and higher prices. What the crisis also lays bare is that key countries and many important healthcare products remain outside a WTO agreement that would otherwise enable duty-free trade in the medicines and supplies we need on a regular basis.
Pandemic proportions
In the history of pandemics, there has been none more deadly than the infamous Bubonic Plague which took 200 million lives in the mid-14th century, wiping out half the population on the European Continent. The pathogen spread through infected fleas carried by rodents, frequent travelers on trading ships. The practice of quarantine began in the seaport of Venice, which required any ships arriving from infected ports to sit at anchor for 40 days — quaranta giorni — before landing. Two centuries later, Small Pox took 56 million lives. In the modern era, some 40 to 50 million succumbed to the Spanish Flu of 1918 and HIV/AIDS has claimed 25-35 million lives since 1981.
For perspective, and not to minimize its severe toll, the number of fatalities from novel coronavirus will likely exceed 10,000 by the time of this writing. COVID-19, as it is currently known, is a reminder that we live with the ongoing threat from many types of both known infectious diseases like cholera, Zika and Avian flu, as well as diseases yet unknown to us. Although we can more rapidly detect, contain and treat epidemics, diseases now travel at the speed of a person on board an international flight. Our cities are bigger and denser, further enabling rapid transmission.
Pandemic prepping includes trade
Because we are interconnected, we share the health risks, but we can also problem-solve as a global community. Scientists in international labs share insights to identify viruses, swap guidance on how to conduct confirmatory tests, and quickly communicate best practices for containment.
Outside times of crisis, global trade in health-related products and services has laid the foundation for faster medical breakthroughs through international research and development projects, and by diversifying the capability to produce medical supplies, devices, diagnostics and pharmaceuticals.
Innovation thrives in the United States like nowhere else. Yet, no single country, not even the United States, can discover, produce and distribute diagnostics, vaccines and cures for everything that ails us — or invent every medical intervention that improves the productivity and quality of our lives.
A dose of foresight
As the Uruguay Round of multilateral trade negotiations were drawing to a close in 1994, a group of countries representing (at the time) 90 percent of total pharmaceutical production came to an agreement. Each government would eliminate customs duties on pharmaceutical products and avoid trade restrictive or trade distorting measures that would otherwise frustrate the objective of duty-free trade in medicines.
The WTO's Pharmaceutical Tariff Elimination Agreement, which entered into force on January 1, 1995, is known as a "zero-for-zero initiative" to eliminate duties reciprocally in a particular industrial sector. Signed onto over subsequent years by the United States, Europe's 28 member states, Japan, Canada, Norway, Switzerland, Australia and handful of others, the agreement initially covered approximately 7,000 items that included formulated or dosed medicines, medicines traded in bulk, active pharmaceutical ingredients (APIs) and other chemical intermediaries in finished pharmaceuticals.
Signatories agreed to expand the list in 1996, 1998, 2006 and 2010 so it now covers more than 10,000 products. Tariffs were eliminated on a most-favored nation basis, meaning it was extended to imports from all WTO members, not just parties to the agreement.
Maintenance drugs
Though an important start, the agreement has not been updated in a decade. Trade in products covered by the WTO agreement has risen from $1.3 trillion in 2009 to $1.9 trillion in 2018. Yet, some 1,000 finished products and 700 ingredients are not covered under the agreement, leaving pharmaceutical trade subject to hundreds of millions in customs duties. With China and India increasing manufacturing over the last decade, the value of global trade included in duty-free treatment decreased from 90 percent in 1995 to 81 percent in 2009 to 78 percent in 2018.
It is challenging to chart trade statistics and tariffs on health-related products, particularly since many chemical ingredients have both medical and non-medical uses. Here we have attempted to reproduce tables developed by the WTO in 2010, but we do not include a large number of chemicals that have general use whose tariff lines were not enumerated in the WTO's analysis.
In 2010, the European Union and the United States together accounted for almost half of all world imports of health-related products. Europe has become a much larger importer while U.S. imports have decreased slightly as a percentage of global imports. Imports by many big emerging markets including Brazil, Mexico, China, India and Turkey, have increased along with their purchasing power. These countries benefit from zero duties when importing from countries that signed on to the WTO Pharmaceutical Trade Agreement.
On the export side, Europe dramatically increased its share of global exports while the United States dropped across the board compared to 2010, particularly in medical products and supplies. China shows significant growth in exports of inputs specific to the pharmaceutical industry – including antibiotics, hormones and vitamins – as well as medical equipment including diagnostic reagents, gloves, syringes and medical devices. India also increased its exports of all types of pharmaceuticals, particularly ingredients, but did not drive up its share across all types of exported health-related products. China and India would benefit from zero duties without having to reciprocate for exports from countries that signed on to the WTO agreement.
That said, according to the trade data, China and India still only account for 5.4 percent of global exports in health-related products covered by the agreement. Therefore, simply expanding membership to include these countries is not sufficient to enlarge duty-free trade – the number of tariff lines covered by the agreement would also need to expand to capture a significant portion of traded healthcare products.
Tariffs as a symptom
The final price of a pharmaceutical is determined by many factors that differ by country. Costs and markups occur along the distribution chain from port charges to warehousing, to local government taxes, distribution charges, and hospital or retailer markups. Tariffs may seem a relatively small component of the final price, but the effect is compounded as all of these "internal" costs accumulate and they are symptomatic of complex regulatory systems.
A 2017 study by the European Centre for International Political Economy determined that tariffs on final prices add an annual burden of up to $6.2 billion in China. In Brazil and India, tariffs on medicines may increase the final price by up to 80 percent of the ex-factory sales price. Imported pharmaceuticals are at a clear disadvantage and patients bear the burden in cost and diminished availability.
Side effects
According to the U.S. International Trade Commission, the U.S. pharmaceutical industry historically shipped bulk APIs from foreign production sites to the United States before formulating into dosed products. After the WTO agreement, it became viable to import more finished products duty-free. Over the years, a failure to add more APIs to the duty-free list reinforced this trend. The U.S. Food and Drug Administration also allows firms to import formulated products prior to receiving marketing approval to prepare for a new product launch but does not allow bulk API importation before market approval.
The urgency to accrue adequate supplies and treatments for COVID-19 has reignited a debate on U.S. over-reliance on China and India for antibiotics, among other medicines. What if factories must close? What if China and India withhold supplies? If raw materials and ingredients are derived in those countries, would the United States be able to ramp up domestic production? The White House is considering incentives and Buy America government procurement requirements to stimulate demand for U.S. production and in the meanwhile has temporarily reduced tariffs on medical supplies such as disposable gloves, face masks and other common hospital items from China.
A cure worse than the disease
Removing barriers to trade in essential products is a healthier approach than imposing restrictions that could exacerbate potential shortages.
Nonetheless, some 20 countries have announced a ban on the export of medical gear – masks, gloves, and protective suits worn by medical professionals. They include Germany, France, Turkey, Russia, South Korea, India, Taiwan, Thailand and Kazakhstan.
Governments generally do maintain national stocks of critical items to enable manufacturers to ramp up production in cases of health emergencies or address unexpected gaps in their supply chains. But when major producers withhold global supply, importing countries face shortages and higher prices. Dangerously, India's trade restrictions go beyond medical gear to restrict export of 26 pharmaceutical ingredients. India, however, relies heavily on APIs imported from China for their medicines, much of it originating from factories in Hubei province where the outbreak emerged.
Bans tend to beget more bans, potentially wreaking havoc on pharmaceutical and medical product supply chains, making it more difficult for healthcare workers to stem spread of the virus. Poorer countries with already fragile and underfunded healthcare systems are left in an even more vulnerable position.
A test for public-private collaboration
Instead of export restrictions, governments can expedite purchase orders and otherwise support industry efforts to ramp up production for domestic and global use. Most global manufacturers are operating at several times their usual capacity since the initial outbreak in China. Private labs are utilizing high-throughput platforms to conduct more tests faster but require trade in the chemical reagents needed to start up and run the tests.
Biopharmaceutical firms are applying their scientific expertise to accelerate the development of a vaccine and treatments for COVID-19. They are reviewing their research portfolios, investigating previously approved medicines that have potential to treat the virus, and donating approved investigational medicines to the global research effort. Internationally, scientists are collaborating through a Norway-based nonprofit called the Coalition for Epidemic Preparedness Innovations on COVID-19 vaccine development. They know that the more options, the better – most drug candidates will not get through all three phases of clinical trials.
Recovery
Epidemic diseases evolve and they do not respect borders. Treating them, as well as the myriad chronic diseases and other ailments that affect us more routinely, requires new and adapted medical technologies arising from innovation made widely available through trade.
While there's nothing inherently wrong with providing incentives to encourage domestic production, it should not come at the expense of free trade in health-related products. Tariffs should be eliminated on life-saving medicines and their ingredients. Governments must impose restrictions on exports temporarily and only when absolutely necessary. In this way, openness in trade will help promote the recovery of both our health and our economies.
Many thanks to economist and contributor Alice Calder for running all the trade numbers in this article. Full data tables may be accessed here.
© The Hinrich Foundation. See our website Terms and conditions for our copyright and reprint policy. All statements of fact and the views, conclusions and recommendations expressed in this publication are the sole responsibility of the author(s).
---
---