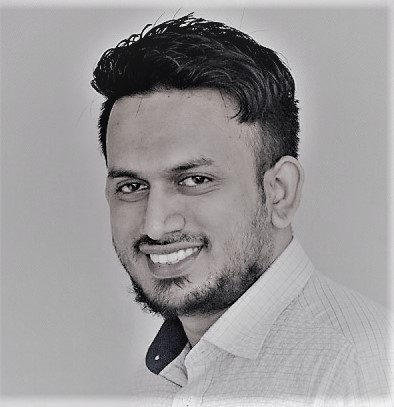 Shamsul Amin
CITIZENSHIP
Bangladesh
HINRICH SCHOLARSHIP
RMIT University
Ho Chi Minh City, Vietnam
Master of Global Trade, Class of 2022
Co-sponsor: Hinrich Foundation Alumni Association
CURRENT EMPLOYMENT
Head of Marketing and Business Development
Shoeniverse Footwear, Dhaka, Bangladesh
"Being a Hinrich Global Trade Leader scholar, I can develop my potential and flourish in a global environment with the help of a strong professional community."
Scholar background
With extensive experience in manufacturing, Shamsul is Head of Marketing and Business Development at Shoeniverse Footwear, Gulshan, Dhaka. Shoeniverse is the country's first Gold LEED-certified 100% export-oriented footwear company. His core responsibilities are leading the merchandising team to develop new buyers and new business from Europe and USA, and to enhance collaboration among the operation, production, procurements and other departments to make production smoother.
Previously, Shamsul was Sourcing Expert and Merchandiser for Texweave, a buying representative of five different European brands and controlling seven individual factories in Bangladesh for textile and non-textile products for hypermarkets.
He has experience in research, mostly concentrated on sustainable production with emphasis on proper supply chain methods for smooth production, waste reduction and productivity improvement.
Shamsul earned his Bachelor of Science in Leather Products Engineering from the University of Dhaka, Bangladesh and completed his Master of Global Trade at RMIT University through the Hinrich Global Trade Leader Scholarship in 2022.
Personal statement
The Hinrich Global Trade Leader Scholarship is the way to transform my thoughts into reality. My curiosity to know how something works has made science as my favorite subject since my early school days. My inquisitive mind always tried to build a strong relationship between applied science and trade.
The Master of Global Trade at RMIT University will help me advance my trade-related global career. By understanding cross-cultural negotiation, data analytics and business operation management, I can prepare myself for global standards. I believe that with my work experience and studies, I have a solid foundation. Through the master's program, I am expecting to develop my technical expertise in trade-related business.
As a manufacturing professional, I always have to deal with various priorities – often competing – related to productivity, costing, supply chain efficiencies and merchandising. By having an advanced degree in Global Trade, I will be more proficient in strategic management, as well as supply chain management. That will be helpful to be a global trade leader and to understand the international market.
I am expecting the cordial cooperation of the Hinrich Foundation community to understand every aspect of international trade and innovate ways for business. Subsequently, I will be able to critically analyze the unrealistic assumption of businesses and generate verified approaches for the manufacturing and trade sectors.
I believe a well-built background and alacrity to keep up with recent developments are essential for an intellectually stimulating and satisfying career in trade. This scholarship will definitely help me to fulfill my aspiration to become a global trade leader. I am expecting that the Hinrich Foundation community will guide me towards further success in my profession.