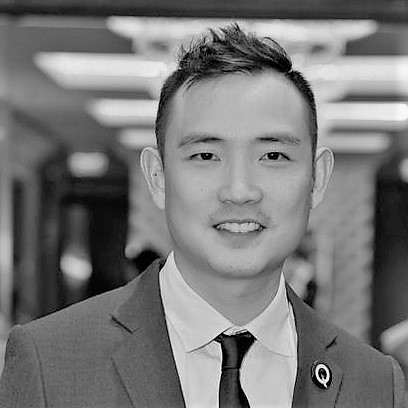 Kwan Yi Quek
CITIZENSHIP
Singapore
HINRICH SCHOLARSHIP
RMIT University
Ho Chi Minh City, Vietnam
Master of Global Trade, Class of 2022
Co-sponsor: Q Industries
CURRENT EMPLOYMENT
Chief Operating Officer
Q Industries, Ho Chi Minh City, Vietnam
"Global trade leadership is a lifelong journey towards sustainable global economic growth. Leadership is not defined by the destination, but by the actions taken during the journey."
Scholar background
Kwan Yi is Chief Operating Officer at Q Industries and Trade, which supplies integrated solutions for hospitality and foodservice for clients across Asia Pacific, as well as India, Africa and the Middle East. He specializes in business development and operations management and is involved in financial management. His key achievements include corporate restructuring. He also set up enterprise resource planning systems implementation to encourage ecommerce sales growth and launched a professional culinary academy. Before joining the company, Kwan Yi was a Director of Operations at the Republic of Singapore Air Force.
Kwan Yi earned his Singapore-Cambridge General Certificate of Education at the Anglo-Chinese Junior College in Singapore before going on to reach the military officer rank of Lieutenant and gained his fighter pilot certification.
He also attained his Master of Global Trade at RMIT University through the Hinrich Global Trade Leader Scholarship in 2022.
Personal statement
I spent almost 15 years in a challenging career as a military officer and fighter pilot with the Republic of Singapore Air Force: that taught me many valuable life lessons. The primary area of focus in the military is always being prepared, while having high levels of accuracy and 'warrior-like' determination.
Having left my military career in 2017, I am now leading a global small and medium-sized enterprise for the second generation of a family-owned company. I strongly believe that the Master of Global Trade will prepare me to confidently accelerate business growth and develop my team of dedicated leaders to expand into new international markets. The pursuit of lifelong learning, together with this unique opportunity for practical application and access to global trade practitioners, will allow me to create a business legacy through leadership-driven business ethos.
The Master of Global Trade presents an invaluable opportunity for me to equip myself with the fundamental skills and practical training to take on the challenges ahead.