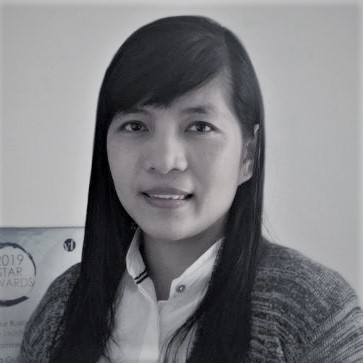 Alma Gulapa
CITIZENSHIP
Philippines
HINRICH SCHOLARSHIP
RMIT University
Ho Chi Minh City, Vietnam
Master of Global Trade, Class of 2022
Co-sponsor: VF Asia
CURRENT EMPLOYMENT
Merchandising Manager
VF Asia, Ho Chi Minh City, Vietnam
"It's a great honor to be a part of the Hinrich Foundation's diverse and dynamic community. I'm very excited and looking forward to all the learnings from great minds."
Scholar background
Based in Ho Chi Minh City, Vietnam, Alma now is Merchandising Manager at VF Asia, a 121-year-old footwear and apparel company with more than 30 global brands, including The North Face, Timberland, Bulwark and Dickies. She is in charge of the production management and product development team for Eastpak, working with a brand team based in the European Union for order planning and placement. Her role also involves management and monitoring of supply chain, purchase orders and vendors in Asia. She joined VF Asia in 2012 as a Manufacturing Excellence Engineer A based in Cambodia.
Previously, Alma had served in managerial positions in the industrial engineering department at Fashion Focus Leather Manufacturing Goods from 2011, and Luen Thai International Group Philippines for four years from 2007.
She earned her Bachelor of Science in Industrial Engineering from Tarlac State University in the Philippines.
Personal statement
The Master of Global Trade, through the Hinrich Global Trade Leader Scholarship, will give me an in-depth understanding of how trade policies are made and all the underlying business fundamentals. This educational background and exposure will make me a better and efficient leader in our industry and help me strengthen my business acumen.
I will be able to support the brands that I'm working with if I have a deeper understanding of trade agreements, trade frictions, duties and taxes and business related to global trade. All the more that I can plan ahead and build a better roadmap to where we will produce those products in the next three to five years. To be prepared is to have a backup plan and most of all, to be a much more effective merchandiser.
I know that the Hinrich Foundation not only provides the financial assistance for this scholarship, but also the opportunity to build deep relationships with people from different walks of life and countries. The exposure to such a diverse community will help me have a wider vision of how to efficiently become a business leader in my organization.