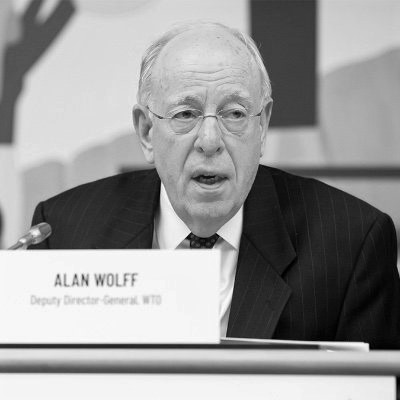 Alan Wolff
Deputy Director-General, World Trade Organization
Alan Wolff began his four-year term as Deputy Director-General on 1 October 2017.
Ambassador Alan Wm. Wolff, formerly Senior Counsel at the global law firm Dentons, is one of the world's leading international trade lawyers. He has been engaged to resolve some of the largest international trade disputes on record. For the last six years he has served as the Chairman of the National Foreign Trade Council (NFTC) which was called into being by President Wilson in 1914 to support open international trade and which today represents hundreds of American companies who employ millions of workers. He is Chairman of the Board of the Institute for Trade and Commercial Diplomacy (ITCD).
Ambassador Wolff served as United States Deputy Special Representative for Trade Negotiations in the Carter Administration and was General Counsel of the Office in the Ford Administration. He was acting Head of the US Delegation for the Tokyo Round, and a principal draftsman of the basic US law creating a mandate for trade negotiations. As Deputy USTR he was a founder of the OECD Steel Committee and its first chairman. He has served as a senior trade negotiator in, and advisor to, both Republican and Democratic administrations.
Prior to his service at USTR, he served in the US Treasury as staff attorney for the National Advisory Committee on International Monetary and Financial Policy, participating in the work of the OECD Development Assistance Committee, reviewing lending policies in the IMF and the World Bank, and participating in the drafting of the Articles of Agreement of the African Development Fund. He was director of the Treasury's Office of Multilateral Trade Negotiations. 
He is a member of the Advisory Committee of the Peterson Institute for International Economics (PIIE), is a lifetime National Associate of the National Academies, having served several terms on the Science, Technology and Economic Policy Board of the Academies and chairing its Committee on Comparative Innovation Policies. He is a member of the Council on Foreign Relations and the E15 Initiative's Experts Group (Innovation).  
He has lectured and written extensively on trade topics including the need for a strong, open rules-based multilateral trading system. 
Ambassador Wolff holds a J.D. degree from Columbia University and an A.B. degree from Harvard College.
Latest articles by this expert