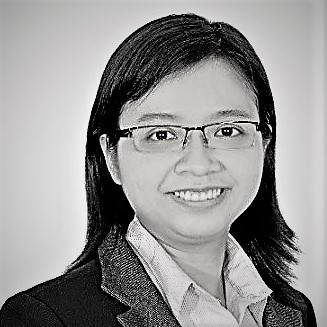 Sapphire Nguyen
CITIZENSHIP
Vietnam
HINRICH SCHOLARSHIP
Thunderbird School of Global Management
Arizona, United States
Master of Business Administration, Class of 2017
Co-sponsor: Global Sources
CURRENT EMPLOYMENT
Senior Manager – Business Intelligence
Foodpanda, Singapore
"A Hinrich scholar is a global citizen who gives back to the community and to the world."
As an accomplished senior professional in the business intelligence industry, we asked Sapphire Nguyen what success means to her:
"Success is to build a strong team wherever I go, improve the quality of life for myself and for my loved ones and, as much as possible, empower myself and others to give back to the community."
Giving back
As a Senior Manager for Business Intelligence based in Singapore at foodpanda – a leading global food delivery service present in over 40 countries – Sapphire Nguyen strongly believes in not only giving back to her native Vietnam, but to every community that is in distress.
"My education has transformed me into a global citizen, and I feel it's my duty to improve the quality of life for communities that need our help, regardless of the country they belong to…"

Sapphire's graduation day at the Thunderbird School of Global Management in December 2017 with her host parents in Arizona, USA.
The "T-bird" family
Sapphire Nguyen completed her two bachelor's degrees in Finance and International Business from University of Greenwich and University of Economics (respectively) in her home country, Vietnam. Her studies were motivated by the experience of growing up with her sister and facing the aftermath of her father going bankrupt when she was just five years old.
Sapphire knew that to give back to developing economies like Vietnam, she had to have a larger perspective and become a global citizen. She was interested in international business so that she could connect with more significant players in the workplace, and the Hinrich Foundation scholarship was a step in the right direction.
A Hinrich alumna – Mai Nguyen, also from Vietnam – championed her case to Alex Boome, Program Director at HF. Sapphire was accepted at the Thunderbird School of Global Management at Arizona State University as a Hinrich Foundation Global Trade Leader scholar.
Thunderbird alumni gather together in Singapore for a T-bird First Tuesday event in 2018
"Without the Hinrich Foundation scholarship, I could never have been able to afford to study at Thunderbird. For me, living in the United States and learning at Thunderbird were the most unique experiences of my life. Graduating from Thunderbird has made me a part of a very large 'T-Bird' family."
Sapphire considers herself lucky to be part of both the Hinrich Foundation and "T-Bird" families and makes it a point to stay connected to her vast network across the world.
"As the Thunderbird alumni community, we have a 'T-Bird First Tuesday,' where we get together and chat every first Tuesday of the month. We share memories and enjoy our time together. It happens in every country around the globe where our alumni members live. It really makes me believe that I am a global citizen."
Flexible and focused
When asked to give advice to future Hinrich alumni, Sapphire has a few simple, yet powerful, words of advice:
"Keep your unique selling proposition flexible. Be ready to be uncomfortable to realize your true passion."
Sapphire's advice to fresh Hinrich scholars is to be like the phoenix who sits in the discomfort of a fire, until they burn with new energy and move towards raising awareness. For her, it is the only way to fully realize their true passion.
Read Sapphire's full profile here.