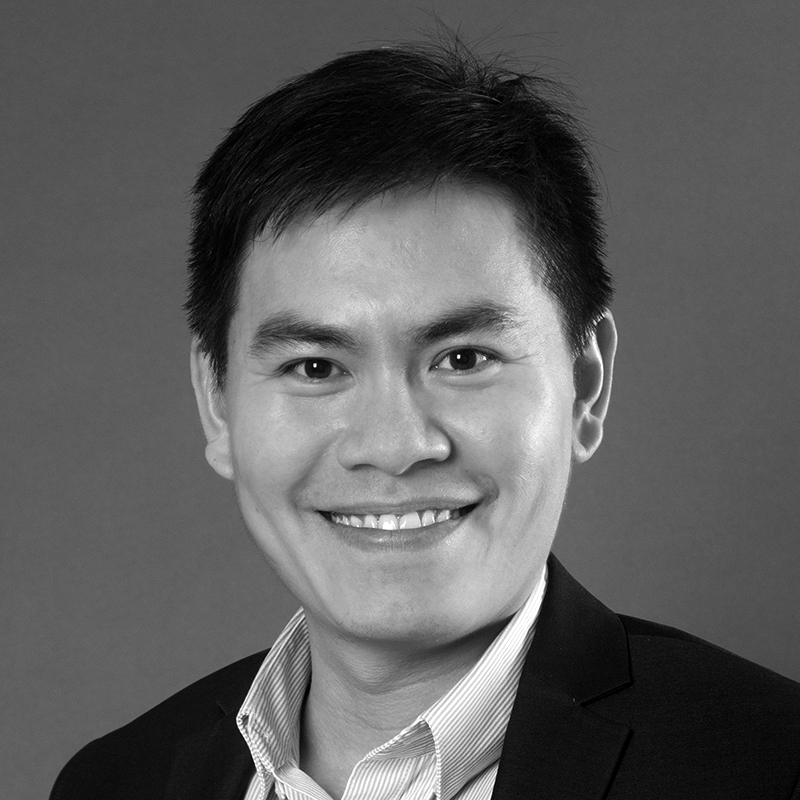 Khiem Vu
CITIZENSHIP
Vietnam
HINRICH SCHOLARSHIP
Chinese University of Hong Kong
Hong Kong SAR
Master of Business Administration, Class of 2016
Hong Kong Baptist University
Hong Kong SAR
Master of Arts in International Journalism Studies, Class of 2007
Co-sponsor: Global Sources
CURRENT EMPLOYMENT
Country Manager
Global Sources, Ho Chi Minh City, Vietnam
"It's important to find the passion to be engaged in the smallest of unnamed, tedious jobs. It may sometimes become frustrating to achieve little things, but in their completion lies the key to achieving bigger things."
For Khiem Vu, the talented young Hinrich Global Trade Leader based in Vietnam, the road to success is never-ending. He has always set new goals at every point in his life, and has achieved them despite obstacles and failure.
Communication is the key
Khiem is a double Hinrich Foundation scholar, having been awarded a scholarship twice. He was among the first batch of Vietnamese scholars, studying Master of Arts in International Journalism Studies at Hong Kong Baptist University in 2007. His second postgraduate degree is Master of Business Administration in General Management from the Chinese University of Hong Kong.
After graduating from the first scholarship course, Khiem led the Hinrich Foundation's Export Trade Assistance Program for seven years, where he proudly engaged with a number of young talents, ranging from fellow scholars and alumni, to export suppliers and government organizations across Asia.
Khiem Vu (far left) shares a victory moment with his Chinese University of Hong Kong Santa Rocks team after raising HK$40,000 at Swire Properties' Operation Santa Claus in Christmas 2014.
The Foundation then awarded him the second scholarship to study at the Hong Kong Chinese University (CUHK). While there, Khiem was a part of the organizing team of the 2015 CUHK CSR Conference. He was also a member of the team who raised HK$40,000 for poor residents in Hong Kong through Swire Properties' annual charity campaign to raise funds, also known as Operation Santa Claus. Khiem then completed his final term through an exchange program at the University of Michigan.
Ever the learner
"We are the new blood of the industry," Khiem proclaimed. "We are on our way to explore, still battling out there to prove ourselves!" He is now the Chief Representative of Global Sources Vietnam office, in charge of sales and ensuring his partners get the best service.
Humble to the core, he still regards himself as a learner: "I lead a team yet some of them have far more experience than me.'" He thinks being a Trade Facilitator is his USP (unique selling point), as he and his team have been instrumental in creating the first generation of Global Sources trade links with Vietnam suppliers and import buyers.
Khiem Vu (right) visits Kenneth Cheung, owner of smart home startup Novus Techonology and fellow alumnus from the Chinese University of Hong Kong's MBA program, during a Global Sources Startup Launchpad Show.
"At Global Sources, we try not to live in comfort zones. We don't like to do normal things; we like to do extraordinary things. That's why we can grow as team members as every goal becomes an opportunity for a winning moment. And we keep tweaking our goals to find what we can do next to make Global Sources a top choice in the industry, how we can further inspire customers and how we can sustain our trade goals."
Important to be part of a system
Khiem is most thankful to be a Hinrich scholar alumni."The Hinrich Foundation has shaped my personality, my career as well as my attitude towards work," said an emotional Khiem. He feels that being part of the scholarship program exposed him to a very high standard of education, the kind he may not have received otherwise. He feels that the opportunities that surround him today are all thanks to the Foundation. He finds strong commitment in his relationship with the Foundation as it keeps lending resources and support to its scholars even when they become alumni.
Read Khiem's full profile here.