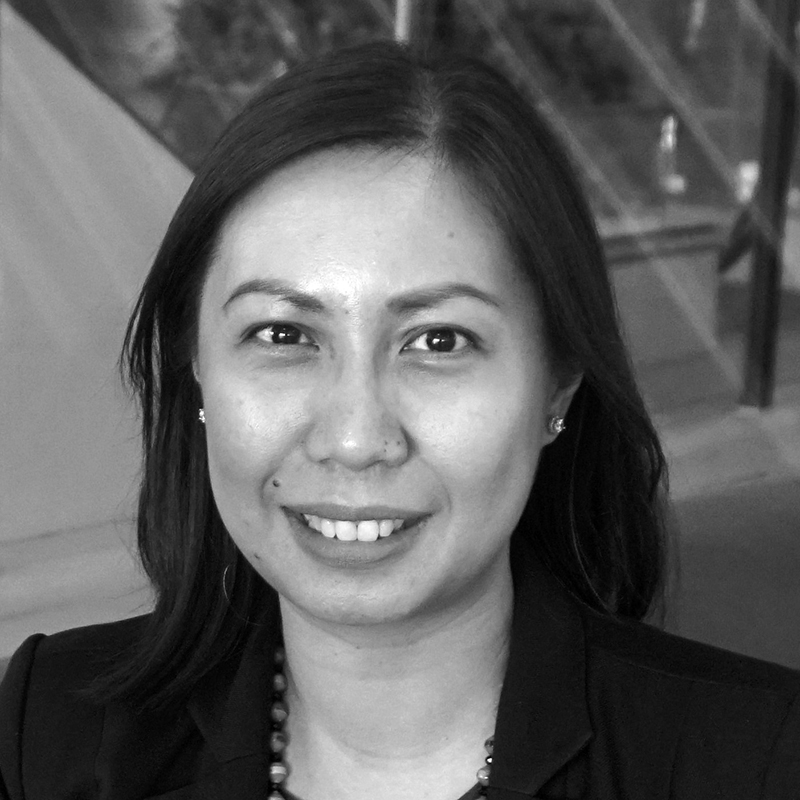 Carmela delos Santos
CITIZENSHIP
Philippines
HINRICH SCHOLARSHIP
De La Salle University
Manila, Philippines
Bachelor of Arts in Communication Arts, Class of 2000
Co-sponsor: Global Sources
CURRENT EMPLOYMENT
General Manager
Genesis Quezon Tugs, Manila, Philippines
"Excel even in the small things because the quality of your work reflects who you are. If you can't be trusted with the small stuff, how can you expect to be trusted with the big stuff?"
For Carmela Delos Santos, success is defined by her strong sense of ethics. Her 16-year career is a shining example of taking tremendous pride in her work. Her strengths include discipline, an eagle eye for detail, people skills and a glue-like tenacity to keep teams together.
From summer intern to regional manager
Carmela's association with Global Sources, the business-to-business company that Mr. Hinrich founded, began during her sophomore year in college at De La Salle University, Manila, when she was awarded the scholarship. As part of the program, she spent her summer breaks in the Makati office as a student intern with the Global Sources Editorial team.
Carmela (first row, far left), poses with her batch mates at De La Salle University's Commencement Exercises on March 2000. From 200 students, 17 graduated in their course of Bachelor of Arts in Communication Arts where she graduated top of her class
Her head start into the export trade sector helped her realize that trade media is her niche. She started as a content assistant and held positions of progressive responsibility within Global Sources ranging from managing the print and online publication of its B2B magazines to leading a team of copywriters responsible for writing effective ads for Global Sources advertisers.
In 2016, Carmela joined the Hinrich Foundation as Content Integration & Marketing consultant, where she built a microsite on Global Sources Online (GSOL) to give buyers access to all of the Foundation's proprietary product and supplier content. She also managed Foundation's Export Trade Assistance program, which supports small and medium-sized exporters (SMEs) across developing Asia in marketing their export-ready products to buyers worldwide.
At present, she shifted gears within the Foundation – functioning as the Alumni Relations Managers under the Trade Leadership Program.
Lifelong thanks, lifelong opportunity
"I owe a lot to the Foundation and Global Sources. The scholarship program not only provided me with financial support for the education, but also a career opportunity that turned me into who I am today," Carmela said.
She is most thankful for the trust and friendships that she has earned through relationships with her Global Sources teams, the kinds of managers she has worked with, and the stimulating, multi- cultural, multi-diverse people she has met in the trade industry.
Carmela, then Managing Editor for the Gifts & Home Products vertical, attending the first Global Sources' trade show in Hong Kong, year 2006
Giving back to help the next generation of Hinrich Foundation scholars
For this tireless alumna, the journey has just begun. Five years down the line, Carmela sees herself contributing more to various aspects of Hinrich Foundation work. She has a soft corner for training and would like to see herself mentoring young scholars through their Trade Scholarship journeys.
A strong advocate of the Hinrich Foundation, Carmela stresses that a typical Hinrich scholar needs to be generous with their time and effort. They have to be engaged and ready for a long-term commitment. They have to be open to working hand in hand with diverse cultures. And most importantly, always be eager to learn new skills.
Read Carmela's full profile here.