Hinrich Foundation to share innovative simulation to embed sustainability into university curricula at QS Higher Ed Summit: Asia Pacific 2023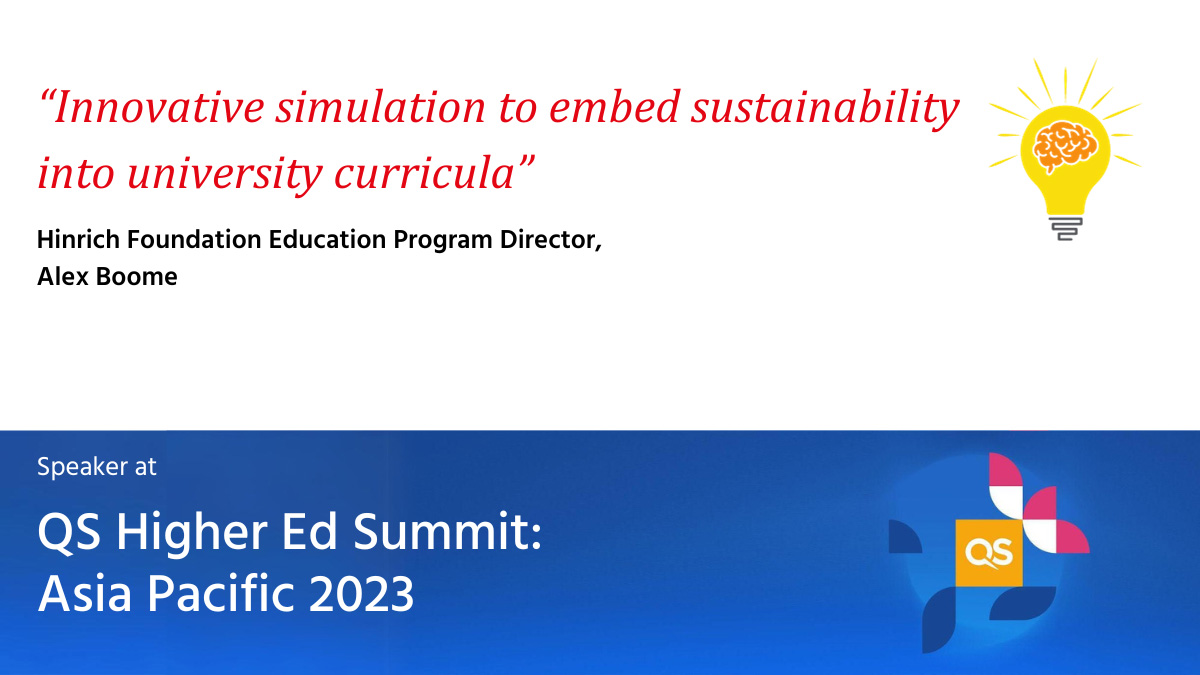 ---
Published 06 November 2023
Open-source Hinrich Foundation trade educators content augments the International Trade Rankings to enhance teaching of contemporary trade to students worldwide.
The Hinrich Foundation will participate in the QS Higher Ed Summit: Asia Pacific 2023 to present the open-source Hinrich Sustainable Trade Consultant Simulation which helps educators embed contemporary trade sustainability into university curricula.
The QS Summit aims to elevate higher education through promoting sustainability in education, enhancing global engagement and student employability.
Embedding sustainability within university curricula
Hinrich Foundation Education Program Director, Alex Boome, will present "Embedding Sustainability Within University Curricula" to introduce the Hinrich Sustainable Trade Consultant Simulation which is backed by the Hinrich-IMD Sustainable Trade Index 2023.
Boome said: "This experiential learning simulation challenges students to address sustainability head-on in an engaging, relevant, flexible and memorable manner.
"Student teams develop applied research, the competences and mindset to tackle the complexities of sustainability by evaluating real-world trade-offs, making difficult decisions and developing professional presentation skills. As 'consultants' to 'presidents and ministers' the pressure is on to deliver credible, substantive recommendations to enhance a country's standing in the Sustainable Trade Index."
Sustainable Trade Index
The Sustainable Trade Index evaluates 30 major economies across 71 indicators across economic, social and environmental pillars. It takes a fact-based approach to measuring key forces driving international trade and how economies can achieve outcomes that better balance economic growth, societal well-being and environmental stewardship.
Open-source trade education content
Educators and students alike may discover quality master's level trade programs at the Hinrich QS International Trade Rankings, and access the Sustainable Trade Index and a suite of contemporary international trade content at hinrichfoundation.com.
About the Hinrich Foundation
The Hinrich Foundation is a philanthropic organization working to advance sustainable global trade through research and education. It offers research and teaching materials to aid the strengthening of global trade education, including the Hinrich Foundation's QS International Trade Rankings, which aims to affect significant improvement in graduate trade program outcomes worldwide.
Media Contact: inquiry@hinrichfoundation.com
© The Hinrich Foundation. See our website Terms and conditions for our copyright and reprint policy. All statements of fact and the views, conclusions and recommendations expressed in this publication are the sole responsibility of the author(s).