RMIT University Vietnam and Hinrich Foundation welcome inaugural cohort of Master of Global Trade students
---
Published 16 March 2020
Companies across global value chains enroll 28 executives in program under Hinrich Global Trade Leader Scholarships.
RMIT University Vietnam and the Hinrich Foundation have launched the first-ever Master of Global Trade to equip the next generation of global trade leaders with exceptional strategic and 21st century managerial skills essential for advancing sustainable global trade.
The Hinrich Foundation has awarded scholarships to 28 staff nominated by 17 companies, including Samsung, HSBC, Siemens, Sam Agritech, Duc Thanh Wood, KPMG and BIDV. The scholars work in sectors ranging from electronics manufacturing to trade finance. Companies sending staff to the program have a combined 900,000 employees worldwide and $400 billion in annual revenue.
One of Hinrich Foundation's leading Employer Partners is Innolux Group. When asked about the Master of Global Trade, Innolux's CEO, Mr. Roy Jahoda, remarked: "The Master of Global Trade presents a wonderful opportunity for firms like ours to take a more proactive approach to talent development and sustainably support our rising leaders.
"We look forward to contributing our industry expertise to the program content, and seeing our candidates incorporate the practical components of the program to their work."
One scholar from KPMG Vietnam, Binh Le, Director of Global Trade and Customs and Integrated International Tax, said: "The Master of Global Trade will provide me with an enormous opportunity to analyze the trends in global trade and to make sense of the complexity of cross border trading activities for more efficient trade outcomes."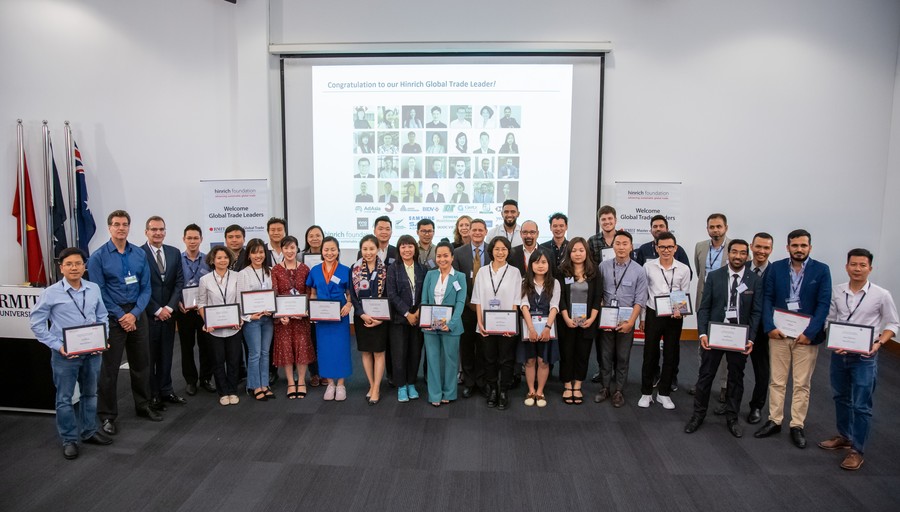 Developed by employers, for employers
RMIT University, in partnership with the Hinrich Foundation, developed this program in collaboration with 75 leading employers across global trade value chains. The customized calendar of the program, with 12 courses delivered over 15 months, accommodates executives who need to balance full-time work with study.
"We created the Master of Global Trade program in response to an industry need to develop leadership talent to drive the creation of sustainable and more resilient global value chains," said Merle Hinrich, Founder and Chairman of the Hinrich Foundation. "These future global trade leaders will guide business growth in the context of significant disruptions caused by geopolitical and technological change, and other global uncertainties."
Graduate degree conferred by RMIT University Australia
RMIT graduate faculty is comprised of dedicated full-time academics and visiting professors with extensive global experience across the corporate, government and academic sectors. Students will earn a Master of Global Trade degree conferred by RMIT University Australia upon completing the following graduate courses:
Global trade
Sales & Cross-cultural negotiation
Global market entry strategies
Business data analytics 
International logistics
Managing technology & innovation
Business operations management
Leadership & ethics
Managing across cultures
Business & economic analysis
International strategy
Global business consulting
"Global firms must adjust their approaches to technology, production, distribution and risk management," said RMIT University Master of Global Trade Program Manager, Dr. Steve Clarke. "To achieve that, they need experienced, trained talent with an understanding of trade, geopolitics, risk analysis, financial management and sustainability.
"Executives also need the skills to deal with decision-making in the face of uncertainty and ambiguity, together with multicultural international teams. This program will develop their expertise to excel as leaders of global trade."
Details about the Hinrich Foundation Employer Partner program and participating companies are available here.
More information about the Master of Global Trade program is available here.
© The Hinrich Foundation. See our website Terms and conditions for our copyright and reprint policy. All statements of fact and the views, conclusions and recommendations expressed in this publication are the sole responsibility of the author(s).