Upcoming Events
Fourth briefing: Trade in the sky - The battle over drones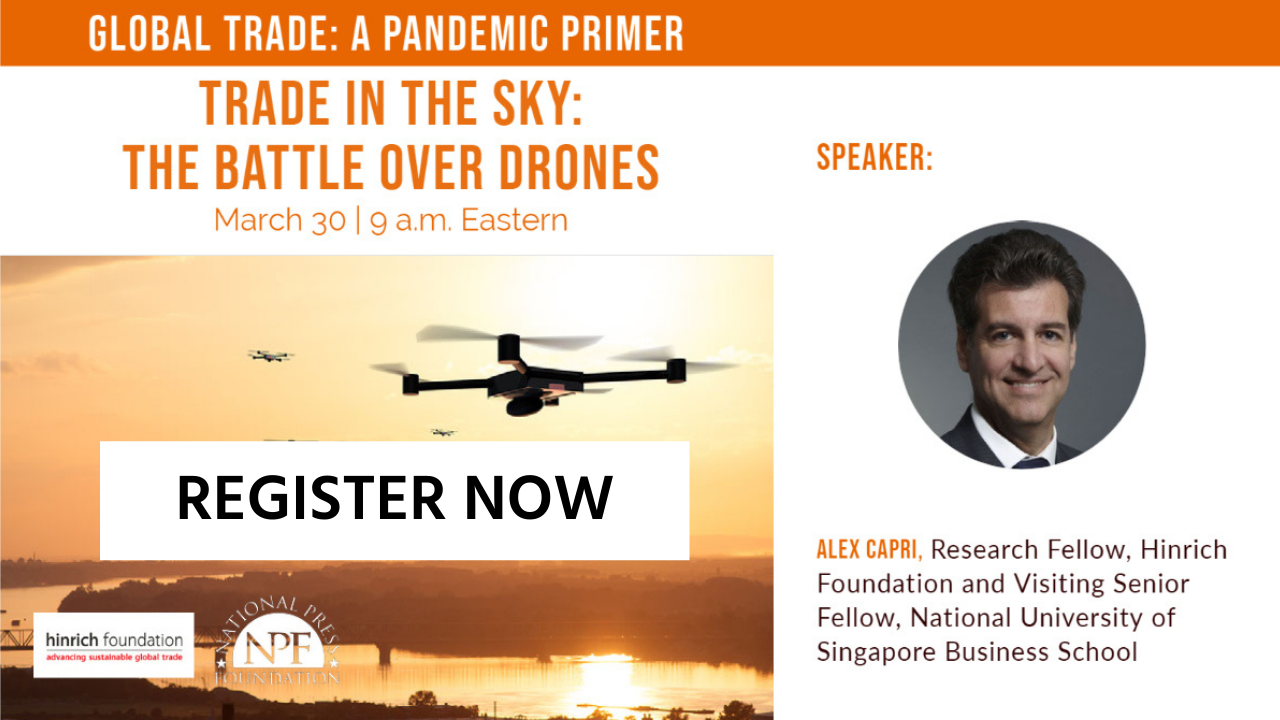 The webinar has ended. To watch the recap, click on the button below:
The drone market is estimated to hit $63 billion by 2025, powered by an explosion in use by hobbyists, companies and militaries around the world.  The drone business has also spawned a range of related businesses, including liability and property insurance for damage done by and from drones, and a host of new privacy concerns. Now, drones are another front in the U.S.-China trade war.
In this National Press Foundation briefing, we'll explore the ongoing drone wars that have put China's Da-Jiang Innovations on the list of companies that U.S. firms can't sell to. The official U.S. reason was that DJI's products had been used in human rights abuses in China and elsewhere. But the company was such a dominant player – capturing more than 70% of the market – that the decision had the effect of supporting DJI's much smaller American rivals.
Other Chinese firms were put on the same list. Yet drones made by other nations whose products are also implicated in human rights abuses have not been sanctioned – at least not yet.
This was the latest strain of techno-nationalism that pairs U.S. national security interests with its commercial interest – similar to U.S. moves against Chinese phone maker Huawei. The briefing will explore how the Biden administration will deal with its predecessor's policies, and the effect of U.S. actions on global drone supply chains. 
Alex Capri
Research Fellow, Hinrich Foundation and lecturer, NUS Business School
Alex Capri is a research fellow at the Hinrich Foundation and a lecturer in the Business School at the National University of Singapore. He also teaches at the NUS Lee Kuan Yew School of Public Policy.
He is the author of Techno-Nationalism: How it's reshaping trade, geopolitics, and society (Wiley), due out in late 2023.
From 2007-2012, Alex was the Partner and Regional Leader of KPMG's International Trade & Customs Practice in Asia Pacific, based in Hong Kong. Alex has over 20 years of experience in global value chains, business and international trade – both as an academic and a professional consultant.
He advises governments and businesses on matters involving trade and global value chains. Areas of focus include: IT solutions for traceable supply chains, sanctions, export controls, FTAs and trade optimization.
Alex has been a panelist and workshop leader for the World Economic Forum. He writes a column for Forbes Asia, Nikkei Asia and other publications and is a frequent guest on global television and radio networks.
He holds a MSc from the London School of Economics in International Political Economy and a BA in International Relations from the University of Southern California.