Upcoming Events
To Stop Carbon 'Leakage,' Can Border Tax Help?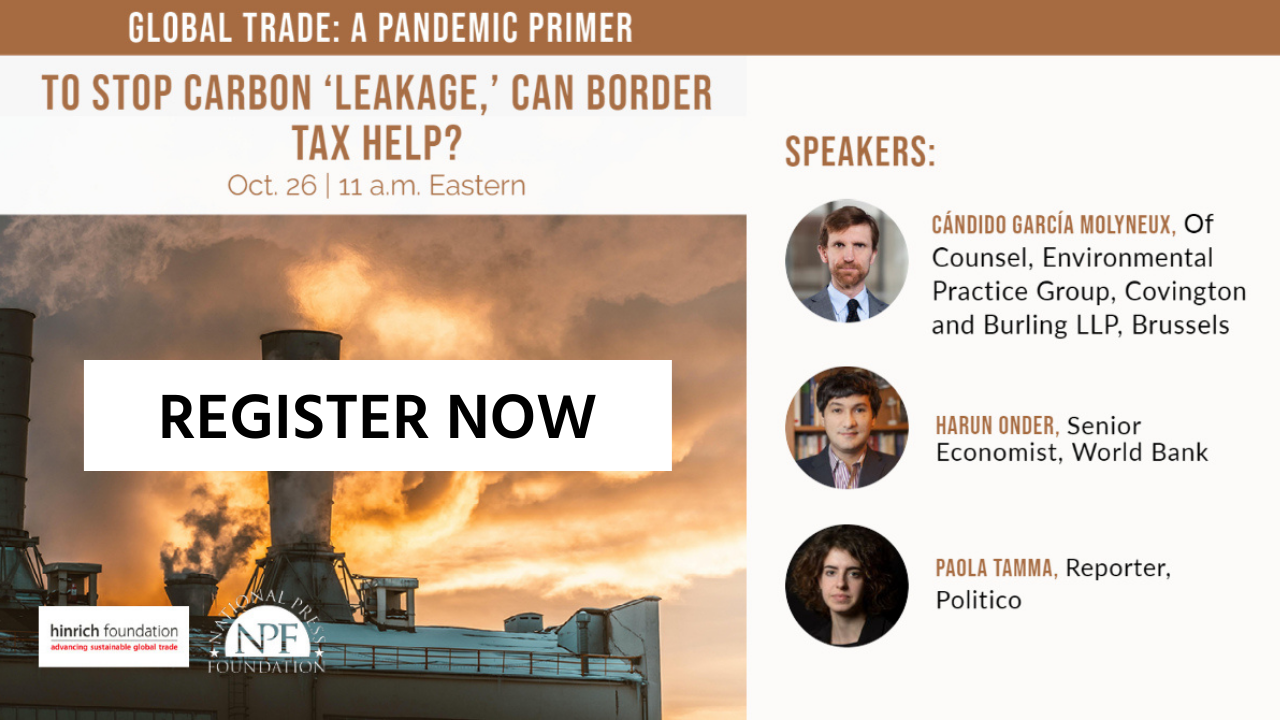 As the 26th United Nations Climate Change Conference (COP 26) in Glasgow approaches, a National Press Foundation briefing sponsored by the Hinrich Foundation will explore the politics and practicalities of a carbon border tax.
The proposed carbon border tax, expected to encourage countries and companies to curb greenhouse gases emissions in order to minimize tariffs, is hitting headwinds in both the EU and the US. Discussions for a so-called "carbon border adjustment mechanism" risk antagonizing companies at home and trading partners abroad.
The concept behind a carbon border tax is simple: Companies in countries with robust environmental laws and strong decarbonization goals are at a disadvantage to competitors in countries with less stringent regulations. The tax is intended to deter firms from high-emission activities and level the playing field.
Proposals in the US and the EU are aimed at industries such as cement, iron and steel, aluminum, fertilizers and electricity. Companies abroad that want to export to the US would need to pay for the carbon dioxide they emit, negating any competitive advantage they have from making their products in China, India, Vietnam or any country with lax environmental standards.
The downsides: The taxes would make imported products more expensive for American buyers. The tax schemes are also difficult to implement, as US officials would have to monitor whether trading partners were really enforcing emissions laws. And they can impose an extra burden on developing countries.
In this briefing, experts from the EU and the US will discuss how the taxes would work, how they will fare politically on both sides of the Atlantic, and how the issue might play out in Glasgow. Speakers include:
Cándido García Molyneux, Of Counsel, Environmental Practice Group, Covington and Burling LLP, Brussels
Harun Onder, Senior Economist, World Bank
Paola Tamma, Reporter, Politico Europe
***
The webinar has ended. You may watch the full webinar recording here: