Upcoming Events
Third briefing: Fixing broken medical supply chains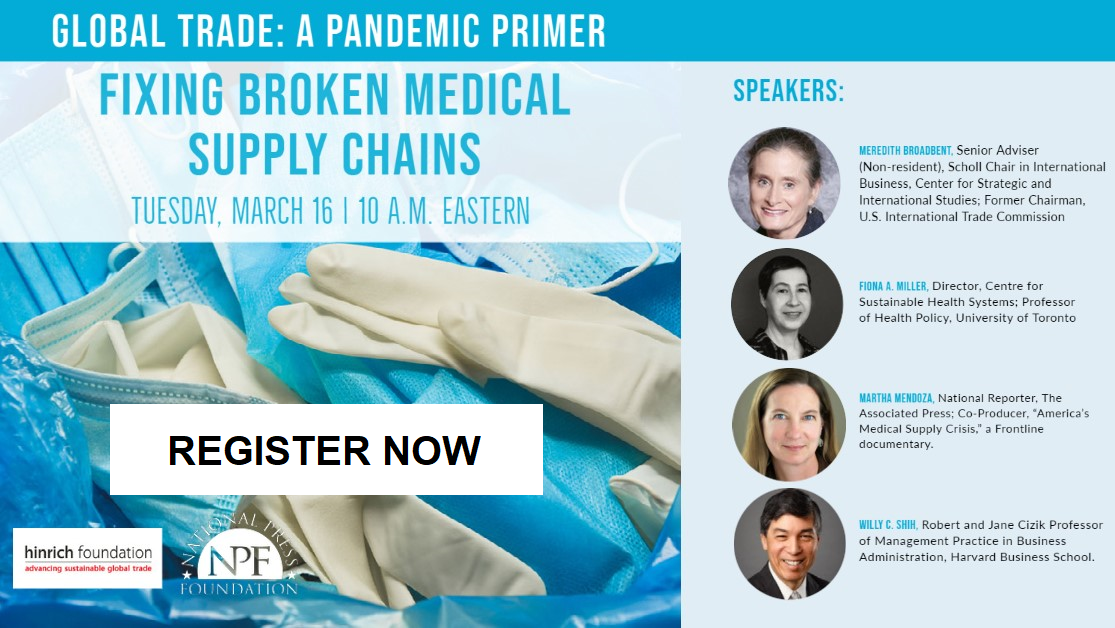 The webinar has ended. To watch the recap, click on the button below:
The COVID-19 pandemic that hit the United States one year ago scrambled supply chains, leaving hospitals without the protective equipment they needed and patients without supplies as simple as face masks. It also highlighted longstanding concerns that some countries – particularly China – had a stranglehold on ingredients necessary for important pharmaceutical drugs.
One year later, the immediate crisis has passed, but problems remain. In this National Press Foundation briefing, trade experts will discuss what needs to be done to keep medical supply chains vibrant – and how journalists can cover the issue.
The pandemic showed that no single country can produce everything necessary to battle COVID-19. At the same time, the Trump administration last year pushed the federal government to purchase "essential" drugs and other related products solely from U.S. manufacturers. Will the Biden administration continue that – and is doing so even possible?
In this latest Hinrich Foundation sponsored National Press Foundation briefing, four trade experts will be discussing what needs to be done to keep medical supply chains vibrant – and how journalists can cover the issue. Speakers include:
Meredith Broadbent, Senior Adviser (Non-resident), Scholl Chair in International Business, Center for Strategic and International Studies; Former Chairman, U.S. International Trade Commission
Martha Mendoza, National Reporter, The Associated Press
Fiona A. Miller, Director, Centre for Sustainable Health Systems; Professor of Health Policy, University of Toronto
Willy C. Shih, Robert and Jane Cizik Professor of Management Practice in Business Administration, Harvard Business School