Upcoming Events
Global Trade Conference 2022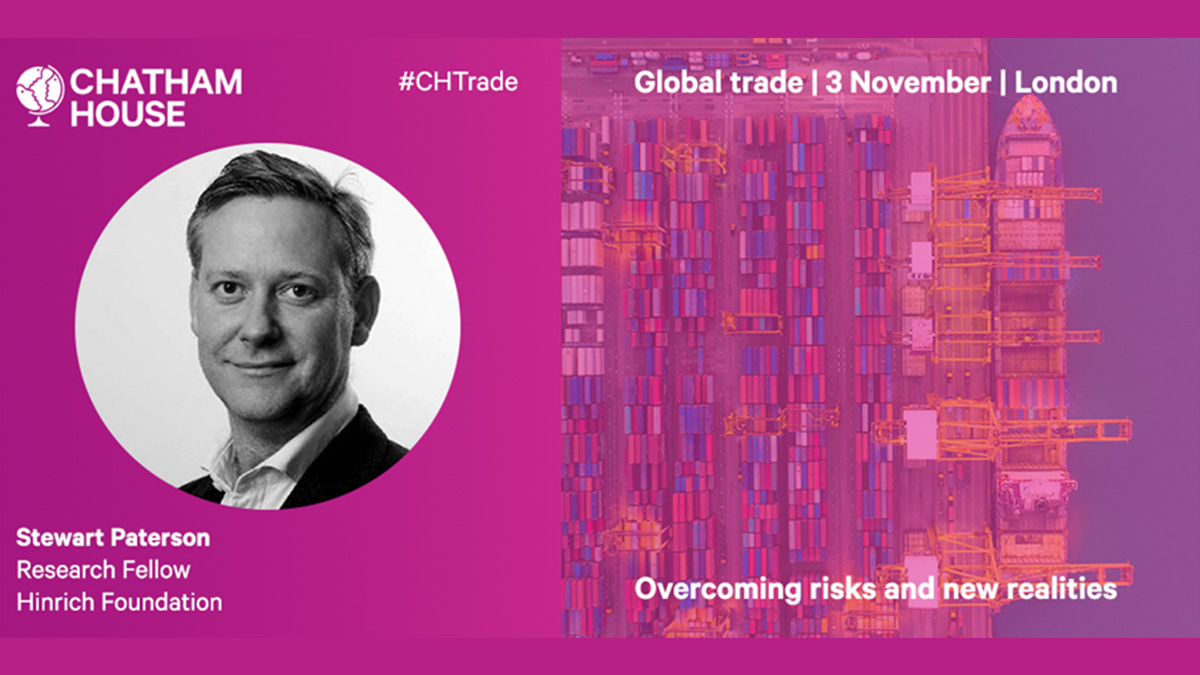 Event Details
03 November 2022 | 9:00 AM to 6:00 PM (BST)
An uncertain and rapidly changing international environment is challenging existing global trade dynamics while creating new trade linkages. Within this context, Chatham House's annual Global Trade Conference, sponsored by the Hinrich Foundation returns as an in-person event for its 8th edition on 3 Nov 2022.
Russia's invasion of Ukraine, the continuing effects of the pandemic and US-China trade tensions have resulted in countries redefining trade as a fundamental part of their economic security. Coupled with a shift towards a green and digital economy, governments, businesses, and societies are being pushed to navigate new approaches to new realities.
Gain insight into how trade's increased geo-politicization is impacting global trade dynamics in Stewart Paterson's session on overcoming risks and new realities of global trade, in this one-day event. Key discussion points include:
Are we entering a new phase of de-globalization or rather re-globalization?
What are the implications of heightened geopolitical tensions for the global trade system?
How will economic security define trade conversations?
How can business navigate an increasingly complex international environment and better prepare themselves for geopolitical risks and trade shocks?
The annual conference is being held as an in-person event for its 8th edition and will be simultaneously broadcast on the LIVE virtual event platform. Register now to connect with leading senior business leaders, policymakers and trade experts and enjoy unique insight and networking opportunities.
***
This event has ended.