Research Fellow Stewart Paterson talks on Western country's failure to engage with China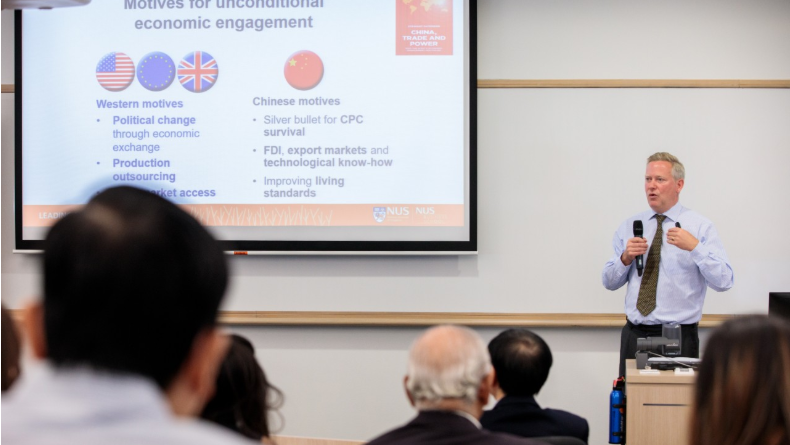 ---
Published 17 September 2019
On September 17, 2019, Hinrich Foundation Research Fellow Stewart Paterson provided insights into his book "China, Trade and Power: Why the West's Economic Engagement Has Failed" at the NUS Business School in Singapore.
The event hosted by NUS Business School's Centre for Governance, Institutions and Organisations (CGIO) saw a group of more than 80 students and faculty participate in a topical and compelling discussion with Stewart Paterson, which explored how and why China's relationship with the West reached its current state and what the future may hold for international trade.
Paterson kickstarted the event with his keynote lecture, in which he talked about the unexpected outcomes of a Western policy of engagement with China, which led to the country's accession to the WTO in 2001 without critical economic reforms, such as a floating exchange rate and open capital account.
He also said that Western governments supported China's accession to the WTO in 2001 primarily for geopolitical reasons and that the West's strategy of engagement was aimed at economic, and eventually political, change in China. However, Western policy makers did not adequately forecast the economic impact of allowing 750 million low-cost workers into the global economy.
As a result, China's admission into the WTO helped lift hundreds of millions of people out of poverty in China, cementing the legitimacy of the Chinese Communist party and making China's mercantilist model attractive to emerging economies in Asia.
Further, Paterson explained how the supply-side shock created by China's increasing and deflationary exports, coupled with the inflation-targeting response of Western central banks, led to a fall in real incomes for the many in the West and a rise in asset prices for the few, raising questions about the effectiveness of Western liberal economic models.
The keynote lecture was followed by a discussion and lively question and answer session with:
Alex Capri – Senior Research Fellow, NUS Business School
Lawrence Loh – Director, CGIO, NUS Business School
Stewart Paterson – Research Fellow, Hinrich Foundation
The experts talked about the trade war between the US and China and its impact on the world economy and supply chain. They also touched upon issues pertaining to WTO reform and the rise of bilateral negotiations between countries around the world.
Learn more about Stewart Paterson's book "China, Trade and Power: Why the West's Economic Engagement Has Failed".
© The Hinrich Foundation. See our website Terms and conditions for our copyright and reprint policy. All statements of fact and the views, conclusions and recommendations expressed in this publication are the sole responsibility of the author(s).