US-Asia Institute hosts discussion on "China, Trade and Power" book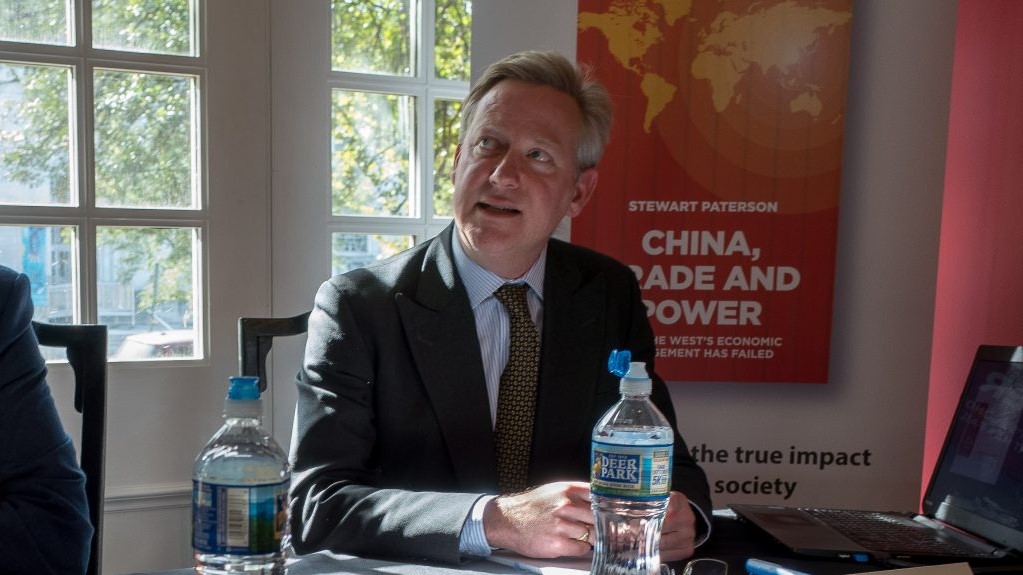 ---
Published 02 November 2018
The US-Asia Institute and Hinrich Foundation co-hosted a luncheon event promoting a new book by Stewart Paterson called "China, Trade and Power: Why the West's Economic Engagement Has Failed" on October 25, 2018.
The book describes the unexpected outcomes of a Western policy of engagement with China, which led to the country's accession to the WTO in 2001 without critical economic reforms, such as a floating exchange rate and open capital account.
The event was held at the US-Asia Institute headquarters in Washington, DC. Wayne Morrison, an Asian trade and finance expert from the Congressional Research Service, moderated the discussion. Stewart Paterson, the author of the book, outlined his principal arguments about what impact trade with China has had on the West.
Paterson explained how Western governments supported China's accession to the WTO in 2001 primarily for geopolitical reasons and that the West's strategy of engagement was aimed at economic, and eventually political, change in China. However, Western policy makers did not adequately forecast the economic impact of allowing 750 million low-cost workers into the global economy.
As a result, China's admission into the WTO helped lift hundreds of millions of people out of poverty in China, cementing the legitimacy of the Chinese Communist party and making China's mercantilist model attractive to emerging economies in Asia. At the same time, the supply-side shock created by China's increasing and deflationary exports, coupled with the inflation-targeting response of Western central banks, led to a fall in real incomes for the many and a rise in asset prices for the few, raising questions about the effectiveness of Western liberal economic models.
The event concluded with a lively question and answer session with the audience, who asked questions about the book's finding and how its key messages are currently playing out in the US-China trade relationship.
The Hinrich Foundation hopes that research work such as "China, Trade and Power: Why the West's Economic Engagement Has Failed" will help create stronger institutions and better rules of engagement for improving global trade, making it more sustainable with optimized outcomes for all participants.
Find more information on the book "China, Trade and Power: Why the West's Economic Engagement Has Failed".
© The Hinrich Foundation. See our website Terms and conditions for our copyright and reprint policy. All statements of fact and the views, conclusions and recommendations expressed in this publication are the sole responsibility of the author(s).
---