Research Fellow participates in UNESCAP's Trade Intelligence and Negotiation Advisor launch event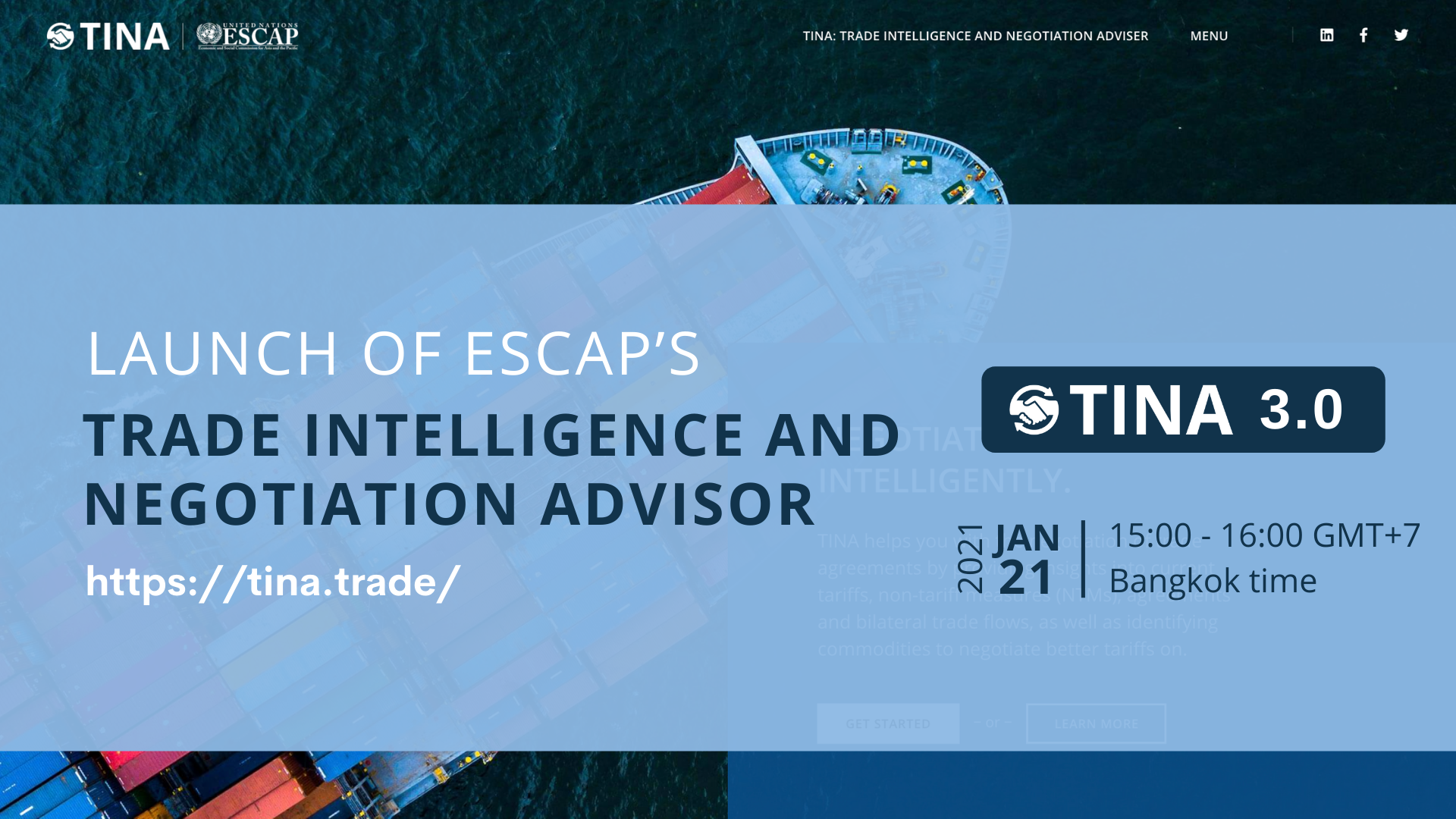 ---
Published 28 January 2021
Hinrich Foundation Research Fellow Stephen Olson participated in an online launch event of UNESCAP's Trade Intelligence and Negotiation Advisor (TINA) 3.0 on January 21, 2021.
TINA is an online tool designed to assist trade policymakers, researchers and consultants to carry out many of the analytical tasks commonly conducted in preparation for trade negotiation. These tasks require specialized analytical and data management skills and are time-consuming when performed manually. TINA automates such tasks, enabling countries with limited resources to benefit from the same level of preparation as those afforded by larger economies.
TINA has been developed in close consultation with current and former members of trade negotiation teams throughout Asia and the Pacific. A clutch of trade economists, coders, and web application programmers using state of the art methodologies and technologies, have put the tool together.
Armida Salsiah Alisjahbana, Under-Secretary-General of the United Nations and Executive Secretary of ESCAP, made the opening remarks at the launch.
Her speech was followed by a demonstration of TINA 3.0 by Alexey Kravchenko, Economic Affairs Officer, Trade Policy and Facilitation Section (TPFS), Trade, Investment and Innovation Division (TIID), ESCAP.
Alexey generated a mock offensive list for Bangladesh, conducted trade impact analysis with partial equilibrium, and also did text analysis of trade agreements during the demo.
A panel discussion, titled "Preparing TINA's future", was organised after the demonstration. The discussion was moderated by Yann Duval, Chief, TPFS, TIID, ESCAP. The panellists included:
Radika Kumar, Adviser, Infrastructure Policy, Trade, Oceans and Natural Resources Directorate, the Commonwealth Secretariat
Pierre Sauve, Senior Trade Specialist, Macroeconomics, Trade and Investment Global Practice, World Bank Group, and Member of TINA Advisory Board
Stephen Olson, Research Fellow, Hinrich Foundation
Christine Bowers, Head of Project at GIZ, Cambodia
Shantanu Godbole, Senior Manager, Impact Science and Supply Chain, IBM
Olson shared his observations and experiences in trade negotiations at the event. He said the application would help governments improve their capacity to negotiate better agreements.
The application, he said, would be helpful for both the Least Developed Countries and the Developed Countries.
He added that if the application had been available during his time in the USTR, it would have enabled them to conduct different impact assessments related to tariffs in a more efficient manner.
© The Hinrich Foundation. See our website Terms and conditions for our copyright and reprint policy. All statements of fact and the views, conclusions and recommendations expressed in this publication are the sole responsibility of the author(s).
---