Research Fellow speaks at China Development Institute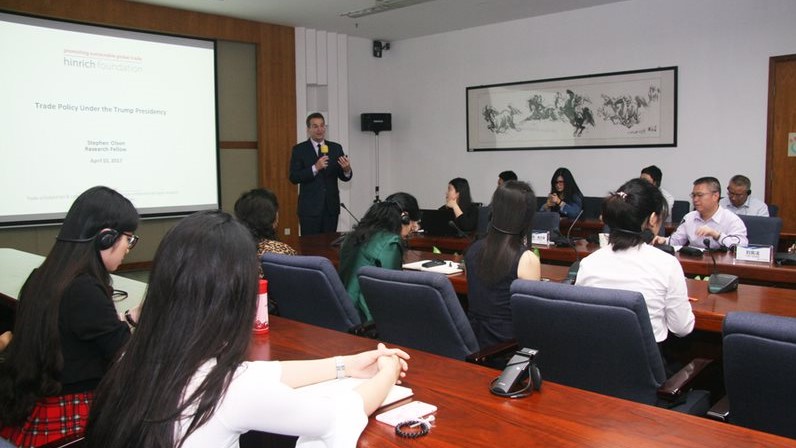 ---
Published 27 April 2017
On April 10, 2017 Hinrich Foundation Research Fellow Stephen Olson was the keynote speaker at an event titled "US Trade Policies under the Trump Administration" at the China Development Institute (CDI) in Shenzhen, China.
Olson delivered a 40-minute presentation focusing on multiple aspects of trade policy under US President Trump. The presentation included an explanation of the power Trump has to execute his trade agenda, an overview of the key members of Trump's trade team and a series of likely potential trade scenarios that may arise during Trump's presidency.
Following the presentation, Olson joined a panel with two distinguished China trade experts: Guo Wanda, Executive Vice President of CDI and Liu Xianfa, Senior Research Fellow at CDI. The panel members engaged in a lively and frank dialogue about current US trade policy and how it could possibly influence Sino-US relations. The three panelists concluded the event by answering questions from an audience filled with scholars and experts.
In addition to Olson, the event featured the following expert panelists:
GUO Wanda, Executive Vice President, CDI
LIU Xianfa, Senior Research Fellow, CDI
© The Hinrich Foundation. See our website Terms and conditions for our copyright and reprint policy. All statements of fact and the views, conclusions and recommendations expressed in this publication are the sole responsibility of the author(s).
---