Research Fellow joins AmCham HK panel on U.S.-China trade standoff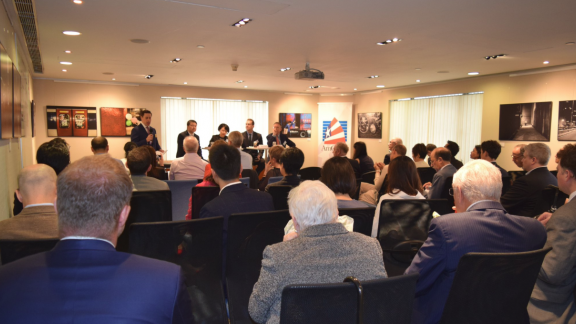 ---
Published 07 May 2018
On May 7, 2018, Hinrich Foundation Research Fellow Stephen Olson joined an expert panel at the American Chamber of Commerce in Hong Kong for a timely event titled "Daggers Drawn: What does the U.S.-China Trade Standoff Mean for You?".
The event, co-hosted by the China Development Institute, prompted a topical discussion on the prospects for a full-blown U.S.-China trade war and specifically, how it may impact business in the region.
60+ participants from across the Hong Kong business, government and academic communities gathered for the event held in Central, Hong Kong.  Eventgoers searched for answers to important questions in times of heightened trade tension between the United States and China, including: How will this play out in the years to come? Who might emerge as the biggest winners and losers? Or do we all stand to suffer?
Olson and his fellow panelists sought to answer "what's next?" and discuss whether it is possible to avoid an all-out trade war between the world's two largest economies.  Panelists included:
Stephen Olson, Research Fellow, Hinrich Foundation
Xiaoming Pan, Research Fellow, Center for Asia-Pacific Studies, Institute for World Economy Studies at Shanghai Institutes for International Studies (SIIS)
Guoping Zhang, Research Fellow, China Development Institute
Arthur Kroeber, Founder and Head of Research, Gavekal Dragonomics
Barret Bingley, Director of Integrated Sales North Asia, The Economist Group (Moderator)
During the panel discussion, Olson pointed out that the existing trade architecture is almost entirely incapable of handling a massive economy like China— who is playing the trade game by a different set of rules. Recent tensions have made it clear that the U.S. and China have two different economic systems and they are both here to stay. Therefore, the best approach moving forward is to find a way for the two systems to co-exist.
The event offered timely insights given the high stakes for U.S. and Chinese businesses in today's trade climate and the potential impact a tit-for-tat tariff battle could have on both regional and global trade patterns and economic growth.
© The Hinrich Foundation. See our website Terms and conditions for our copyright and reprint policy. All statements of fact and the views, conclusions and recommendations expressed in this publication are the sole responsibility of the author(s).
---