Hinrich Foundation successfully concludes Hinrich Trade Negotiation Simulation in Hanoi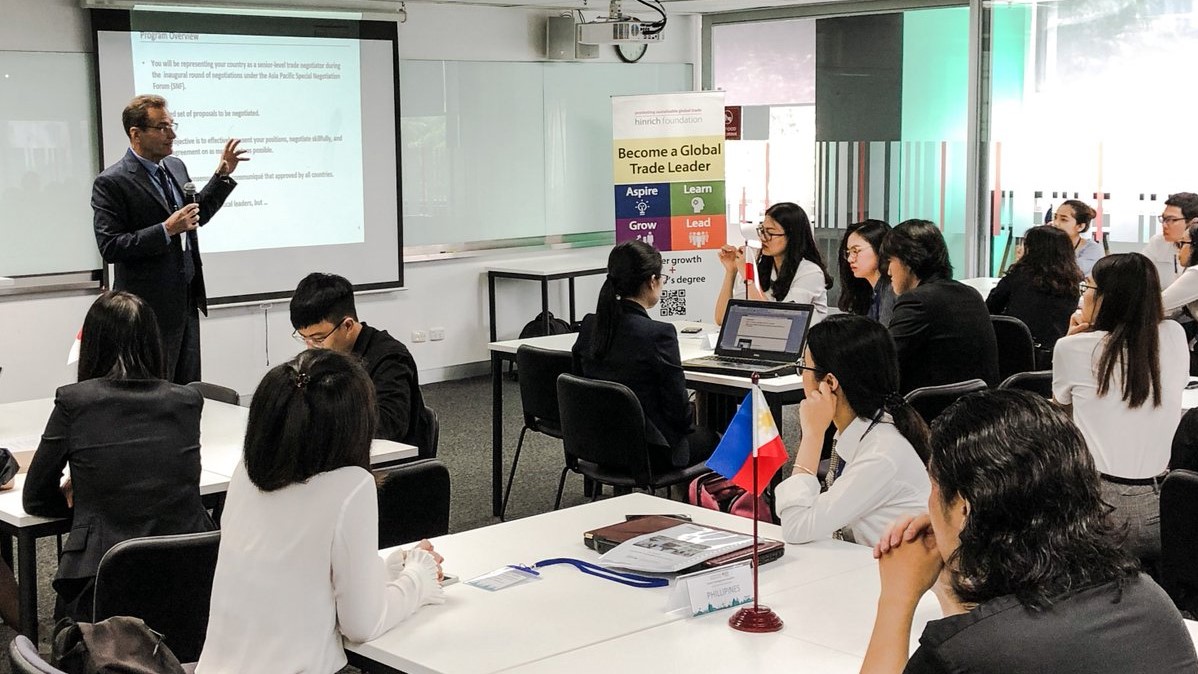 ---
Published 08 May 2019
"Nothing is agreed upon until everything is agreed," Hinrich Foundation Research Fellow Stephen Olson said as 6-country team successfully reached consensus on a Multilateral Free Trade Agreement at the Hinrich Trade Negotiation Simulation (HTNS).
Twenty-seven students participated in this intense experiential learning program to hammer out an agreement on four core trade issues – services and digital economy, food and fisheries. The two-day forum was organised on May 4 and 5, 2019, at the Hanoi city campus of RMIT University.
The HTNS program is built to learn and understand the challenges and opportunities in the international trade arena. It boosts the negotiating skills of the students as they indulge in high-level discussions and debates on real-world trade issues.
Hinrich Foundation Program Director, Alex Boome, flagged off the event with his opening remarks. He welcomed the student negotiators and laid down the agenda for the next two-days of intense negotiation.
The introductory remark was followed by keynote speech by Shannon Leahy, Australia Trade Commissioner. Leahy gave valuable tips to students on negotiating with different countries. He also briefed the students about the current trade turmoil and free trade agreements.
Later, Hinrich Foundation Research Fellow Stephen Olson explained the HTNS to the students and provided key negotiation strategies. Students, playing the role of senior trade negotiators, were divided into 6 teams representing countries – Australia, China, India, Japan, the Philippines and the US.
During the event, the student negotiators formulated and negotiated their position on four trade issues in the Asia-Pacific region. After two-days of intense negotiations, the students entered the final negotiations and drafted a joint communique containing details of their collective position on trade issues.
The event concluded with final remarks and distribution of certificates to all the student negotiators for successfully reaching a consensus.
Read more information on Hinrich Trade Negotiation Simulation.
© The Hinrich Foundation. See our website Terms and conditions for our copyright and reprint policy. All statements of fact and the views, conclusions and recommendations expressed in this publication are the sole responsibility of the author(s).
---