Hinrich Trade Negotiation Simulation HK 2019: Part 2 recap
---
Published 07 March 2019
The Hinrich Trade Negotiation Simulation final round took place on Feb. 23, 2019, at the Jockey Club Hall of Asia Society Hong Kong Center.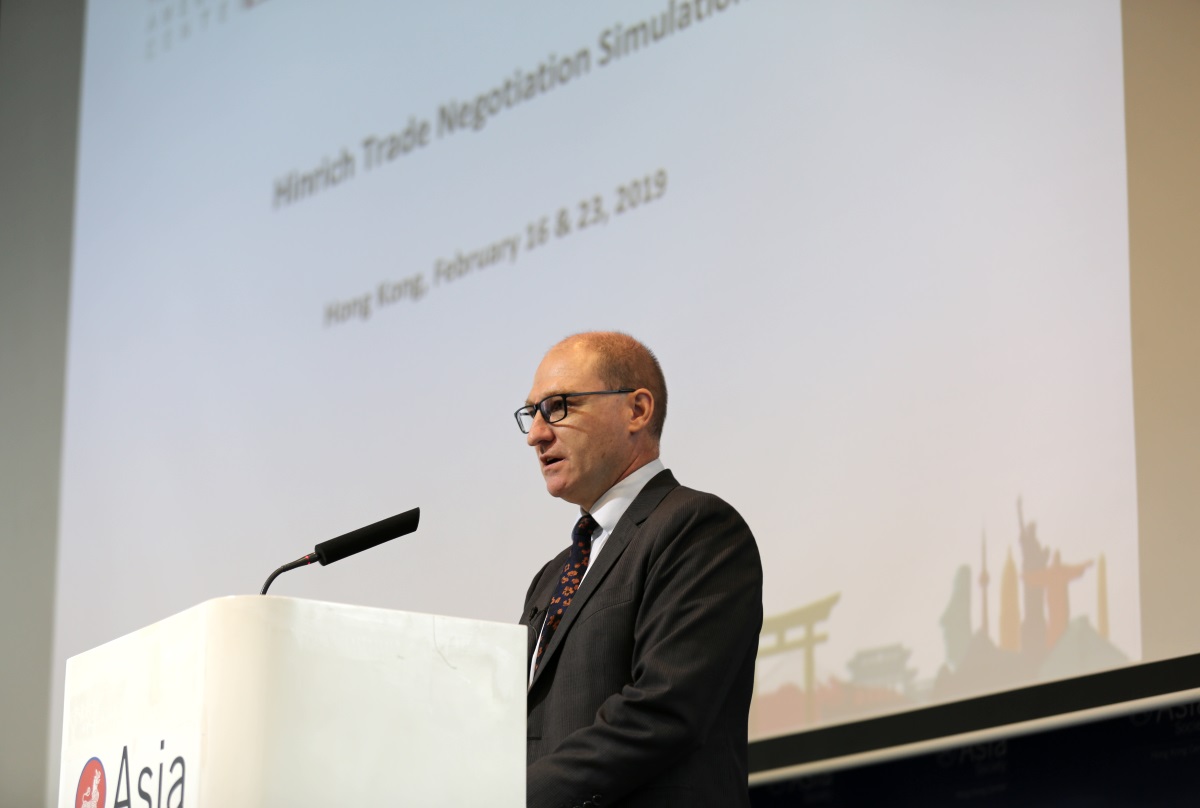 The event was graced by Deputy Australia Consul-General to Hong Kong and Macau Ken Gordon, who gave a keynote speech on trade and free trade agreements and how they affect the economy.
After this, the delegates then gathered with their respective teams to discuss and find a common ground the subjects of foreign nurses, data storage, fishing subsidies and food standards. Even during breaks, everyone would still take notes and discuss amongst their team to come up with solutions. From time to time, Hinrich Foundation Research Fellow Stephen Olson would guide the team to fine-tune the process.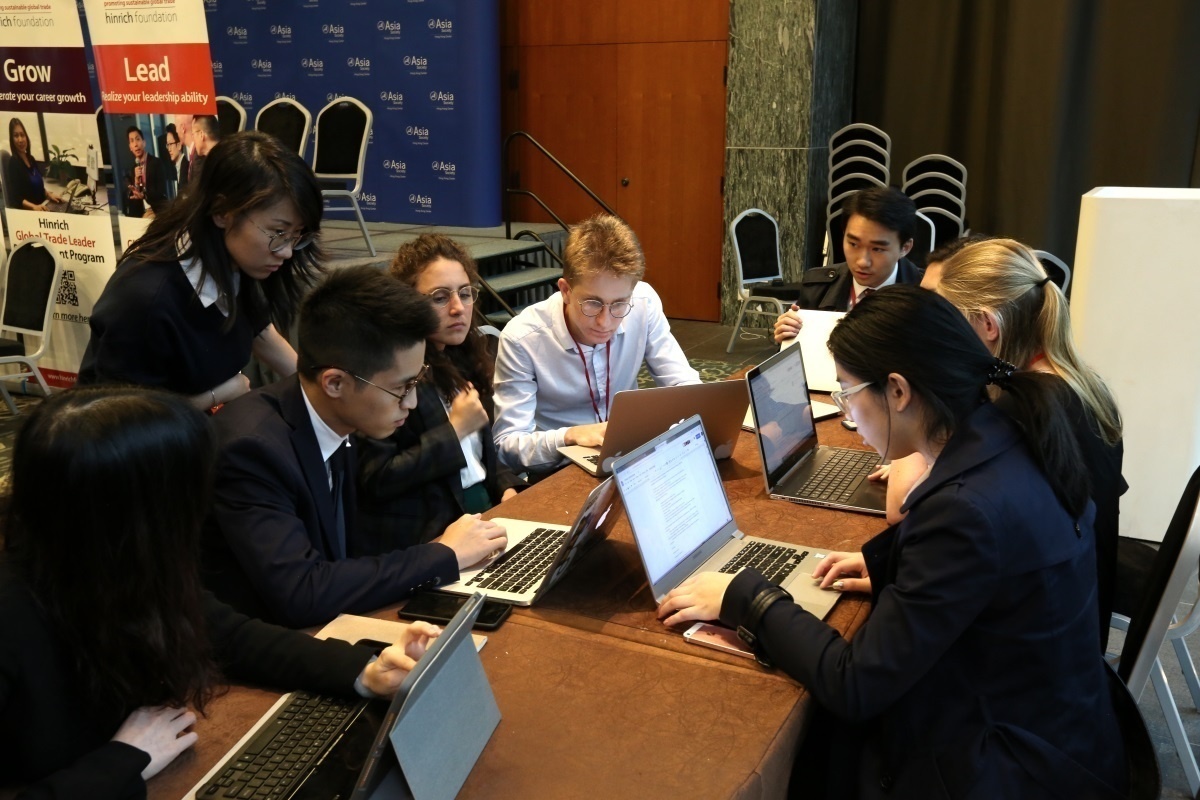 The teams finally gathered for the final round of negotiations to reach a consensus. However, in the middle of it, Olson announced an unexpected twist, keeping the negotiations as realistic as possible. Country teams received instructions from their leaders that influenced their negotiation position and priorities.
After hours of intense discussions, they finally reached a consensus.
Healthcare
There is a need for international licensing among member states, as well as certification and accreditation for foreign nurses.
Markets should be opened and free entry of nurses to member states must be allowed.
An international standard for nurses from member states within two years must be established and recognized.
Country-specific domestic policies should address cultural and language concerns. Countries have the right to determine if they want higher education standards or stricter language and cultural proficiencies.
Data storage
Due to the national emergency terrorism situation in the Republic of Korea, members agreed to discuss this subject in three months. Countries will work toward creating a forum on this topic during this period.
Fisheries
There will be a ban on all subsidies on trawling and illegal, unreported and unregulated fishing.
Immediate discussions among experts to define small-scale fishing must be set up. Once an agreement on the definition of small-scale fishing is reached, small-scale subsidies will be allowed.
A council made up of fishing industry experts from all eight countries to approve and monitor large scale subsidies will be formed.
Large-scale subsidies are defined as any type of financial aid from the government to a fishery that exceeds the amount of $10 million over the course of one year.
Food standards
A 3-year trial period from 2021-2024 will be implemented to test the success of the pilot program. This program would include two fruits and vegetables that meet Codex food safety standards to be freely traded across the nations.
There will be a two-year grace period for countries to prepare their industries.
Meetings will be held yearly to address any ongoing concerns.
The event ended with a recap of the day and an awarding of certificates to all the delegates. Everyone then headed to the Hong Kong Maritime Museum to celebrate the success of the event and to attend the annual Hinrich Foundation welcome reception. Stay tuned for upcoming Hinrich Trade Negotiation Simulations in Hanoi and Manila!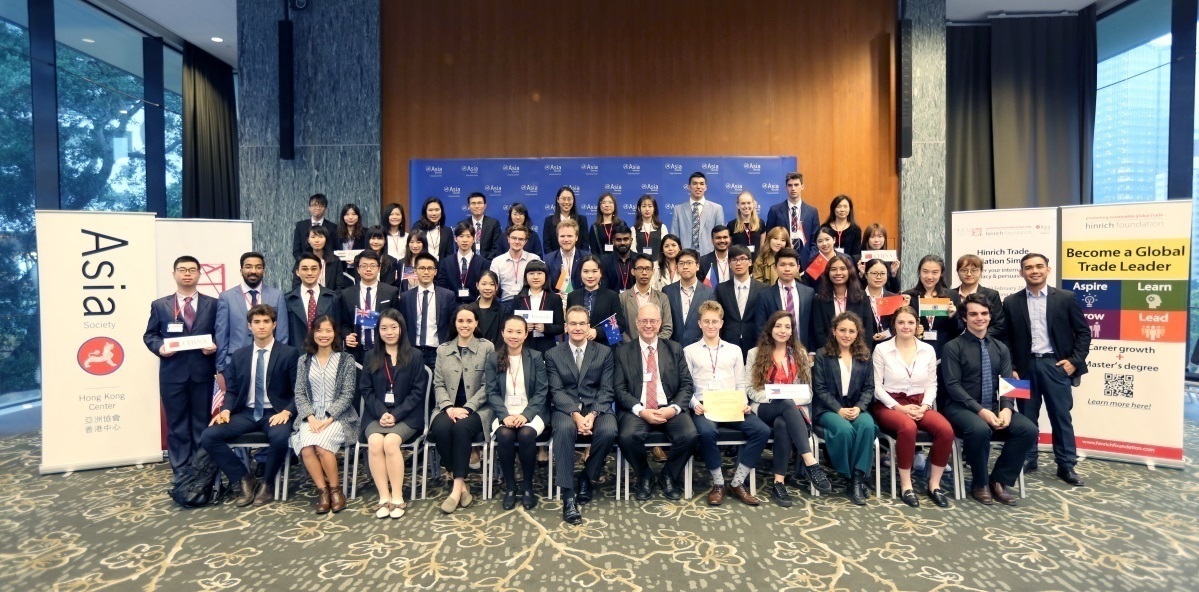 © The Hinrich Foundation. See our website Terms and conditions for our copyright and reprint policy. All statements of fact and the views, conclusions and recommendations expressed in this publication are the sole responsibility of the author(s).