Hinrich Foundation, RMIT launch Master of Global Trade in Vietnam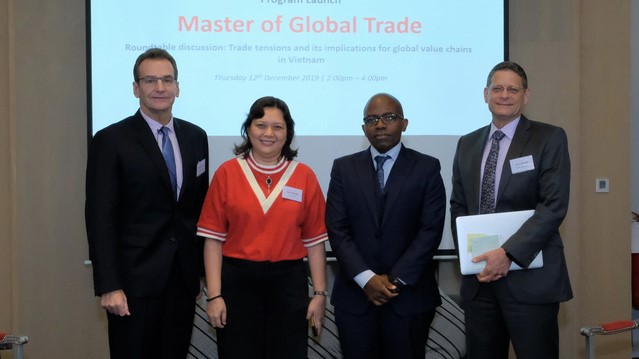 ---
Published 12 December 2019
The Hinrich Foundation in partnership with the Royal Melbourne Institute of Technology (RMIT University) organized the RMIT Master of Global Trade program launch and Scholar-Meet Employer Partner Event, an orientation, networking and scholar recruitment event for the RMIT-Master of Global Trade (MGT) program on December 12, 2019, at Pullman Saigon Centre, Ho Chi Minh city, Vietnam.
The event was organized to create opportunities to promote RMIT-MGT scholarship program and help Employer Partners market the opportunity to their staff and meet potential external candidates. It was attended by more than 100 participants including Employer Partners, and LOI signatories from KPMG, Nestle, Samsung, Siemens, among others.
The Hinrich foundation will provide 25 co-branded scholarship for the RMIT-MGT program through Employer Partners who will be given two scholarship that can be awarded to:
A high-potential current staff nominated by the Employer Partners
An external candidate who can be a potential employee of the Employer Partners
The event commenced with welcome speech from Mathrews Nkhoma, Head of School of Business and Management at RMIT. His speech was followed by a presentation titled, "Trade Today: Behind the headlines and implications for Vietnam", given by Stephen Olson, Hinrich Foundation Research Fellow.
In his presentation, Olson emphasized on the role of Vietnam in harnessing the benefits arising from re-location of production from China due to the trade war between US and China. Olson said that the limited size of Vietnam's workforce and infrastructure compared to China's means that many manufacturers will ultimately decide to stay in China and bear the higher costs of exporting to the US.
"Think about some of these competitive advantages. Think about the workforce. Here in Vietnam, you have about 14.5 million industrial workers; in China, 200 million. But it's not just a question of scale. It's a question of skill. China's workforce is highly skilled, in particular possessing the technical expertise that is required – an absolute prerequisite – for advanced manufacturing in areas like aerospace or sophisticated medical appliances," Olson said before handing over to Steve Clarke, Program Manager of RMIT-MGT.  
In his speech, Clarke introduced Master of Global Trade program and highlighted the structure, requirements and tuition fee of the course to the attendees. He was followed by Alex Boome, Hinrich Foundation Program Director, who spoke about the RMIT-MGT scholarship. Boome highlighted the scholarship structure, and benefits to the students and employers from the course.
Later, the Employer Partners were called upon to speak on why they are interested in sending their staff to and hiring graduates of the MGT program.  The speakers included:
David Ross – Director of Engineering at VF Corp,
Warrick Cleine – CEO at KPMG
Michael Bones – Associate CEO at Innolux
Chi Tran – Director of HR at Samsung
In his speech, Cleine also emphasized on Vietnam's participation in global trade. "Vietnam's GDP per capita has increased by a multiple of 25 times since it embarked on its opening and reform program in the early 1990's. A large part of this success is participation in global trade, with this aspect of globalization contributing to higher incomes, improved health and wellbeing, in Vietnam and in similar markets around the world," Cleine said.
KPMG is supporting the program as an industry partner and Cleine will be delivering some paper alongside the faculty.
The event concluded with a networking session, where pre-qualified student prospects met Employer Partners and consulted directly with RMIT program advisors/program lecturers regarding enrollment.
Earlier in the day, Hinrich Foundation had also organised a roundtable discussion with the media at Pullman Saigon Centre, Ho Chi Minh City, Vietnam. The event was attended by 15-20 participants, mostly from the media industry.
Stephen Olson provided insights on global trade, especially on trade war between US and China and Vietnam's current position in international trade. He also moderated a panel discussion, who talked about the current challenges in developing talents, how it is affecting their business, and how it may affect the competitiveness of Vietnam in large. The panelists included:
Truing Bich Dao – Human Resource Director at Nestle Vietnam
Mathews Nkhoma – Associate Professor, Head of School of Business and Management at RMIT
Later, Hinrich Foundation Program Director Alex Boome gave brief introduction of Master of Global Trade course. He spoke about the course structure, concept and curriculum as well as gave solutions to companies to ensure competitiveness in the ever-changing global trade environment.
The event concluded with a Q&A session between the media and panelists. Scores of questions were based on the course and the current events taking place in global trade.
© The Hinrich Foundation. See our website Terms and conditions for our copyright and reprint policy. All statements of fact and the views, conclusions and recommendations expressed in this publication are the sole responsibility of the author(s).